Brewers instructional league underway
Brewers instructional league underway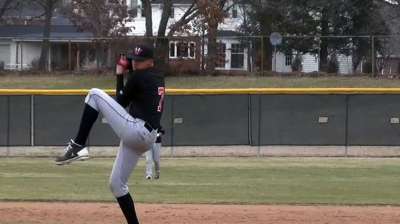 MILWAUKEE -- Add the fall instructional league to Brewers prospect Jason Rogers' busy schedule.
Rogers and top 2013 Draft picks Devin Williams and Tucker Neuhaus highlight the list of players reporting Sunday to Maryvale Baseball Park for an instructional program that gets underway Monday morning. Rogers, who manned first base at Double-A Huntsville this season, will work a bit at third base before primarily playing left field in the Arizona Fall League as the Brewers increase his versatility for 2014.
Fifty-three players in all are listed on the Brewers' instructional league roster -- 42 on the regular roster and 11 more on an advanced roster. They include 20 of the team's 2013 First-Year Player Draft picks, and eight players from MLB.com's list of the top 20 Brewers prospects: outfielder Tyrone Taylor (No. 4), shortstop Orlando Arcia (No. 6), outfielder Victor Roache (No. 8), right-hander Williams (No. 9), catcher Clint Coulter (No. 11), infielder Neuhaus (No. 13), and right-handers Drew Gagnon (No. 15) and Damien Magnifico (No. 19).
Also participating are shortstop Franly Mallen and outfielder Nicolas Pierre, who signed record-setting contracts in the Dominican Republic in July.
"It's mostly young guys," assistant general manager Gord Ash said. "The instructional league has changed over the years. Twenty-five years ago, it would have been primarily Triple-A and Double-A guys just finishing off something, whether it was another pitch or learning to switch-hit, base stealing.
"I would say certainly in the last decade it's been more about extension of rookie ball. So the concept in Arizona and Helena [the Brewers' two rookie-level affiliates] is you come in, you get oriented to the world of professional baseball, playing every day, working out every day, traveling, but we don't do a lot of mechanical work with you. You do all of that in the instructional league."
That's not to say there is no instruction in rookie ball, Ash said. If a pitcher's mechanics are viewed as a threat to his health, it is addressed.
But many of the fundamentals are saved for the fall.
"You're not putting in their mind interfering with their results," Ash said. "In instructional league, results aren't as important, so they are more open to adjustments."
"When I was managing rookie ball, that's what they did, too," Brewers manager Ron Roenicke said. "The drafted guys, you don't change. If they come to you and ask you, 'Hey, I need some help,' OK. I think it's great, because a lot of times a scout will draft a guy for a certain reason, and he gets to rookie ball and you've got a coach who just wants to change everybody; maybe he wants to clone everybody, which doesn't work. All of a sudden, this guy is a mess, and the scout says, 'What happened?'"
Ash was not aware of any major positional changes in store for any of the Brewers' participants. Coulter, the team's top pick in the 2012 First-Year Player Draft, will continue to catch.
"He's struggling," Ash said. "He had a knee injury, and he has struggled with it. I think it's also that he's getting frustrated that [catching] is a little bit more difficult than he thought it would be. I'm sure this fall will answer that. We would like him to stick with it. It's too early to give up yet."
Nestor Corredor and Matt Erickson will each manage a team over a schedule that begins Wednesday and runs through Oct. 12.
Adam McCalvy is a reporter for MLB.com. Read his blog, Brew Beat, and follow him on Twitter at @AdamMcCalvy. This story was not subject to the approval of Major League Baseball or its clubs.