Gennett to increase work against lefties
Gennett to increase work against lefties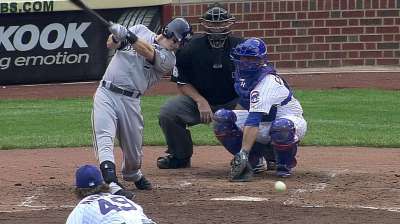 MILWAUKEE -- Scooter Gennett was in the lineup Wednesday against Cubs left-hander Chris Rusin, and Brewers manager Ron Roenicke said it was time to start exposing his young second baseman to left-handed pitchers.
"That's why we're doing it," Roenicke said before Wednesday's game. "He hasn't hit lefties real well so far, but he hasn't been out there, so you've got to get him in against these guys. When a guy comes out of the bullpen, he's usually a left-handed specialist, which makes it tougher on him. So I wanted to give him the opportunity to get whatever it's going to be, two, three, four at-bats."
Gennett entered Wednesday hitting .375 against right-handed pitchers and .077 (2-for-26) in limited duty against lefties. He went 0-for-2 Wednesday against Rusin, who lasted four innings. In 79 games at Triple-A Nashville before his promotion, Gennett hit a more balanced .298 against right-handers and .257 against left-handers.
Gennett will need that balance if he is to be the Brewers' everyday second baseman next season. The other option is Rickie Weeks, who has endured two straight subpar seasons and is out for the year after having surgery for a torn hamstring. Weeks will earn $11 million in 2014, the final year of his contract.
Roenicke said he anticipated Gennett playing every day the rest of this season, with the exception of maybe one off-day. He pointed to Gennett's sacrifice bunt in the ninth inning of Tuesday's 4-3 win over the Cubs as an example of the 23-year-old's youth.
Gennett fouled away two bunt attempts -- looking like he was trying to drag bunt for a hit -- before laying down a successful sacrifice.
"He's played really well," Roenicke said. "We've got to get better at some things, but he's impressed a lot of people. He's impressed me a lot. Like what he does out there on defense. And I knew he was a good hitter, but he really has been good."
Adam McCalvy is a reporter for MLB.com. Read his blog, Brew Beat, and follow him on Twitter at @AdamMcCalvy. Kevin Massoth is an associate reporter for MLB.com. This story was not subject to the approval of Major League Baseball or its clubs.