Brewers coaches, executives meet to evaluate squad
Brewers coaches, executives meet to evaluate squad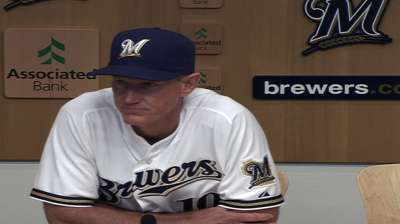 MILWAUKEE -- The Brewers' state of the franchise meeting Wednesday turned into an all-day affair. Manager Ron Roenicke said he and his coaches took part from about 9 a.m. to 2:15 p.m. CT, but general manager Doug Melvin and his lieutenants and scouts continued on until the early evening in the Miller Park war room. The Brewers' entire 40-man roster was evaluated.
The biggest issue in 2013 has clearly been injuries for the Brewers, and to Roenicke, a healthy ballclub means more wins next season.
"I think just getting guys back healthy makes a huge difference," Roenicke said. "That's obviously what we need next year, just having our guys on the field. Also, we had some things with our pitching staff, our starting staff. We get rid of that bad May that we had, and our season wasn't so bad."
Without a 6-22 May, the Brewers would have entered Wednesday's meeting with the Cubs with a .500 record. Instead, they were in a battle to remain out of the National League Central basement, and there are several question marks heading into the offseason.
One of those is at first base, where the Brewers have started seven different players.
"There was definitely discussion on first base," Roenicke said. "Some on what we could do in-house, and what we'd have to do if we go outside."
Roenicke said one of the few positives to this season was the opportunity to evaluate some young prospects on the big league stage, including Sean Halton, who has received much of the playing time at first base since Juan Francisco has fallen out of favor.
"It's bad because key guys got hurt, it's bad because some guys may be up here sooner than they're ready; it's good because we get to see these young guys," Roenicke said. "I'm surprised by some of these guys. I'm surprised. We're winning a lot of ballgames, and we're winning against some good teams. When you miss all the guys that have gone down for us, I wasn't sure how we were going to do."
Adam McCalvy is a reporter for MLB.com. Read his blog, Brew Beat, and follow him on Twitter at @AdamMcCalvy. Kevin Massoth is an associate reporter for MLB.com. This story was not subject to the approval of Major League Baseball or its clubs.