Segura could pinch-hit in upcoming Braves series
Segura could pinch-hit in upcoming Braves series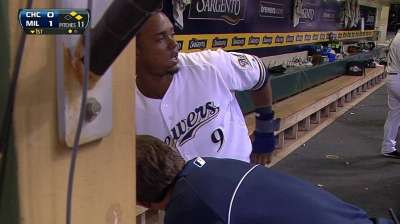 MILWAUKEE -- Brewers manager Ron Roenicke said Sunday that All-Star shortstop Jean Segura may be available to pinch-hit in the team's upcoming series in Atlanta, which starts Monday.
It has been unclear when, or if, Segura would return from a strained right hamstring he sustained on Wednesday, but Roenicke seemed optimistic he could use him this week.
"There's a chance he'll be available in the next series," Roenicke said. "That doesn't mean necessarily he'll be starting, but he'll be available. There's a lot of situations lately that I'm thinking, I look down to the end of the bench and I see Siggie sitting there and I'm like, 'It'd be great to have him just go pinch-hit.' You don't have to run hard, just swing the bat."
Hitting is not the issue for Segura, it is the running that follows that has kept Roenicke from writing his name in the lineup.
"You can wrap him up so tight that when you're up there, you know there's something there," Roenicke said. "Because if you don't and you just run instincts, he'd probably run down there hard."
Until Segura returns, the shortstop job belongs to Jeff Bianchi. Bianchi entered Sunday hitting .200 (3-for-15) with two doubles since taking over for Segura.
Roenicke said Bianchi is solid at short, but he is no Segura.
"I like him there. He's got good instincts," Roenicke said. "When you're really used to Siggie and the range and the arm strength and all, it's different when you have somebody else out there."
Kevin Massoth is a reporter for MLB.com. This story was not subject to the approval of Major League Baseball or its clubs.