Roenicke saves Davis for Braves' lefties
Roenicke saves Davis for Braves' lefties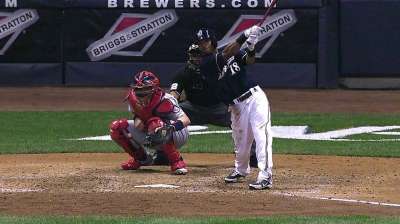 MILWAUKEE -- Brewers manager Ron Roenicke held Khris Davis out of Sunday's finale against the Cardinals to rest his sore left wrist prior to two matchups against left-handed starters in Atlanta.
Davis has been in and out of the Brewers' starting lineup the past two weeks while dealing with the nagging injury, but Roenicke wanted to start him against Braves lefties Mike Minor and Paul Maholm in the opener and the finale in Atlanta.
"I don't want to put him out there every day if it's going to get any worse than it is," Roenicke said.
Davis has still produced despite the injury, delivering three hits, including a home run and four RBIs in three starts this past week.
Roenicke said second baseman Scooter Gennett will also get chances against the Braves' left-handers this week. Gennett entered Sunday hitting .067 (2-for-30) against lefties this season.
"History he's .240 or something against them," Roenicke said. "If he can do that, we're fine. But he's got to have the opportunities. If you have him in there just against right-handers and they bring in a lefty, it's always that specialist who's really tough on lefties. And that's usually his only at-bats against them."
Kevin Massoth is a reporter for MLB.com. This story was not subject to the approval of Major League Baseball or its clubs.