Attanasio finds encouragement in Brewers' season
Attanasio finds encouragement in Brewers' season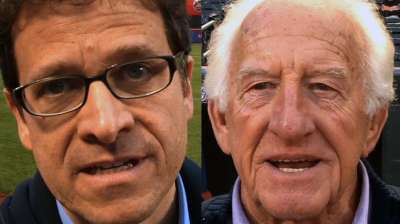 NEW YORK -- Asked to sum up his ninth season as the Brewers' principal owner, Mark Attanasio could not escape one word.
"Unfortunately, the first word that comes to mind is 'disappointing.' I think we all know the reasons for that," Attanasio said Friday afternoon at Citi Field, where the Brewers are playing the final series of a season that began with a devastating series of injuries at first base, and hit bottom when Ryan Braun was suspended in July.
"That said, it did end up somewhat encouraging," Attanasio said, "both in terms of our wins, and most importantly in terms of how all the young guys have played, the ones who came up these last 2-3 months. It certainly is going to affect how we plan in the offseason. We did our full group staff meetings, and a lot of these guys are in the mix now, and I don't know if you would have had any of them in the mix 3-4 months ago."
He addressed all of his players on Thursday at the start of the series, a tradition since Attanasio's first full season in 2005. As he spoke, it struck Attanasio how many of the players in uniform were not there on Opening Day, a reminder of the tumult that marked the Brewers' season.
"Looking around, I don't think in nine seasons we've ever had turnover like that," Attanasio said.
Other topics covered by the owner on Thursday:
• When asked about offseason resources and whether he believes big acquisitions are needed: "Well, we can never have enough pitching, so we're always going to look at pitching," Attanasio said. "We've already been through the free agent list. There's not a lot of obvious candidates. Other than that, for a team that still ranks pretty low in terms of won-loss record, we have a lot of positions already filled for next year, and, in fact, in some cases, overflow.
"The budget is fluid. It depends on opportunity, trades can come up and you can increase budget through trades, too. You don't only do it through free agent signings."
Attanasio said he felt "very good" about Kyle Lohse, Yovani Gallardo and Wily Peralta anchoring the starting rotation, citing the experience Peralta gained in his first full Major League season.
• On his role in Braun's character rehabilitation:
"It's really guidance," Attanasio said. "I think it's important for Ryan that he works through this himself. And, importantly, he is taking the responsibility of working through this himself. ... I would say so far, so good. It's too early to make any judgments on where this is going. I think we all need to step back and see how this goes. He's in the early innings."
Asked whether Braun would attend the Brewers' FanFest in January, Attanasio said, "We haven't talked about it. I was counting on having him at Brewers On Deck."
• On a challenging season coming to an end:
"I have mixed emotions, because I love baseball so much," Attanasio said. "It's very difficult to see the season come to an end, as difficult a season as it has been. It's been pretty fun lately. I was at the ballpark a few times at the end of the season, and it was a new experience to go to games that counted [for the opponent] -- but didn't count for us. But there was some of that tension and emotion in the air, and that was nice to feel again.
"Every year I'm fortunate to say our fans are the best. You talk about coming out, thick and thin. They were tested with 'thin' of biblical proportions this year and have come through as they always have. It made me feel terrific about how the team and the organization came forward."
Adam McCalvy is a reporter for MLB.com. Read his blog, Brew Beat, and follow him on Twitter at @AdamMcCalvy. This story was not subject to the approval of Major League Baseball or its clubs.