Roenicke reflects on Crew's trying season
Roenicke reflects on Crew's trying season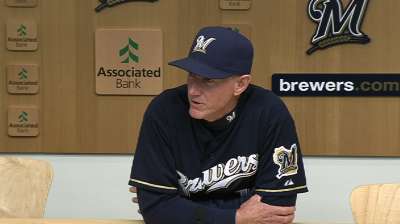 NEW YORK -- The 2013 season was Brewers manager Ron Roenicke's 34th as a professional baseball player or coach -- and his most trying, he said.
As things came to an end on Sunday at Citi Field, was he feeling worn out?
"Surprisingly, no," Roenicke said. "Some of it you expect to have -- we had a little bit more of it this year -- but sometimes you like the adversity. The first year I was here, yeah, there was challenges, and I was trying to figure out things, but it went very well. Then last year we didn't start off well, but I think the adversity that challenges a manager -- I certainly felt like I had a lot this year, and it is a learning process.
"I think it will help me for what happens in the future. Hopefully we stay healthy, but if we don't we may have to go through another year like this. I think the more things that happen to you, the more you can figure out what the right way is to handle different situations, whether it's minor next year or major again."
Many of the issues were major, from Opening Day starter Yovani Gallardo's arrest for drunk driving in April to injuries throughout the heart of the lineup to Ryan Braun's suspension in July.
"I don't want to say I enjoy the challenges, because nobody enjoys it," Roenicke said. "But I understand it does make me better at what I do, and I think sometimes it makes a player better in what he does."
Roenicke will be entering the final season of his contract in 2014, though the club holds an option for 2015.
Asked whether that would be addressed before the start of next season, general manager Doug Melvin said, "We haven't looked at that yet. That's a decision down the road."
Adam McCalvy is a reporter for MLB.com. Read his blog, Brew Beat, and follow him on Twitter at @AdamMcCalvy. This story was not subject to the approval of Major League Baseball or its clubs.