New rule to bring adjustments for Lucroy, Maldonado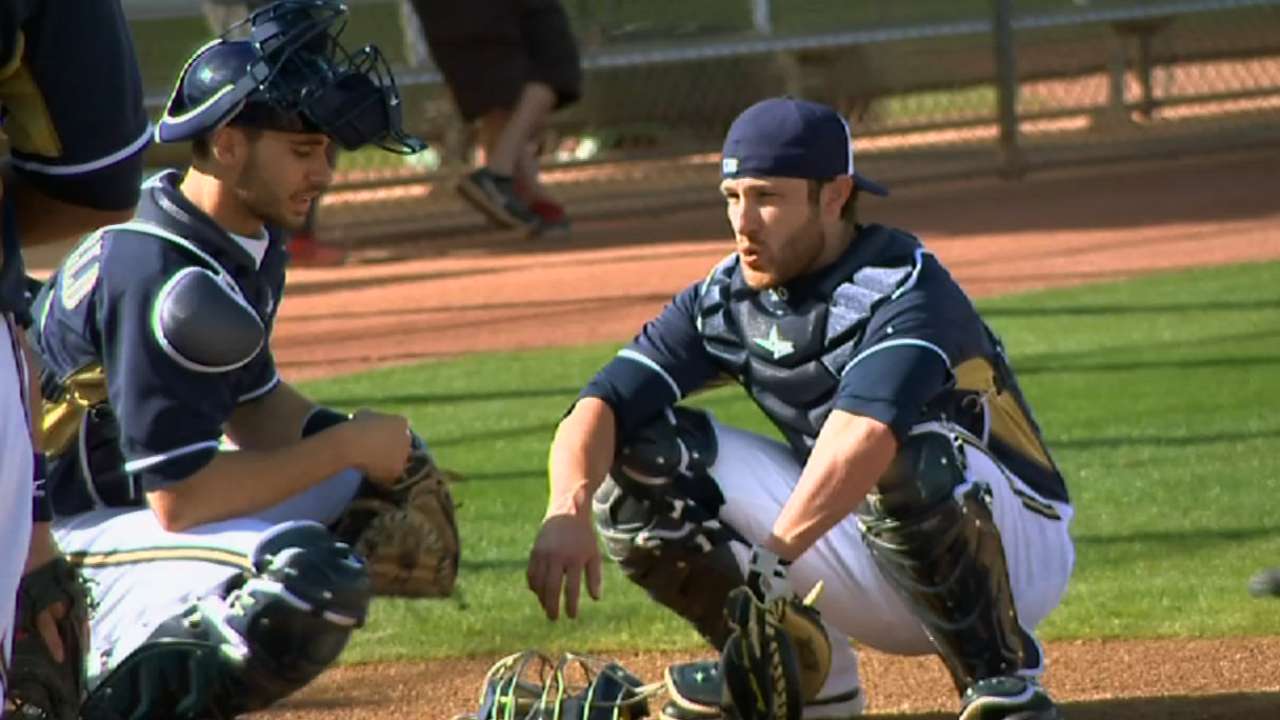 PHOENIX -- The Brewers' primary catchers did not wait for Major League Baseball's official announcement Monday to begin preparing for changes to the rule regarding home-plate collisions. Jonathan Lucroy and Martin Maldonado spent part of Sunday working on swipe tags with Brewers catching coordinator Charlie Greene, bench coach Jerry Narron and Triple-A manager Rick Sweet.
Their verdict? This is going to take some getting used to.
"Swipe tags are hard," said Maldonado, a superior defensive catcher. "Really hard in catcher's gear."
MLB announced the new rules while the Brewers were still on the fields at Maryvale Baseball Park. In essence, a runner attempting to score may not deviate from his direct pathway to the plate in order to initiate contact with the catcher or other player covering home plate, and unless the catcher or another player is in possession of the ball, he can no longer block the pathway of a runner attempting to score.
The rule will be implemented on an experimental basis for 2014. Beginning immediately, clubs are required to train their runners to slide and their catchers to provide the runner with a pathway to reach the plate at all levels of organizations. The league plans to distribute additional training materials in the weeks ahead.
"I'm a conservative-type guy. I like keeping things the way they are, although I do understand where they're coming from," Lucroy said. "I understand the owners who voted on it want to maintain their investments, and catchers are investments. So are the players who hit catchers. I understand the importance of [avoiding] concussions. I get it. It's just really hard to break old habits. Yesterday, we were thoroughly confused, trying to figure out ways to do it. There were so many issues as far as, 'Will this be legal? Would that be legal?'"
Even after reading the new rule, Lucroy said, "We've got a lot of grey area in my eyes. We're going to have to get this clarified."
Said Maldonado: "I think [collisions] are part of the game, but I understand they have to make some adjustments about catchers getting hurt and runners getting hurt. They have to do what they think is best. It sounds like we're going to be like a shortstop or second baseman now."
One key question raised by Maldonado -- What if an errant throw draws the catcher into the baseline? -- was answered in MLB's announcement. If the umpire determines that the catcher could not have fielded the ball without blocking the pathway of the runner, and that contact with the runner was unavoidable, the play will be legal.
Both Lucroy and Maldonado have been lucky to avoid big-time collisions in their Major League careers. Maldonado remembers tangling with a runner on a bang-bang play at the plate in 2010 and suffered a high ankle sprain. Lucroy remembers catching a helmet to the chin from Lastings Milledge of the Pirates that same season, but he suffered no ill effects.
"It's going to be different for them," said Brewers manager Ron Roenicke, who supports the idea of making changes to protect catchers and baserunners alike. "Jerry Narron played with Bob Boone for a lot of years, and Bob Boone did the swipe tag even way back. But he knew how to do it. He straddled the plate. They still had a big area to slide to, and it was just a catch and a swipe and a tag. I think they'll be able to pick it up pretty fast."
Maldonado hopes so.
"I told Luc we should keep an infield glove back here," Maldonado said, reaching around to the back of his belt, "so we can pull it out to catch balls for plays at the plate."
Adam McCalvy is a reporter for MLB.com. Read his blog, Brew Beat, and follow him on Twitter at @AdamMcCalvy. This story was not subject to the approval of Major League Baseball or its clubs.