Henderson quietly adding to arsenal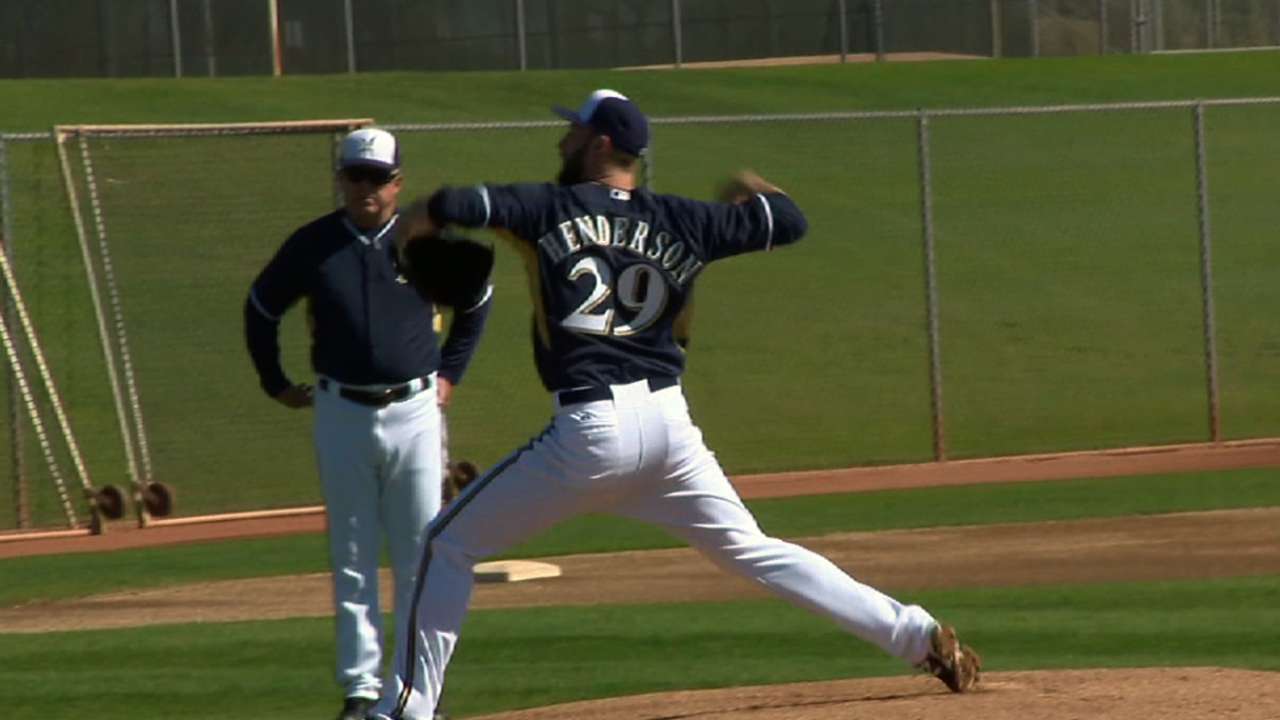 SCOTTSDALE, Ariz. -- Brewers closer Jim Henderson has yet to appear in a Cactus League game, but he and manager Ron Roenicke each said it was no cause for concern. The role does not require a heavy Spring Training workload, for one, and Henderson has preferred to work amid the privacy of the back mounds at Maryvale Baseball Park because he is developing a new pitch, Roenicke said.
Roenicke was not merely referring to the slider refinements that Henderson mentioned earlier in camp. He was talking about an entirely new pitch.
"They can see it," Roenicke said, referring to rival scouts, "when it happens."
Henderson enjoyed his first full Major League season as a 30-year-old in 2013, assuming closer duties after only one week and going on to log 28 saves in 32 chances with an overall 2.70 ERA. According to FanGraphs.com, he threw all fastballs (77 percent, with an average velocity of 95.3 mph) and sliders (23 percent, 85.6 mph).
Presumably, an addition to Henderson's arsenal would help against left-handed hitters. They managed a .786 OPS against him last season, compared with .475 for right-handed hitters. Six of the eight home runs off Henderson were produced by left-handed hitters.
"I think we'll mess around with some stuff during the spring here," Henderson said as camp opened. "Whether it's a new pitch, whether it's just defining my slider a bit more. My slider was really good in the beginning of the year last year, then it kind of [fell off]. … That's one of the nice things, too, about this spring for me, is that I can afford to make some mistakes out there in Spring Training and not be worried about it too much. We'll hopefully have something set in stone by the end of the spring."
Henderson threw some live batting practice Sunday while the rest of the Brewers played the Rockies in Scottsdale. His next step could be a Cactus League game.
"There's no reason to ramp him up quick," Roenicke said. "He's been working on some things, some pitches, so we backed him off."
Adam McCalvy is a reporter for MLB.com. Read his blog, Brew Beat, and follow him on Twitter at @AdamMcCalvy. This story was not subject to the approval of Major League Baseball or its clubs.