Gallardo features curve against A's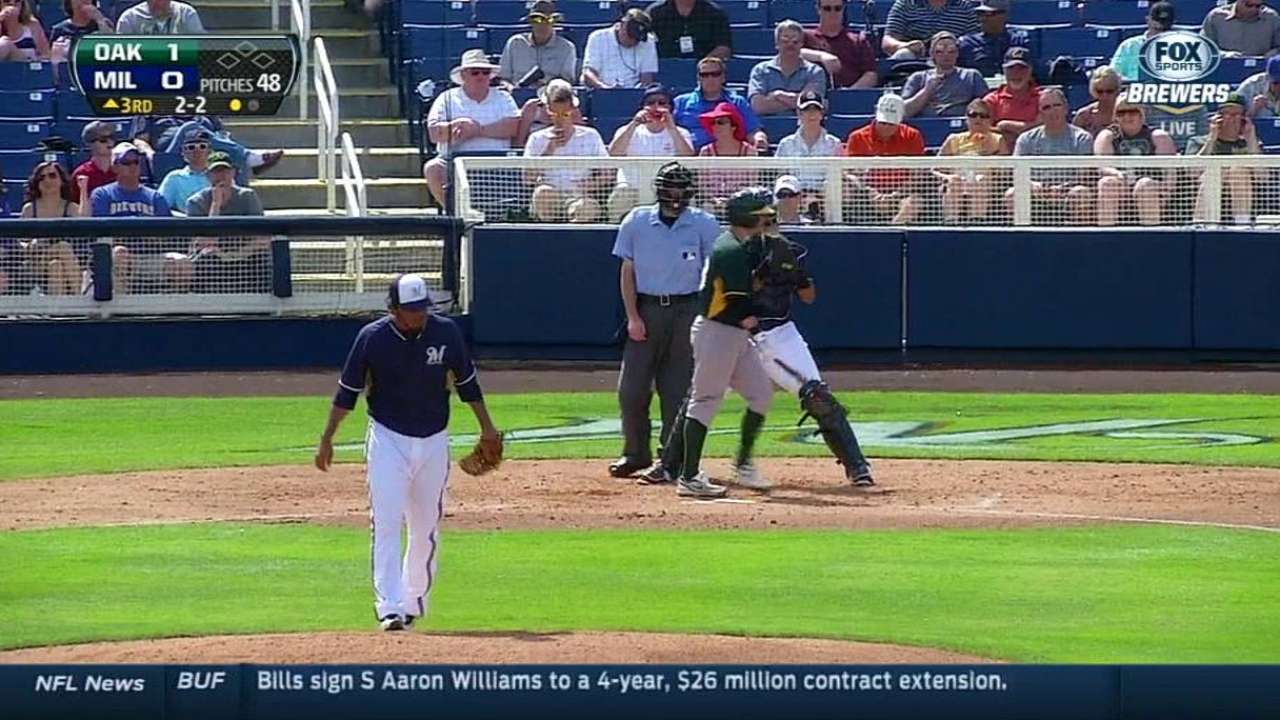 PHOENIX -- The star of Yovani Gallardo's 2 2/3-inning outing against the A's on Wednesday was his curveball, a pitch the right-hander wants to use more this season. In his previous spring start, Gallardo threw mostly fastballs and changeups.
"I threw a great amount of curveballs early in the count for first-pitch strikes," Gallardo said. "That's something that I'm going to try to work on this year and get more consistent with. Today was good. I buried it with two strikes whenever I needed to for a put-away pitch."
He also threw sliders, two-seam sinkers, and spotted his four-seam fastball low and away against many of Oakland's left-handed hitters. Gallardo was charged with one run on three hits in 2 2/3 innings, with a walk and four strikeouts. The run came on a Michael Taylor homer in the second inning.
Only 29 of Gallardo's 49 pitches were strikes, but everything felt like it was working.
"I'm trying to mix everything in," Gallardo said. "I'm trying to get the feel for everything."
Manager Ron Roenicke has still not named an Opening Day starter, but as of Wednesday the order went Gallardo, Kyle Lohse, Matt Garza, Marco Estrada and Wily Peralta.
"You can look at it that way," Roenicke said. "We can do a lot of things. We have off-days coming up, so I haven't set who's going Opening Day yet."
When might he set it?
"A week or so," Roenicke said "I want to make sure I talk to all the starting pitchers first before I announce who's going to go when. And things change so much. A guy stubs his toe or something, you've got to set him back."
Adam McCalvy is a reporter for MLB.com. Read his blog, Brew Beat, and follow him on Twitter at @AdamMcCalvy. This story was not subject to the approval of Major League Baseball or its clubs.