Roenicke tells Gennett not to worry about stats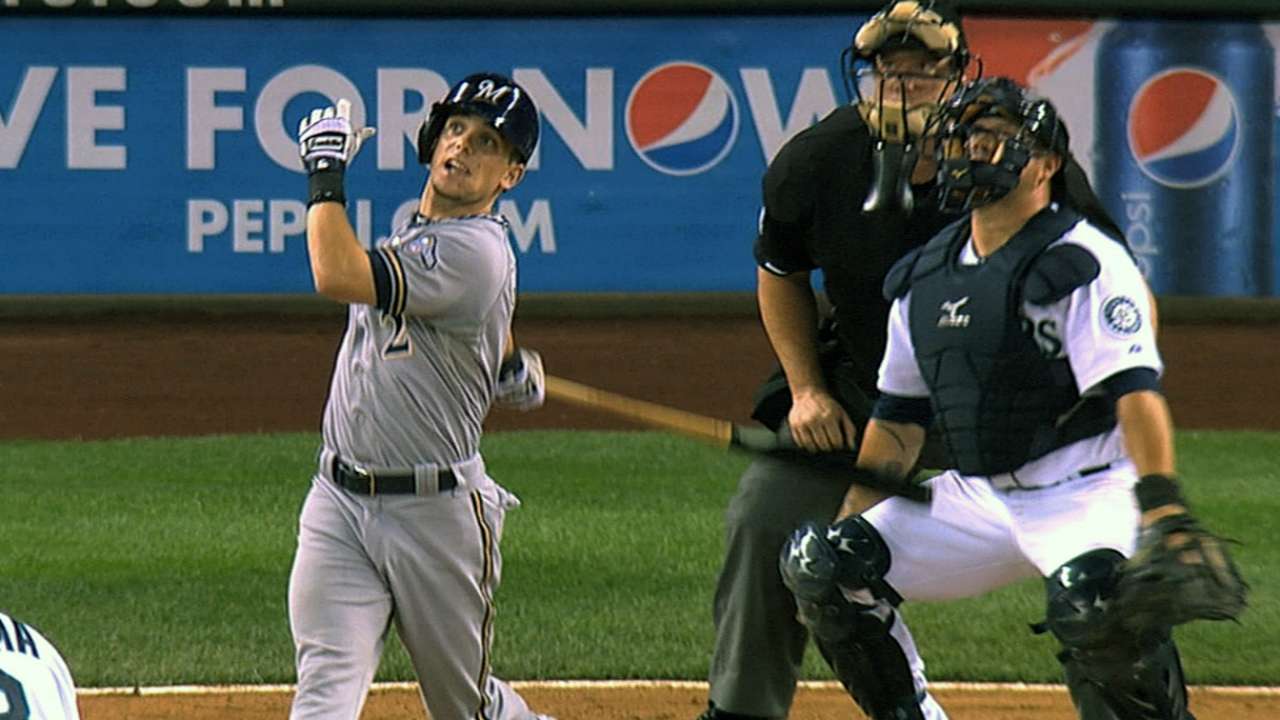 PHOENIX -- Battling with Rickie Weeks for Brewers second-base duties, 23-year-old Scooter Gennett is trying not to sweat his slow spring start.
"It's tough," Gennett said. "As a baseball player in any situation, at any age, you want to do well and you want to have success, you want to help your team out. You just want to have good days at the ballpark."
So far, days at the ballpark have been a bit frustrating. Facing a steady stream of left-handed pitchers -- Gennett estimates that nearly half of his at-bats have been against southpaws -- the left-handed hitter is 1-for-13 with a walk and four strikeouts entering Thursday. Weeks, meanwhile, entered Thursday's game 4-for-9 with a home run after making adjustments to his batting stance during the offseason.
"I told [Gennett] yesterday not to worry about the numbers," Brewers manager Ron Roenicke said. "I don't worry about the numbers, so I don't think they should. I just want to see good at-bats and good plays on defense. We know he can hit. Whether he's a .325 hitter or whatever he hit last year [.324 in 69 games], I don't know that. But he can hit."
The Brewers are billing this as an open competition, even though Gennett outplayed Weeks at the plate and in the field last season and will cost about $10.5 million less. Weeks is due $11 million this season in the final guaranteed year of his contract.
Gennett is not focused on any of that.
"I learned in the Minor Leagues that whole process, the mental side of leaving things at the field and not taking them back home with you, and almost having a short memory," Gennett said. "You find tools that work for you, and you go to those when times get tough, and you usually get through it."
So far, Weeks and Gennett have essentially been playing every other day at second base. That could begin to change as starting pitchers work deeper into games, allowing Roenicke to choose his starting second baseman based on matchups, as he would if they both break camp with the team.
Gennett batted only .154 (6-for-39) against left-handers last season and said he actually was glad to get some early at-bats against southpaws. He wants to improve in that area.
"Really, for me, it's just letting the ball get a little deeper and putting together better at-bats," he said. "Gradually, as I keep on facing them, I'll feel more comfortable. It's a process."
Adam McCalvy is a reporter for MLB.com. Read his blog, Brew Beat, and follow him on Twitter at @AdamMcCalvy. This story was not subject to the approval of Major League Baseball or its clubs.