Lohse makes between-starts bullpen a group affair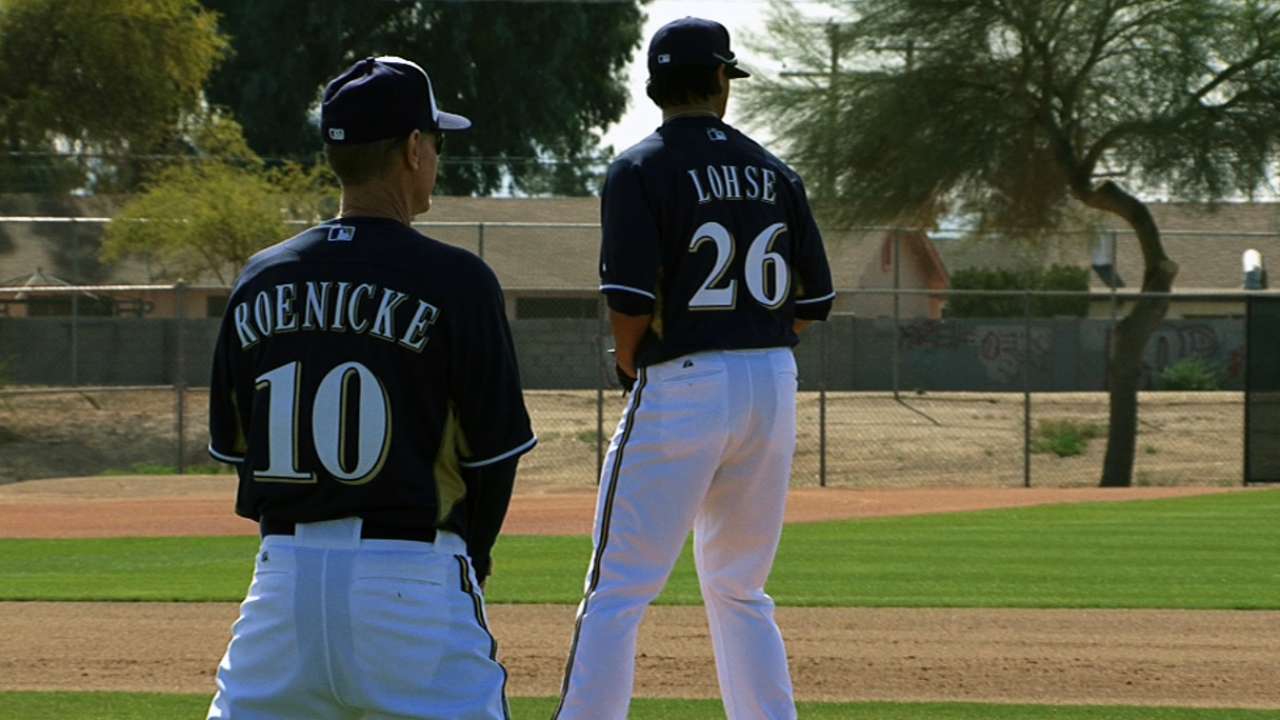 PHOENIX -- Every single time he picks up a baseball, Kyle Lohse says, he does so with purpose. He's hoping his fellow Brewers starting pitchers are thinking the same way.
That's why Lohse imported one St. Louis Cardinals tradition to Milwaukee after he signed with the Brewers last season. When a pitcher and pitching coach go to the bullpen for what sometimes was a quiet, mundane, between-starts bullpen session, at least three other pitchers tag along.
"Everyone but that day's starter," Lohse said. "It really brings the starters together as a unit, which you have to be to be successful. It all starts right there."
Asked whether this was one aspect of the ethereal "Cardinal Way," Lohse said, "It was more of a 'Chris Carpenter Way.'"
Lohse's original Major League mentor was Wisconsin native Brad Radke with the Twins, but it was Carpenter who "helped me take it mentally to the next level" in St. Louis, where Lohse pitched from 2008-2012 and reinvented himself as a command specialist following forearm surgery.
"I owe a lot to him," Lohse said.
He found the group bullpens helpful during his transition and thought they would have the same impact in Milwaukee, where Yovani Gallardo was having a challenging start to the season, Marco Estrada was enduring inconsistency and Wily Peralta was working through his first full year in the Major Leagues.
"The first year I was here [2011], guys did that a lot," Brewers manager Ron Roenicke said. "[Zack] Greinke always wanted to see the other guys throw their bullpens. [Shaun] Marcum would be out there. [Randy] Wolf started doing it. I don't know why we got away from that."
Lohse believes there are three benefits.
"The camaraderie," he said, tops the list. "Then the fact that you've got extra eyes on a bullpen, so you build that trust with each other. If you see something somebody's doing, you can tell 'Kranny,' [pitching coach Rick Kranitz], or you can just go to the guy himself. Now you have that trust that the guys know what they're talking about, because they've been there every day.
"And also, when you get into June and July, sometimes you have the tendency to just go over there and get it over with. But when you have three other guys watching you, you're not going to want to waste their time throwing a crappy bullpen. You're going to want to go out and get what you need out of it.
"Those are the benefits I see of bringing that [over from St. Louis] and building that up. You're not doing your work just to do it. You're trying to get something out of it."
Sometimes Kranitz and the three observers banter throughout a pitcher's mound session. Sometimes they engage in serious baseball talk. Sometimes they just watch.
"Eight eyes are better than two. I think it's a great idea," said Peralta. "[Lohse] has been unbelievable as a mentor here. He's helped me out a lot. Last year, we always watched the game together and talked about it. I asked questions of him. 'What do you think about this hitter? What pitch do you throw here.' We have different stuff, but it helped me."
That is the point.
"Every time I pick up and throw a ball, I throw it with a purpose," Lohse said. "That's what I found works for consistency. Every time playing catch, I'm trying to do something with the ball. I'm not just out there doing nothing. Some guys are different, but that's a real key for me."
Adam McCalvy is a reporter for MLB.com. Read his blog, Brew Beat, and follow him on Twitter at @AdamMcCalvy. This story was not subject to the approval of Major League Baseball or its clubs.