Single blemish of '13 is motivation for Nelson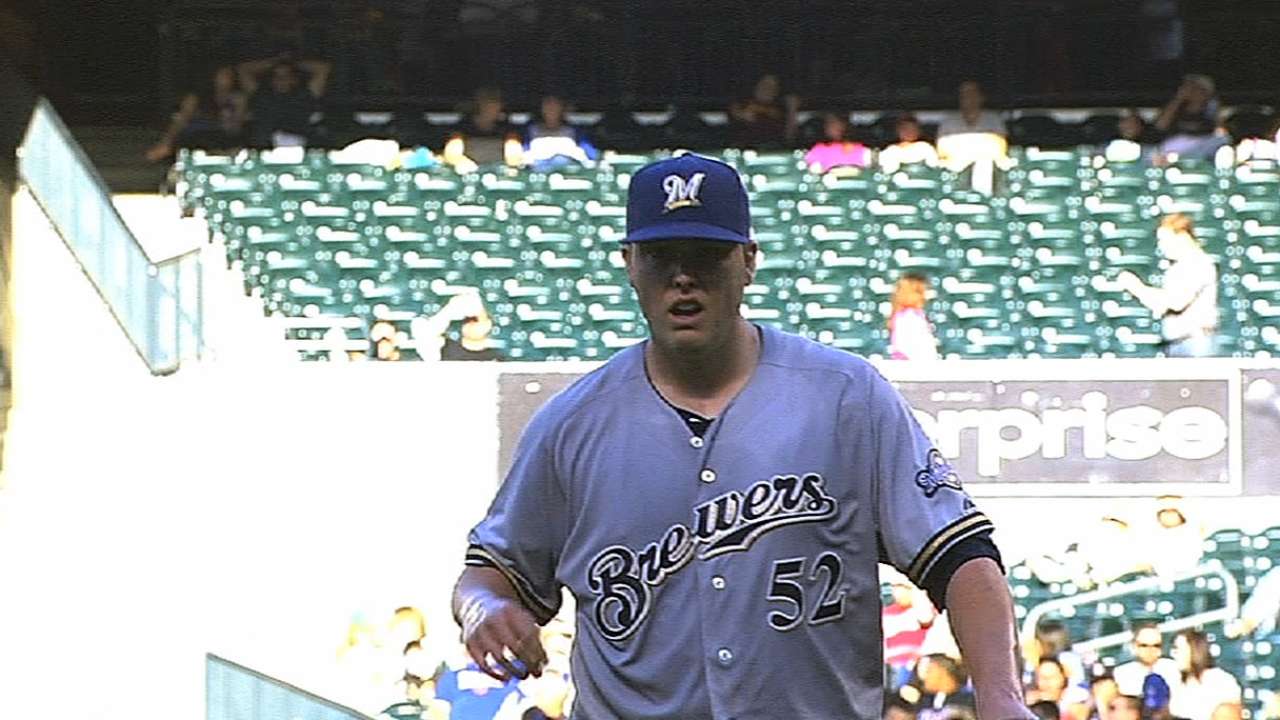 MESA, Ariz. -- More than five months later, Jimmy Nelson is still irked about those three walks he issued against the Mets in his first Major League start.
"I like to think I'm intense," he said. "It's something I've always been. Even since I was a younger kid, I was always competitive."
So part of Nelson, MLB.com's highest-rated Brewers prospect last year, is still affected by those walks last Sept. 28 at Citi Field, where he allowed one Mets run and only one hit over five innings. What annoys Nelson is that the run originated with a walk of Lucas Duda, who advanced to second base on a wild pitch and to third on a groundout before he scored on Daniel Murphy's sacrifice fly to tie the game at 1.
The teams traded late runs and went into extra innings before the Brewers won, 4-2, in the 10th.
"I felt like I did my job giving us a chance to win, and I was pleased with that," Nelson said. "But it was more of a battle than something I just let happen. My command kind of got away from me a little bit there, and I had to battle through it. I got through those five innings, and you look back on it and I only gave up that one run, but that run that scored was a walk. As a very intense guy I look at it as, if I don't walk that guy, maybe we don't go into extras and we win the game in nine."
Nelson pitched a scoreless inning with one strikeout -- and no walks -- in Saturday's walk-off win over the Royals. He has surrendered two earned runs on four hits in three innings so far this spring. Barring a tremendous spate of injuries to Brewers starters, he will probably begin the season back at Triple-A Nashville, where he finished last season.
In 27 starts between Double-A Huntsville and Nashville, Nelson was 10-10 with a 3.25 ERA and 163 strikeouts in 152 1/3 innings. After a callup to Milwaukee, he posted a 0.90 ERA in three relief appearances and the one start. Duda's was the only run charged to Nelson in the big leagues.
He hopes to bring his fiery mound manner back to Milwaukee in 2014.
"Sometimes, that intensity is a double-edged sword," Nelson said. "I've had to learn in pro ball how to control that emotion. It can work both ways, but as long as you control it, it's definitely positive. People that are very intense and competitive have to realize what we can control and can't control. Once you that, you're going to be a lot better off."
Adam McCalvy is a reporter for MLB.com. Read his blog, Brew Beat, and follow him on Twitter at @AdamMcCalvy.Alyson Footer is a national correspondent for MLB.com. Follow her on Twitter @alysonfooter. This story was not subject to the approval of Major League Baseball or its clubs.