Gorzelanny progressing; Opening Day in question
Brewers assessing options if left-handed reliever not ready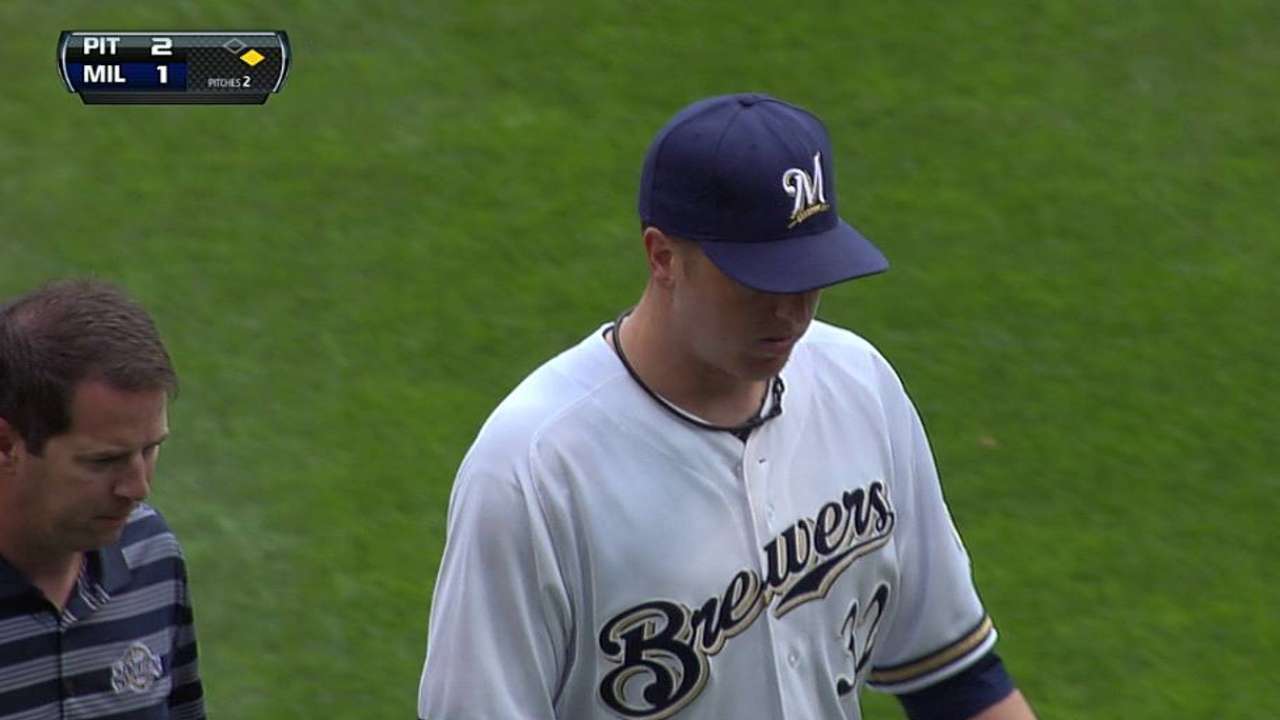 TEMPE, Ariz. -- Brewers left-hander Tom Gorzelanny is making steady progress in his return from offseason shoulder surgery, but is running out of time to be game-ready by Opening Day, manager Ron Roenicke conceded Wednesday.
Left-handers Wei-Chung Wang, a Rule 5 Draft pick, and Zach Duke, a non-roster invitee, could be particularly impacted if Gorzelanny begins the season on the 15-day disabled list. He underwent what the club described as a "cleanup" procedure in early December and graduated on Wednesday to throwing from 150 feet on flat ground.
"He's still a ways away [from pitching in a game]," Roenicke said. "It doesn't look real good [unless] something happens to where he comes around really fast. I don't think [he's going to miss Opening Day] by a lot, unless there's setbacks, but we're pushing it a little."
The Brewers already have one lefty pegged for the bullpen in Will Smith, who was acquired from Kansas City during the offseason. A second southpaw would give Roenicke the sort of flexibility he enjoyed for a brief period in 2013, when Gorzelanny and Mike Gonzalez were both pitching effectively.
Duke and Wang each have their positives.
Duke found success as a situational left-hander with the Reds during the latter portion of last season, posting a 0.84 ERA in 14 appearances, and would be valuable during early days of the regular season that see the Brewers face the Braves (with left-handed hitters Freddie Freeman and Jason Heyward), Red Sox (David Ortiz) and Phillies (Domonic Brown, Ryan Howard and Chase Utley).
Wang would be more of a long-term investment. Brewers scouts liked his arm enough to select him from Pittsburgh in December's Rule 5 Draft, even though Wang is 21, missed all of 2012 while recovering from Tommy John surgery and pitched at the rookie-league level in 2013. By rule, the Brewers would have to keep Wang in the Major Leagues all season or offer him back to the Pirates. If he can throw strikes, Roenicke said last week, Wang could work as a middle relief option.
"It's hard to talk about all these things because so much changes," Roenicke said. "We spend a lot of energy talking about stuff that we can wait and talk about."
Of Wang's composure, Roenicke said, "it's just personalities. Everybody is different. His personality is, it doesn't seem like [pressure] is going to affect him. It may later, I don't know. Right now, I don't see it."
Adam McCalvy is a reporter for MLB.com. Read his blog, Brew Beat, and follow him on Twitter at @AdamMcCalvy. This story was not subject to the approval of Major League Baseball or its clubs.