Brewers, Davis waiting on bat to heat up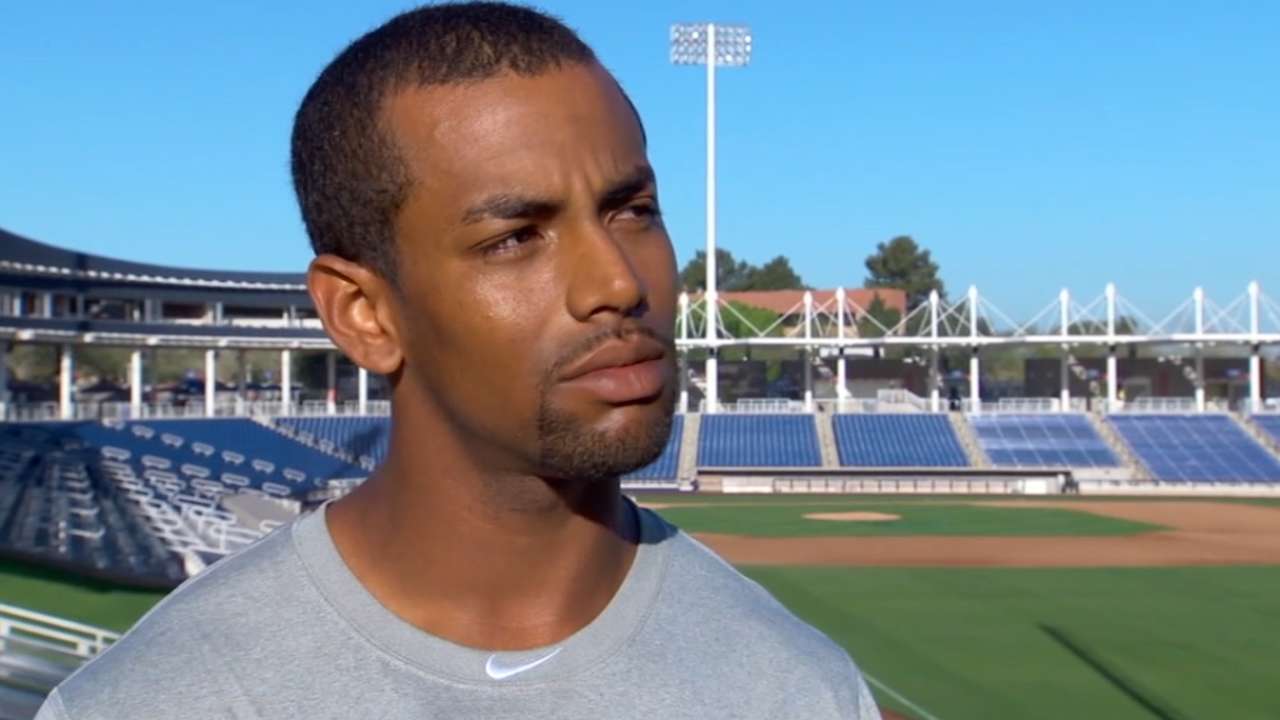 PHOENIX -- The Brewers hope one good swing can snap Khris Davis out of his spring slump.
Davis came off the bench in the 10th innings on Friday and ripped a double into the left-field corner, sparking the decisive rally in a 9-8 win over the D-backs at Maryvale Baseball Park. It was his team-leading 32nd at-bat in the Cactus League, and one manager Ron Roenicke hopes will send Davis on a more positive path toward the regular season.
"I'm not saying it will," Roenicke said. "But it can."
Earlier in the day, Roenicke said he had discussed with Davis various ways to help the second-year outfielder get on track. With his rally-starting double, Davis boosted his batting average to .219 (7-for-32) with two extra-base hits, three RBIs, nine strikeouts and zero walks.
"He's still doing a good job in the outfield, so we're going to try to get him more at-bats and see if we can get him locked in," Roenicke said. "We've talked about a couple of things, but I don't see him [pressing]. I don't think we're at the point where I'm going to worry that much. If we're a week from now or more and he's not swinging it, then we need to try to get him going."
Roenicke is still formulating a plan for those extra at-bats, some of which could come in Minor League camp, where the rules are relaxed and Davis could lead off every inning.
After going 0-for-4 with a strikeout on Thursday against the Padres, Davis is batting .194 (6-for-31) with one extra-base hit (a home run), three RBIs, nine strikeouts and zero walks.
Last year, he was not expected to compete for the Opening Day roster but won a job anyway, hitting .262 and leading the team with six home runs and 16 RBIs in spring games. When Ryan Braun was suspended in July, Davis took advantage by hitting .294 with 11 home runs and 27 RBIs in his final 41 games. The Brewers thought enough of Davis that they traded Norichika Aoki over the winter and moved Braun to right field for 2014.
Roenicke insisted he is not concerned.
"We've got three guys [Davis, Logan Schafer and Caleb Gindl] that we're happy with, and if one's hot, they'll just play," Roenicke said. "We're hoping [he shows] what he can do offensively and the power that he brings, but the other guys, we like.
"Schafer is playing really well, and 'Schaf' is a really good Major League player. If he's out there every day, we're good."
Schafer struggled in a bench role last season but entered Friday batting .346 this spring. He is also a superior defender.
"His lines are always really true to the ball," Roenicke said. "He turns his back right away when the ball is hit and he's already in a dead sprint. So he can really play the outfield."
Shortstop Jean Segura has also asked for increased playing time, Roenicke said. Segura skipped winter ball for the first time in his career and is hitting a solid .313 through Friday's game, though 10 of his 11 hits are singles.
Adam McCalvy is a reporter for MLB.com. Read his blog, Brew Beat, and follow him on Twitter at @AdamMcCalvy. This story was not subject to the approval of Major League Baseball or its clubs.