Aramis plays first consecutive spring games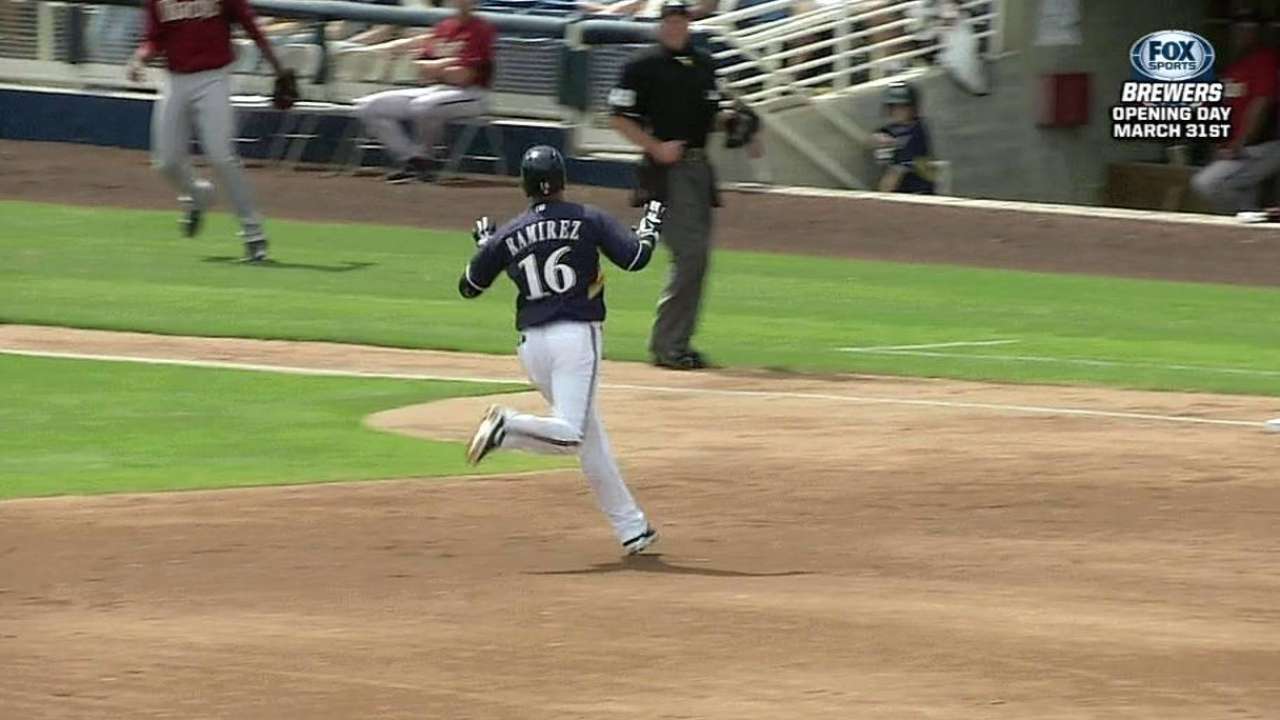 PHOENIX -- Aramis Ramirez has never hit an inside-the-park home run, not even in Little League, and he was not about to try for his first on Friday at Maryvale Baseball Park.
Ramirez is less than two months removed from surgery to remove a polyp from his colon, and he is still getting his legs in shape. That explains why he humorously waved off Brewers third-base coach Ed Sedar in the first inning Friday, before Sedar had a chance to send Ramirez home on what wound up as a stand-up triple.
"I was like, 'no más,'" Ramirez said with a chuckle. "I said, 'Don't even try to wave me around.' I was gassed already. No more. I was good. I just didn't want to take a chance of crashing with the catcher or having to slide. Not down here [in Spring Training]. That makes no sense to me."
When asked whether he had really never scored on an inside-the-park homer, Ramirez laughed and said, "Not even close. Not even in Little League. I've always been a slow player, man. Always."
Ramirez asked to play back-to-back games on Friday and Saturday for the first time this spring. He picked Friday because the Brewers had a ground ball pitcher on the mound in Wily Peralta.
"I actually got a lot of action," Ramirez said. "I got four or five ground balls. That's what I wanted."
One of those ground balls was produced by D-backs star Paul Goldschmidt, who batted against Brewers closer Jim Henderson with two outs and runners at second and third base in the sixth inning. Ramirez moved to his left, fielded the ball on a short hop and threw over for the inning-ending out.
He came out of Friday's 9-8 victory feeling strong.
"That's actually all I care for; I don't care about results right now," Ramirez said. "You obviously want to do well no matter where you play, but I just want to feel good and move well in the field. I'm on my way there now. I feel pretty good."
Ramirez was in the lineup Saturday as well, marking the first time he had played on consecutive days this spring. The 35-year-old went 2-for-3 with a double and a triple on Friday, and Saturday he was 2-for-3 with a double and an error on a routine throw to second.
Knee injuries limited Ramirez to 92 games last season. He hit .283 with 12 home runs and 49 runs batted in, while his slugging percentage dropped nearly 80 points from 2012.
"That's what he was missing last year, I thought, with the knee," Brewers manager Ron Roenicke said. "The bottom half and hitting balls especially the other way was very difficult for him."
Chris Gabel is a contributor to MLB.com. Adam McCalvy is a reporter for MLB.com. Read his blog, Brew Beat, and follow him on Twitter at @AdamMcCalvy. This story was not subject to the approval of Major League Baseball or its clubs.