Stats aside, Brewers pitchers making 'progress'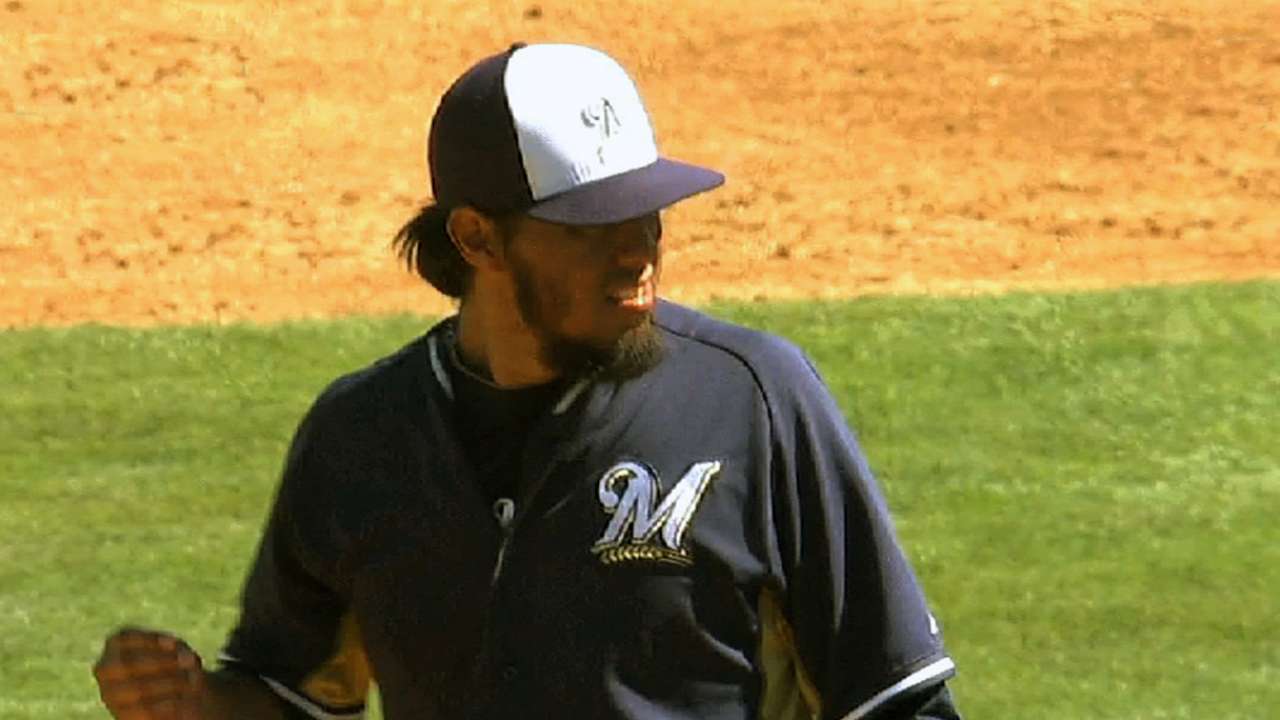 PHOENIX -- No matter what the numbers say, Brewers manager Ron Roenicke still believes his club possesses an improved pitching staff.
Entering Tuesday's games, Milwaukee ranked 28th of the 30 Major League teams -- and 14th of the 15 clubs that play in the Cactus League -- with a 5.55 ERA in exhibition play. Many of the teams on the bottom half of the list spend spring in Arizona, where dry air, "high" skies and rock-hard infields can play against pitching.
"If I see progress, that's good for me," Roenicke said. "If I look at numbers, I'm not going to be pleased."
But, he said, "I see progress."
Such as?
"I think I'm seeing some things we like from 'Yo' [Yovani Gallardo], I'm seeing a lot of good things we like from Kyle [Lohse], though we know what happened with the inning [on Monday, when Lohse was having trouble with the mound]. [Wily] Peralta has been outstanding, except for when he loses command at times.
"But when these guys are throwing strikes and they're throwing down in the zone like they want to, they all succeed."
Right-hander Marco Estrada helped lower the Brewers' staff ERA on Tuesday afternoon by working six sharp scoreless innings in a 9-3 win over the Rangers, running his personal scoreless streak to 12 innings. He threw 80 pitches.
"I felt good, could have gone back out," Estrada said. "That's the most important thing, that my stamina is up."
One struggling pitcher of note is closer Jim Henderson, who surrendered four runs on four hard hits in an inning against the White Sox on Monday in a rally that could have been cut short at one run had right fielder Irving Falu made a tricky catch at the wall.
Henderson has surrendered six earned runs on eight hits in his first five spring innings, with three walks and four strikeouts. He has been trying to incorporate a changeup to his fastball-slider combination.
"He's not where he needs to be, so we're going to try to figure that out," Roenicke said. "Location and stuff. He's a very deceptive guy in the way he throws, and you still see 95, 96 [mph], and hitters say it looks like 100 [mph] because of the deception he has. He's still trying to figure it out."
Adam McCalvy is a reporter for MLB.com. Read his blog, Brew Beat, and follow him on Twitter at @AdamMcCalvy. This story was not subject to the approval of Major League Baseball or its clubs.