Despite upheld calls, Roenicke likes replay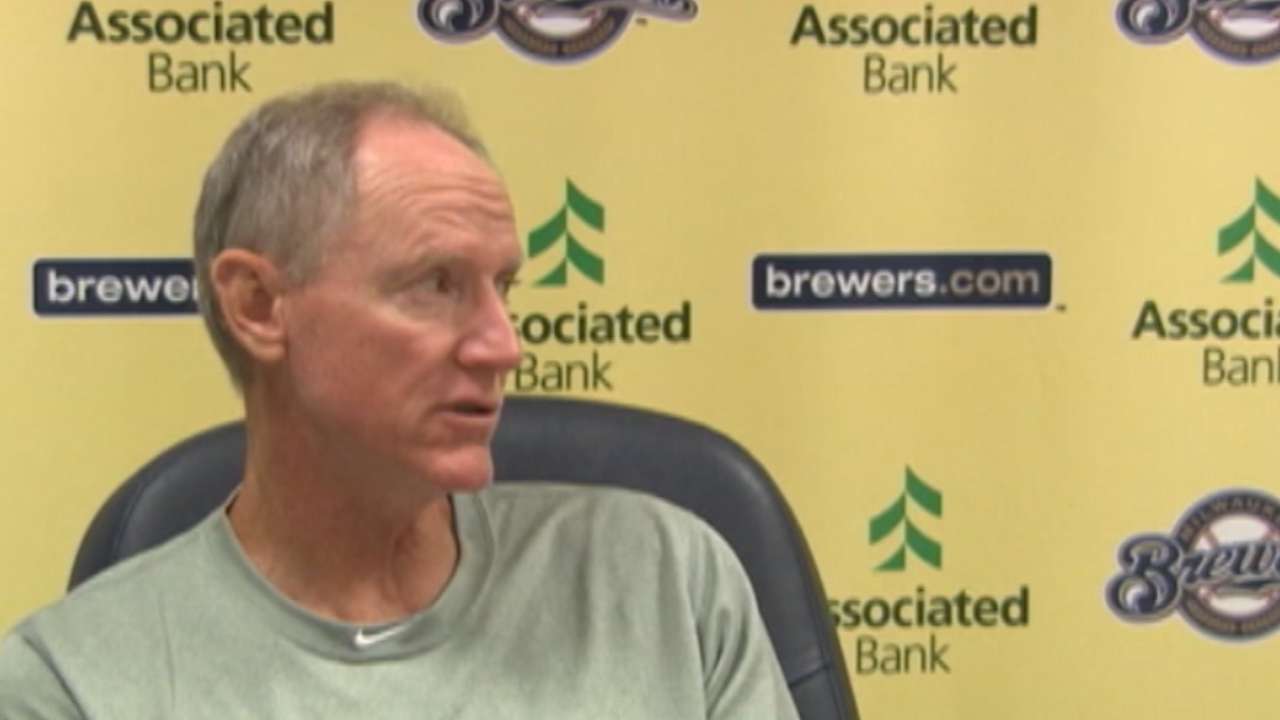 PHOENIX -- Brewers manager Ron Roenicke fell to 0-for-5 in challenges on Tuesday after expressing satisfaction earlier in the day with the way Major League Baseball is implementing expanded replay.
Roenicke's latest challenge came in the second inning against the Rangers, when Texas' Engel Beltre bunted for a hit, with Brewers third baseman Aramis Ramirez's throw pulling first baseman Mark Reynolds off the bag, per first-base umpire Kerwin Danley.
It was the sixth time that a manager challenged a call at Maryvale Baseball Park this spring, and all six times (including Roenicke's five challenges), the call has been upheld. Roenicke said Tuesday morning that he expects the ratio to be more balanced during the regular season, when more and higher-quality cameras are used for television broadcasts.
Of the replay system in general, Roenicke said, "I definitely feel more comfortable. Even some of the games that aren't replay, there are plays that come up that we talk about, and we feel comfortable that in the season, I would go out and either ask them to look at it or I would challenge the play."
Brewers coach John Shelby will be stationed in the video room at Miller Park monitoring replays and signaling to the bench when a challenge is in order. The system will not be fully up and running until the Brewers' March 31 Opening Day game against the Braves.
Another big rule change in baseball still needs clarification, Roenicke said. He senses some confusion among the umpires about changes governing collisions at home plate.
"I'm not comfortable with it, because I don't have a clear answer on that," Roenicke said. "I've asked different umpires, they don't have a clear answer on it. So I need to get some answers on that.
"I don't know if a guy is blocking the plate without the ball -- he can't do that, right? So if he's doing that, and he's sitting in front of home plate, I told our guys I don't want them running over the catcher. He's sitting in front of the plate without the ball, he's illegally blocking the plate, and our guy slides wide and doesn't run over the catcher and that's the only place he has to go, and they catch the ball and tag him out because he's gone wide, can they call that [runner] safe? We've heard yes and we've heard no. So I need an answer to it."
Adam McCalvy is a reporter for MLB.com. Read his blog, Brew Beat, and follow him on Twitter at @AdamMcCalvy. This story was not subject to the approval of Major League Baseball or its clubs.