Brewers' bench plan coming into focus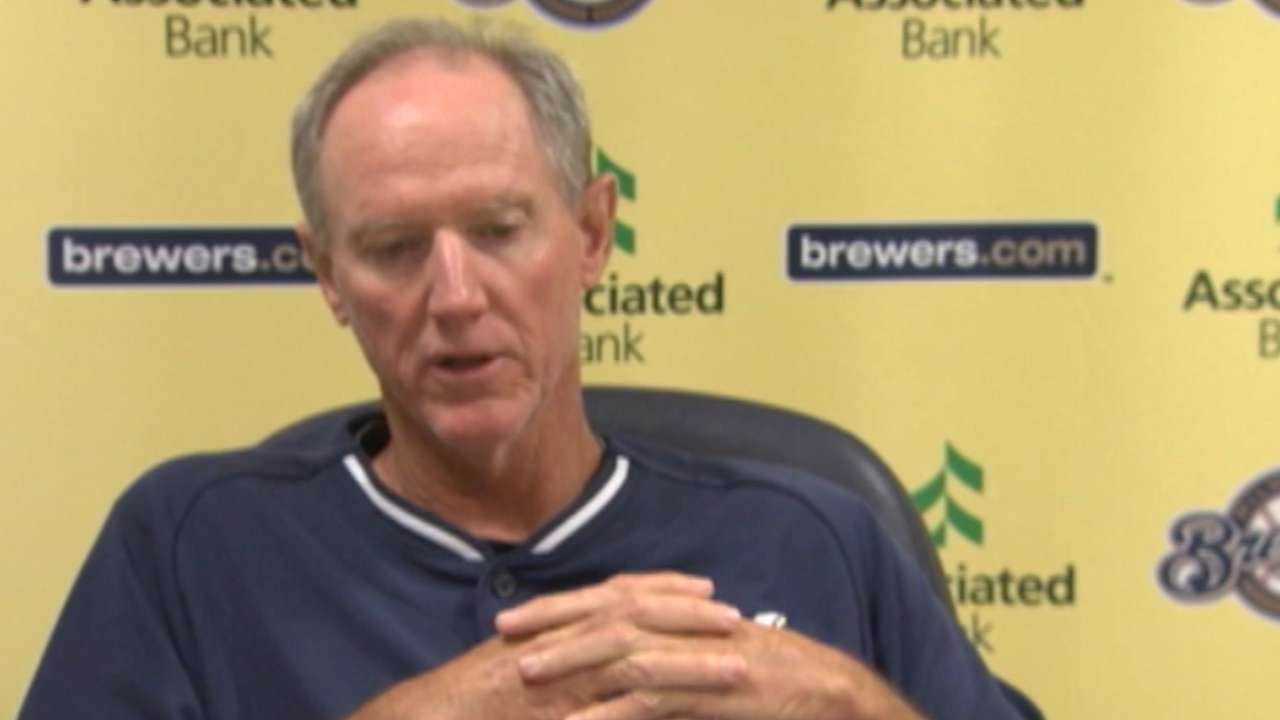 PEORIA, Ariz. -- In the process of tabbing Mark Reynolds for a rare start in right field on Wednesday, Brewers manager Ron Roenicke all but spelled out the Brewers' plan for composing a 25-man Opening Day roster.
"Looking at what we could go into the season with, we're figuring we need to be versatile if we can help it," Roenicke said. "Say we go into it with two second basemen and two first basemen, if we can have somebody more versatile in those four, then it should help us."
In other words, the Brewers are leaning toward starting the season with Scooter Gennett and Rickie Weeks sharing time at second base, and Reynolds plus either Juan Francisco or Lyle Overbay at first. Since Martin Maldonado appears safe as the backup catcher and Logan Schafer as the fourth outfielder, only one spot would remain for a backup infielder with the ability to play shortstop. That race is down to Jeff Bianchi, Irving Falu and Elian Herrera, with Bianchi and Herrera the front-runners because of their shortstop experience.
Seeking additional options for the outfield, Roenicke approached Reynolds on the bench at Maryvale Baseball Park on Tuesday and asked whether he would give it a try. Reynolds played his only three Major League innings in the outfield as a D-backs rookie in 2007, but played 23 games in left field in the Minor Leagues and said he also saw outfield action in the Arizona Fall League.
On Wednesday morning, Reynolds was canvassing the clubhouse for an outfielder's glove. He wound up borrowing one from Bianchi.
"Got one on order already," Reynolds said after exiting the game. "They asked me two or three days ago if I could play and I was like, 'Yeah, why not?' … You just have to work on it, shag fly balls in [batting practice] and whatnot. Not being out there for so long, it's not very comfortable, but you figure it out."
He added: "As long as I get in the batter's box, I don't care."
Reynolds spent some time Wednesday working with third-base coach Ed Sedar, who along with John Shelby is in charge of outfield instruction. His biggest test came in the second inning, when Reynolds charged a Dustin Ackley RBI single and fired a throw home.
"He came up and threw the ball OK, pulled it a little bit, but charged it well and looked confident on the other balls he had," Roenicke said. "I was hoping there wouldn't be a lot of those hit to him, but he looked good. Again, I'm not looking for a guy to start a bunch of games, but to finish games and go out there and feel confident, I think he can do it."
Adam McCalvy is a reporter for MLB.com. Read his blog, Brew Beat, and follow him on Twitter at @AdamMcCalvy. This story was not subject to the approval of Major League Baseball or its clubs.