Hand out: Righty returned to Minors camp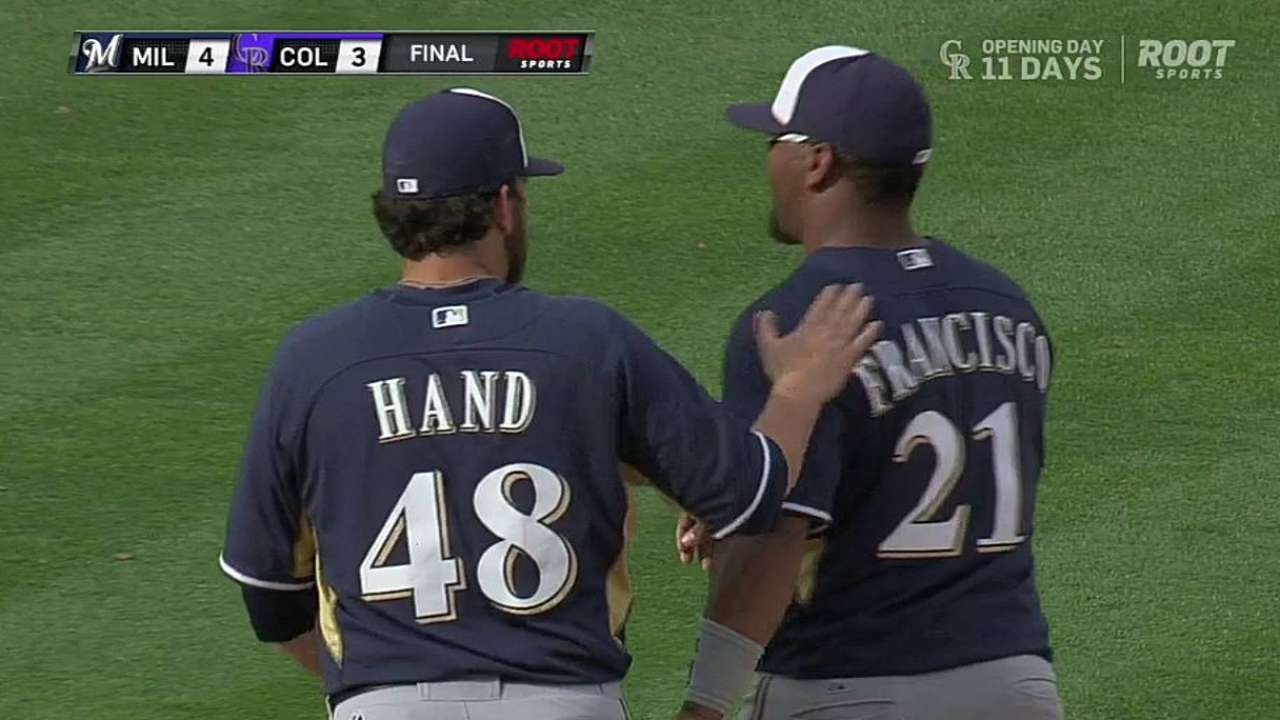 Wang is a Rule 5 Draft pick whom the Brewers would like to keep if possible. Thornburg is on the bubble between the big league bullpen and Triple-A Nashville's starting rotation. Duke is the only non-roster invitee in that mix.
The Brewers' thinking will become clearer yet by Wednesday, which is the deadline for teams to inform those whose Major League contract expired last fall and signed a Minor League contract for 2014 whether they will make the Opening Day roster. If the player does not make the Major League team, the team must either release the player or pay a $100,000 bonus to send him to the Minors. A player who accepts the assignment -- which Duke indicated he would do -- gets a June 1 opt-out added to his contract..
Duke endured a similarly tense final week of Spring Training in 2012, when he was battling for a job with the Astros.
"That didn't work out. I wound up getting released with three or four days left in camp," he said. "Rosters were already set for the majority of other teams, and I was jobless. The difference is I've performed much better this spring. I feel like I've definitely given them something to think about, and regardless of whether I make the team or not [coming out of camp], I feel I've proven I can help the team at some point."
Duke was still a starting pitcher then, but he has since found a new niche as a left-handed reliever. Duke finished last season with the Reds, posting a 0.84 ERA in 14 appearances, and has allowed four earned runs in 8 2/3 innings this spring. Three of those runs scored in one inning against Arizona on March 16.
Duke is from Texas, but his wife, Kristin, is from southern Indiana, so they split the difference and bought a house in Nashville over the winter. That just so happens to be home to the Brewers' Triple-A team.
"Obviously, I'd rather not be there, but it's an OK situation," Duke said. "And I have the out on June 1, so that's always an option. The main thing is I wanted to come in and prove I could get guys out, and I feel I have done that."
Adam McCalvy is a reporter for MLB.com. Read his blog, Brew Beat, and follow him on Twitter at @AdamMcCalvy. This story was not subject to the approval of Major League Baseball or its clubs.