Garza dismisses 'struggles,' cruises against Reds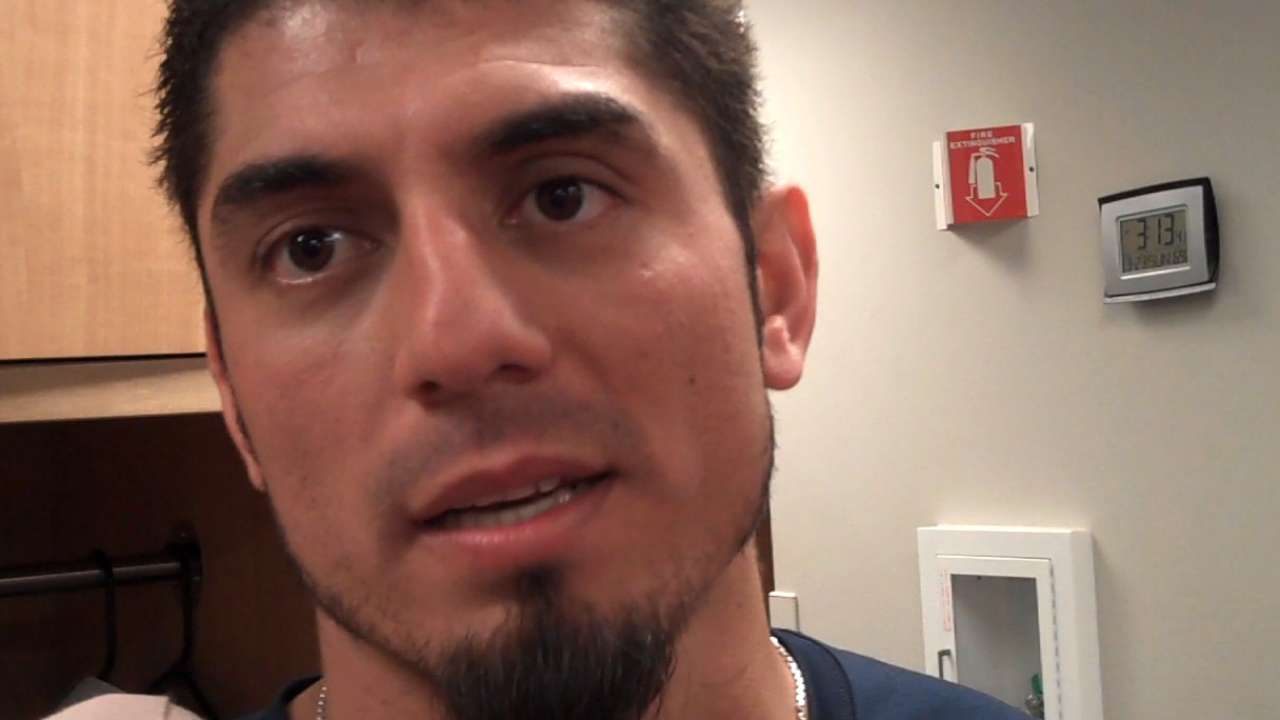 GOODYEAR, Ariz. -- It was clear in the way he pitched, and especially in the way he spoke Sunday, that Matt Garza has grown weary of the worry over his Spring Training struggles.
The biggest free-agent acquisition in Brewers' history looked the part at Goodyear Ballpark, holding the division-rival Reds to a run on four hits over six quality innings, with two walks and six strikeouts -- two more whiffs than he'd recorded in his three previous Cactus League starts while amassing a 19.06 ERA and a .543 opponents' average.
"Like I said before, I'm worried about the progression of my stuff," Garza said. "You've seen I stick to my plan pretty well. When the bell rings, I'll be ready. I've said that over and over, and for some reason, there's a cloud of doubt.
"Like I said before, when the bell rings, I will be ready. When my name is called, you'd better believe, it's go time."
A National League scout had Garza hitting 91-95 mph with his fastball and working mostly at 94 mph. The scout agreed with Garza that there has been "positive progress" in each of his spring starts.
Asked about that progress, Garza said, "I'm pretty done. I've got one more against Kansas City [in a weekend exhibition at Miller Park] and that's it."
Brewers manager Ron Roenicke will announce his plan for the starting rotation after the Brewers return to work after Monday's day off. Yovani Gallardo and Kyle Lohse are already set for March 31 and April 1 against the Braves, followed by either Garza or Marco Estrada, who pitched a Minor League game Sunday while Garza worked against the Reds.
Whoever does not pitch that final game against the Braves will get extra rest before starting the Fenway Park opener on April 4, the day the Red Sox receive their world championship rings. Garza has great career numbers against Boston, but is said to prefer staying on a regular, five-day schedule.
Asked whether he needed to see an outing like Sunday's from Garza, Roenicke said, "I liked to see it. I thought it was important. I know he knows what he can do when we get into the season, but still, the next [start] we're going to cut back on him [in terms of pitch count], so I thought he needed to do this, just to get in a groove and be out there for a long time against a team he's going to play a lot against."
Brewers catcher Jonathan Lucroy said he never had any doubts.
"Honestly, like everybody early in the spring, they're working on things, working on things, working on things," said Lucroy. "But now we're near the end, so he's trying to turn it up. It's like, 'Let's go.' This is what you see when that happens. Come on, I've faced him for four years. I knew what he had."
Garza knew, too.
"Spring Training is Spring Training, guys," Garza said. "It's to get ready for the season, not to be in season. I'm one start away from being ready for the season, and I'm ready to go. I can't wait."
Adam McCalvy is a reporter for MLB.com. Read his blog, Brew Beat, and follow him on Twitter at @AdamMcCalvy. This story was not subject to the approval of Major League Baseball or its clubs.