Lots of lefties: Brewers to start with three in 'pen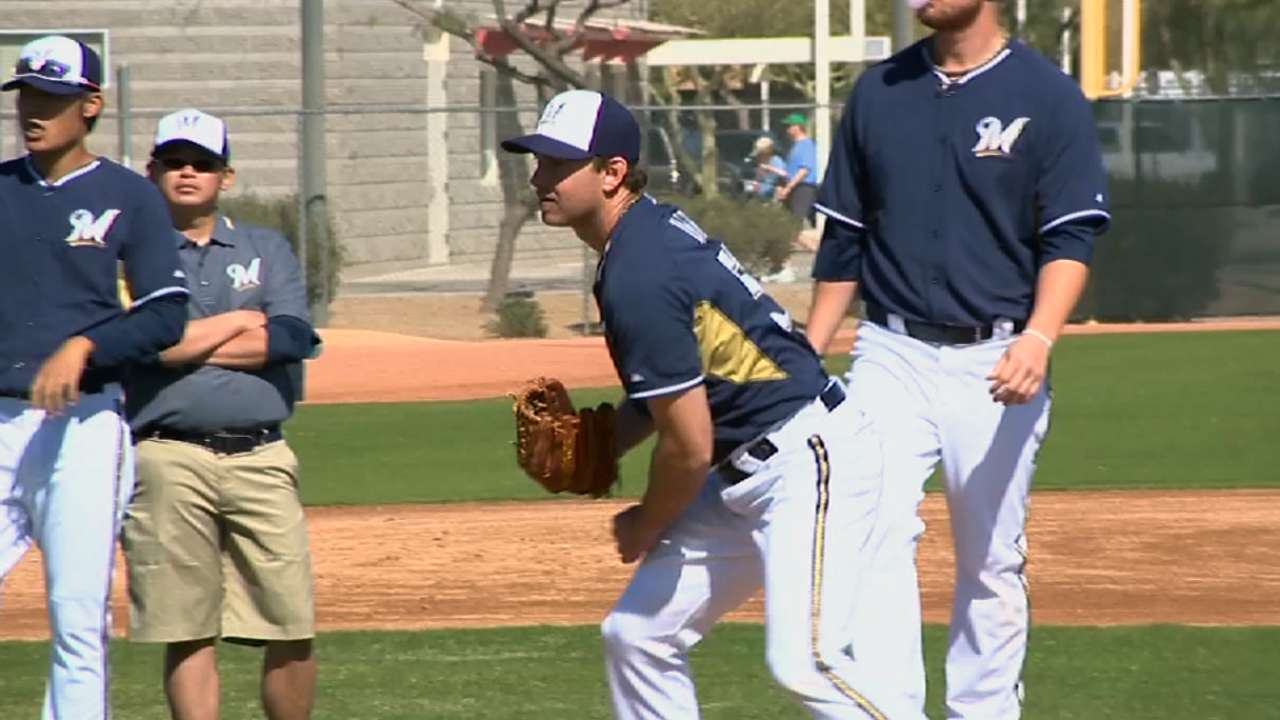 PHOENIX -- Brewers manager Ron Roenicke will begin the season with three left-handers available in the bullpen and already has a plan for his stable of southpaws: Rule 5 Draft pick Wei-Chung Wang will be the long man, veteran Zach Duke the lefty specialist and Will Smith will fit in with the late-inning setup options.
At some point in April, another left-hander could enter the mix. But Tom Gorzelanny is just beginning to throw off a mound following offseason shoulder surgery and is several weeks away from being game-ready.
Duke isn't worried about it being a crowded field.
"I was in a situation in Washington last year where I was the only lefty, and I didn't get used because of it," said Duke, who had just been informed he'd made the cut. "I feel like for a manager, the more options they have to play matchups, the more apt they are to do the matchups."
There will be plenty of matchup opportunities in the early going, as the Brewers begin the season against the Braves (with dangerous left-handed hitters Freddie Freeman and Jason Heyward), Red Sox (David Ortiz) and Phillies (Domonic Brown, Ryan Howard and Chase Utley).
Because of a clause in the collective bargaining agreement, the Brewers had to inform Duke on Tuesday morning whether he would make the team. He was in a similar situation with Houston in 2012, when Duke didn't learn until three or four days before Opening Day that he was being released.
This outcome was much happier.
"The difference from 2012 was I pitched my way off that team with the Astros, and I feel like I pitched my way on this one," Duke said. "I'm a different pitcher now, different role that I'm going to be in, differently equipped to take on hitters. I feel like this is a good fit."
Duke is still confident in his ability to retire right-handers, but had great success for the Reds at the end of 2013 as a lefty specialist. To fit that niche, Duke has added a cut fastball to his arsenal and has also begun throwing at various arm slots to "give hitters more to think about."
Asked whether making a club as a non-roster invitee was extra rewarding, Duke said, "It absolutely is. There's no consequences if they get rid of you. So yeah, being a non-roster guy, coming in and making a team, I feel like I definitely opened up eyes and made them believe in me. It's a very rewarding feeling."
Roenicke informed right-hander Tyler Thornburg and Wang before Tuesday's game against the Giants that they had made the team.
Wang, who has been comparing his bid to jump from a Rookie league last season to the Major Leagues in 2014 to swimming across the ocean from his home in Taiwan, remained unwilling to plant his flag on shore.
"I need to wait until Milwaukee," Wang said through his translator, Jay Hsu. "Milwaukee is the land."
Wang would not be the first Rule 5 Draft pick to make a dramatic jump to the Major Leagues, but his rise all the way from rookie ball is believed to be unprecedented. Famous past picks like Johan Santana and Joakim Soria were at the Class A level before they jumped to the big leagues.
"It feels so good," Wang said. "I don't know how to say it. It's like a dream come true. ... I still need to keep the same feeling. I can't get too excited, can't [worry] about screwing up."
Adam McCalvy is a reporter for MLB.com. Read his blog, Brew Beat, and follow him on Twitter at @AdamMcCalvy. This story was not subject to the approval of Major League Baseball or its clubs.