Brewers' Opening Day roster pretty much set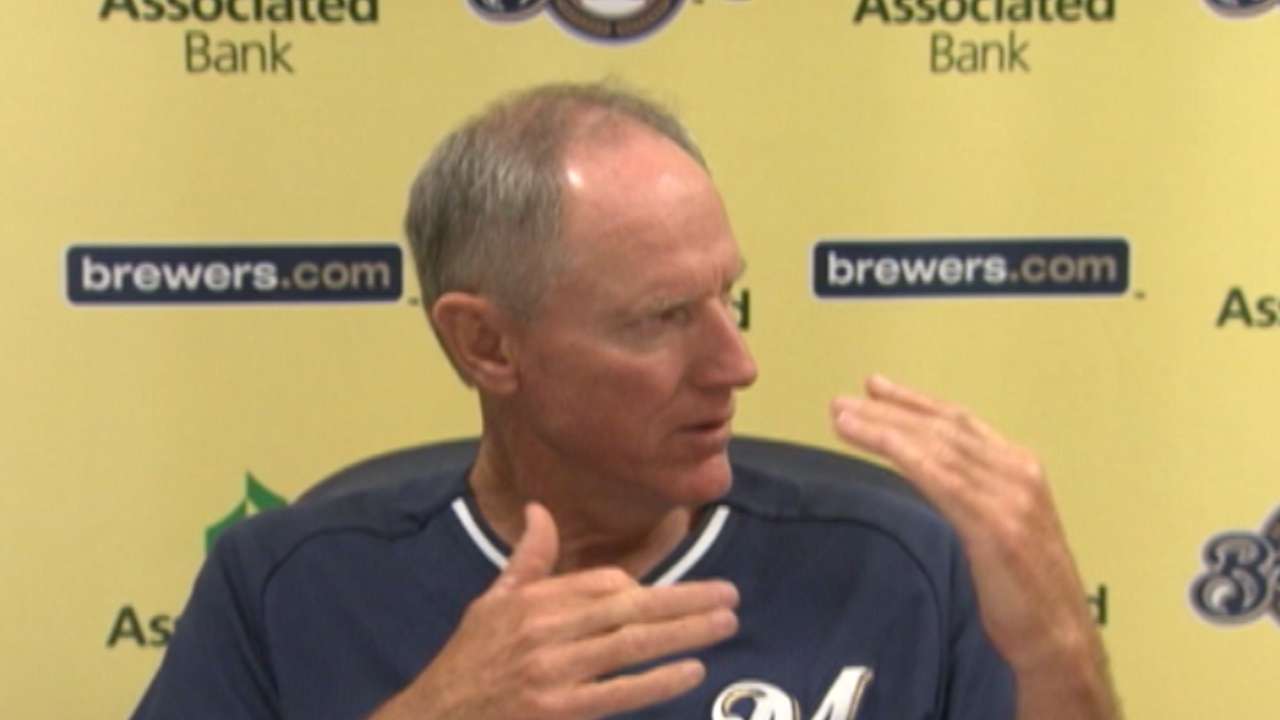 PHOENIX -- Barring a last-minute addition or subtraction, the Brewers' Opening Day roster appeared set after the club optioned right-hander Rob Wooten and infielder Elian Herrera to Triple-A Nashville on Tuesday morning and advised non-roster invitee Zach Duke he would make the team.
As a result of those moving pieces, it was apparent that Duke, Rule 5 Draft pick Wei-Chung Wang and right-handed prospect Tyler Thornburg had won the final three bullpen jobs, and that utility man Jeff Bianchi won the last spot on the bench.
Those were the only question marks remaining in camp.
"I think it's a benefit for everybody" to have decisions made early, manager Ron Roenicke said. "Sometimes you wait until the last minute because you really need to. I think when you're in these last couple days and [a player is guessing] and you've got a plane leaving Thursday, and he's thinking, 'Am I going or am I not?' it helps, even if it's not the decision he wanted."
The Brewers still have five days to formally file a 25-man roster, leaving the door open for trades, waiver-wire acquisitions or other circumstances that would prompt a change of plans, but, by the process of elimination, the roster currently looks like this:
Starting pitchers (5): Yovani Gallardo, Kyle Lohse, Matt Garza, Marco Estrada, Wily Peralta.
Bullpen (7): Closer Jim Henderson, right-handers Brandon Kintzler, Francisco Rodriguez and Thornburg, and left-handers Will Smith, Duke and Wang.
Catchers (2): Jonathan Lucroy and Martin Maldonado.
Infielders (7): First basemen Mark Reynolds and Lyle Overbay, second basemen Scooter Gennett and Rickie Weeks, third baseman Aramis Ramirez, shortstop Jean Segura and utility man Bianchi.
Outfielders (4): Left fielders Khris Davis and Logan Schafer, center fielder Carlos Gomez and right fielder Ryan Braun.
15-day disabled list: Left-hander Tom Gorzelanny.
Bianchi won his spot by batting .386 in Cactus League games entering Tuesday, with four extra-base hits and 10 runs scored. He was out of options, so in choosing Bianchi over Herrera, the Brewers preserved some organizational depth.
Duke won his job by holding opponents scoreless in eight of his 10 Cactus League appearances and was sensitive to the fact that his good news came at the expense of someone else. In this case, it was Wooten, who was trying to focus on positives after learning he had been optioned to Nashville.
"Of course, I'm devastated," said Wooten, who had a 3.90 ERA in 27 appearances for the Brewers last season. "You work so hard for this, and you pitch well last year and hope that will be enough. You come to Spring Training with one goal, and one goal only. And when that doesn't happen, you're devastated. But if you sit back and just sulk about it, that's not going to go anywhere. I'm going to go down, work my tail off, and when they need me, I'll be ready."
A 25-man roster must be formally filed to Major League Baseball by Sunday. The Brewers' season begins the following afternoon against the Braves at Miller Park.
Adam McCalvy is a reporter for MLB.com. Read his blog, Brew Beat, and follow him on Twitter at @AdamMcCalvy. This story was not subject to the approval of Major League Baseball or its clubs.