Sore right shoulder could sideline Segura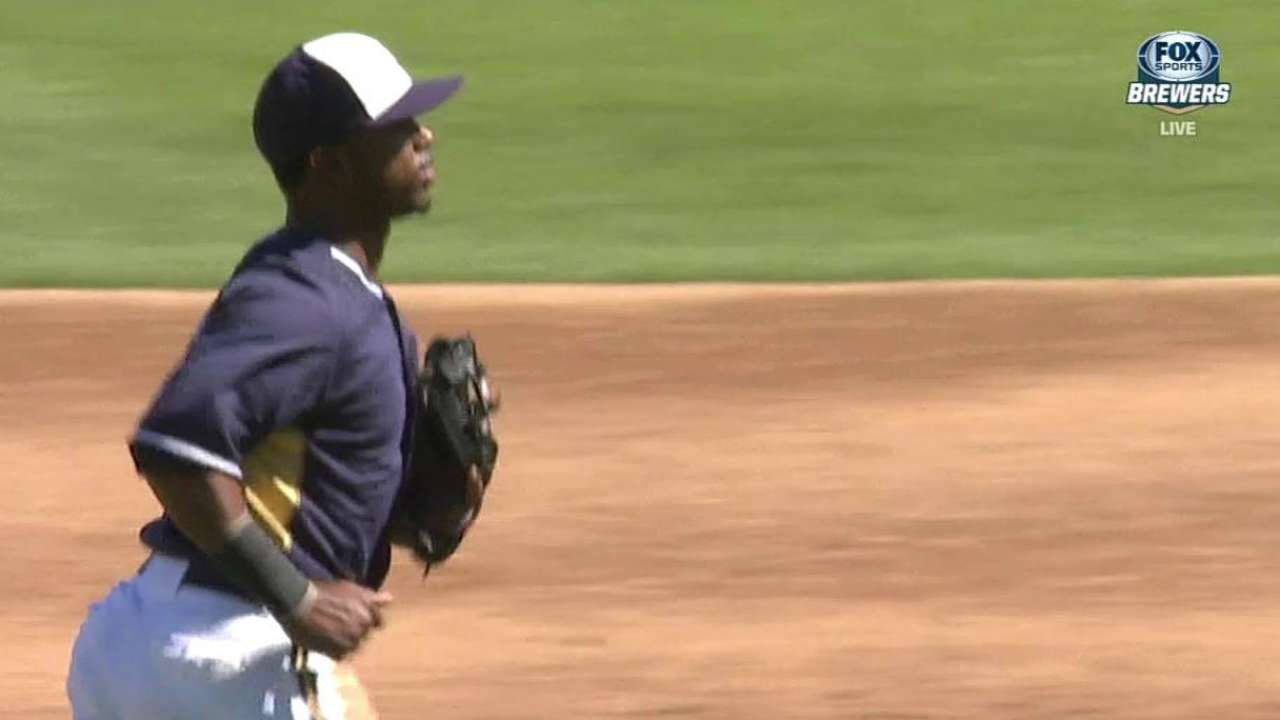 PHOENIX -- Brewers shortstop Jean Segura was still taking at-bats in Minor League camp on Wednesday, unable to play the field because of soreness behind his throwing shoulder and unable to say for sure whether the problem would be solved in time for Monday's season opener.
He underwent an MRI scan on Tuesday that came back negative, but the Brewers may decide to hold Segura out of the team's remaining Spring Training games to preserve the option of a backdated stint on the 15-day disabled list.
"I'm not going to say it's not [a possibility]," manager Ron Roenicke said.
Segura and Roenicke each stressed that team doctors have examined the shoulder thoroughly and do not consider the matter serious. The problem is not the rotator cuff or labrum, but a strained muscle, Roenicke said.
Segura will get more at-bats in a Triple-A game on Thursday and will travel with the team to Milwaukee.
A National League All-Star last season who is expected to bat second for the Brewers this season, Segura has not played in a big league game since March 18.
"It feels much better, but I don't know," Segura said. "Hopefully, it's going to be ready for Opening Day. Maybe, I don't know."
If Segura feels well enough by the weekend, the Brewers would like to get him into one or both of the team's exhibition games against the Royals at Miller Park. If the soreness persists, the team, by rule, could place him on the 15-day DL retroactive to March 21.
Because Segura's status is in question, the Brewers opted to bring Elian Herrera along to Milwaukee for the weekend games. He was optioned to Triple-A Nashville on Tuesday, but that move could be reversed if Segura is placed on the DL.
While Segura worked to get back on the field, the clock was ticking on his agent and Brewers officials to work out a contract extension. General manager Doug Melvin said a recent report that talks had "broken down" was not accurate.
"When the season starts, I'll tell my agent to stop talking about it," Segura said. "I don't want to have distractions in the season from talking about my contract. We have things to do in the field. I don't want to get those comments in my head, because I'm here to play my game and win some ballgames."
Asked for an update on the status of talks, Melvin said, "I'm not going to comment on that."
In an email exchange Tuesday, assistant general manager Gord Ash cited club policy of not publicly discussing contract negotiations. Segura's agent, Joe Klein, has not returned telephone messages.
Segura will not be eligible for arbitration until after the 2015 season at the earliest, or eligible for free agency until after the '18 season. But both sides had expressed some interest in a long-term deal that provides cost certainty for the club and security for Segura, similar to recent agreements between the Brewers and pre-arbitration players like catcher Jonathan Lucroy.
The challenge was pegging Segura's value; comps range from the four-year, $12.5 million pact between the Astros and second baseman Jose Altuve that covers Altuve's arbitration seasons and includes club options for two years of free agency, to a seven-year, $58 million contract between the Braves and shortstop Andrelton Simmons that covers all of the Gold Glove Award winner's arbitration seasons plus two free-agent seasons.
"We're always open to [talks]," Melvin said last month. "We've locked up some, some we didn't. We didn't get Prince [Fielder]. We offered him a deal earlier on to buy into free agency, but it just depends what players want. Not a lot of them want long-term deals that will take away free agency, and we like to get deals that have at least a year of free agency if we can."
Adam McCalvy is a reporter for MLB.com. Read his blog, Brew Beat, and follow him on Twitter at @AdamMcCalvy. This story was not subject to the approval of Major League Baseball or its clubs.