Morgan 'older and wiser' since time with Crew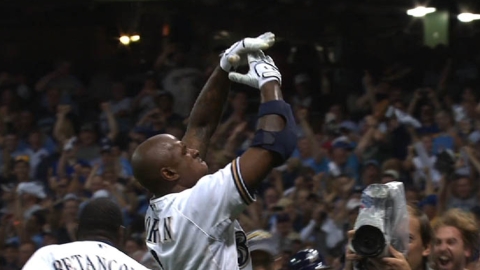 GOODYEAR, Ariz. -- There was much more Nyjer Morgan than Tony Plush in Indians camp this spring, partly because the colorful former Brewers outfielder says he now considers himself "older and wiser," and partly because, as a non-roster invitee, he was too focused on winning a job to let his alter ego take over.
But old habits die hard.
"There's still flashes of T-Plush," said Cleveland closer John Axford, an old Milwaukee teammate. "He just picks his spots now."
Morgan is back in the Major Leagues after a year in Japan, having won a job with the Indians while outfielder Michael Bourn rehabs a hamstring injury. Though he had "a blast" with the Yokohama BayStars and predicts a "special year" for the Indians, he said part of him would always be a Brewer.
Freed from a tense tenure in Washington mere days before the 2011 season opener, Morgan and his many personalities were a hit in Milwaukee. He played a starring role on and off the field in his debut season, winning a cult following with his fiery postgame interviews and off-day antics -- he once obliged a Twitter follower's snarky suggestion that he go fly a kite -- all while winning games with a series of clutch hits. None was bigger than the single he "tickled" up the middle in the bottom of the 10th inning of Game 5 of the National League Division Series, scoring Carlos Gomez and giving the Brewers their first postseason series victory in 29 years.
Morgan raced around the resulting Champagne celebration wearing a S.W.A.T. Team helmet, which he still keeps at home along with other artifacts from his Brewers tenure.
"For me, it's still home," Morgan said. "Some very great memories in Milwaukee."
What made it such a good fit?
"It was all the personalities in the clubhouse," Morgan said. "It's somewhat like here [with the Indians]. Everyone fits. There's great team chemistry, and I was one of those pieces of the puzzle. Sometimes you don't know if it's going to fit until you test it out."
Morgan fell into a reserve role in 2012 but remained a model teammate, Brewers manager Ron Roenicke said. He remembers liking Morgan from the very first introduction in Milwaukee's Spring Training clubhouse.
"He's high maintenance, yeah," Roenicke said with a smile, "but I like him. I thought his energy was great. I thought even though there were a couple of things he got in a little trouble for, the guy means well, whatever he does. The guy is a good teammate. He's got so much energy that it's contagious. I really like Nyjer."
The Indians and Brewers will not meet in 2014 unless they reach the World Series, but Morgan vowed to return to Milwaukee someday.
"Twenty years from now, when they bring us all back, I'll be a part of that group," Morgan said. "It was a special moment. I know for sure I'll be coming back as an older 'T' and a wiser 'T.'"
Adam McCalvy is a reporter for MLB.com. Read his blog, Brew Beat, and follow him on Twitter at @AdamMcCalvy. This story was not subject to the approval of Major League Baseball or its clubs.