Healthy Ramirez off to clutch start for Crew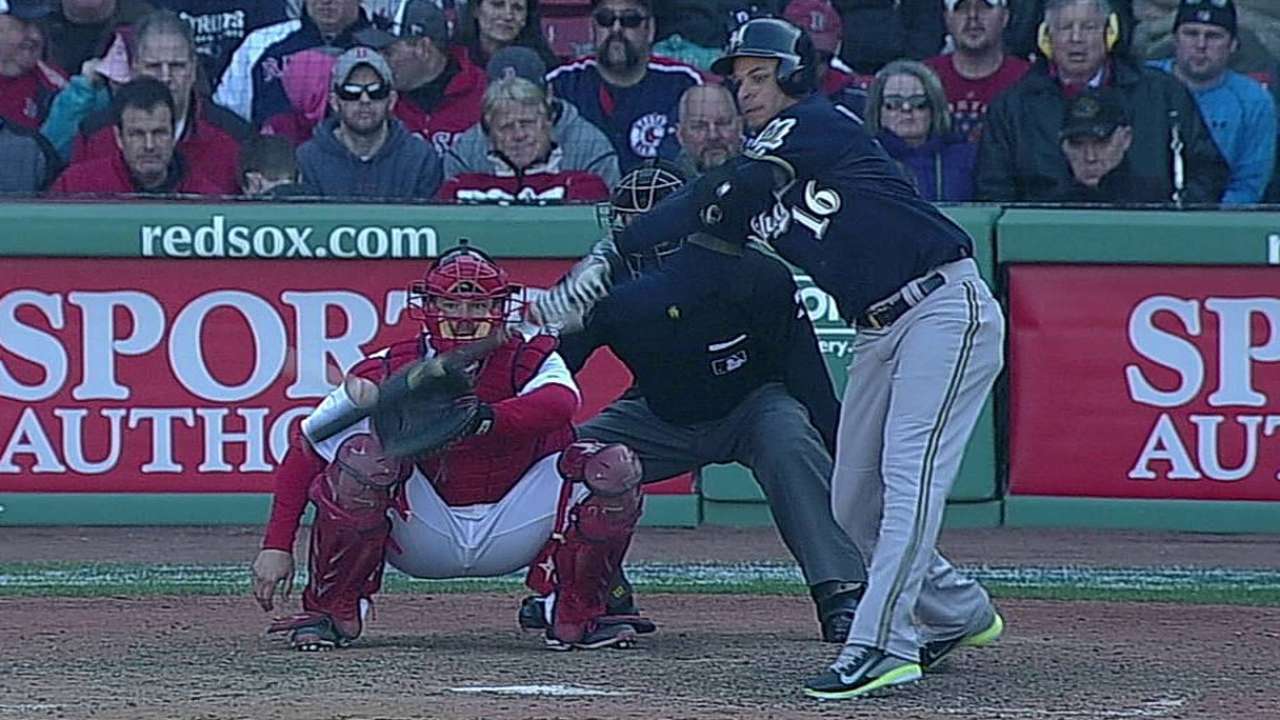 PHILADELPHIA -- Brewers third baseman Aramis Ramirez has turned a late start to Spring Training into a hot start to the regular season. He went 6-for-8 with runners in scoring position in Milwaukee's first six games while the rest of the team went 10-for-58.
"I'm a cleanup hitter, that's what I get paid for, to drive in runs," Ramirez said. "I don't get paid to hit singles, because it's going to be tough for me to steal second base."
It is particularly difficult at this stage of his career because Ramirez, 35, was hampered throughout 2013 by a nagging left knee sprain, and had surgery in January to remove a non-cancerous polyp in his colon. The knee was healed by then, but Ramirez was behind the rest of the position players at the start of camp while he recovered from surgery.
On Tuesday, as Ramirez and the Brewers helped the Phillies open Citizens Bank Park for the year, he was healthier than at any point in the 2013 regular season.
He entered the day hitting .440 (11-for-25) with a team-best six RBIs.
"It doesn't surprise me because I know what kind of hitter he is, but I am surprised because I know he did have a shorter Spring Training than everybody else," Brewers manager Ron Roenicke said. "I know with him being historically a slow starter, I'm really glad to see him swinging well early. He understands what he needs to do. Those guys are pretty special [because] there's not a lot of them."
Said Ramirez: "I said it earlier, I feel pretty good. I feel like I'm about where I'm supposed to be. Now I have to work hard to stay on top of my game, to stay healthy, basically."
That entails more pregame leg work than Ramirez has done in the past. He has been focusing on his lower body as a response to last year's knee woes, which stemmed from a hard slide into second base during a Spring Training game.
When colon surgery shortened a second straight spring this year, Ramirez maintained he wasn't worried.
"I missed a few games in Spring Training, but Spring Training is really long," Ramirez said. "As a position player, you get a lot of opportunity to be ready for the season. I knew I had plenty of time to be ready for Opening Day. I thought I swung the bat good all spring, even though I missed a lot of time and didn't work out much in January. The main thing was just being in playing shape."
Last year, "I was playing on one leg," Ramirez said. "I couldn't move well last year. That's tough to do. [Now] I'm healthy, and hopefully I stay healthy."
Adam McCalvy is a reporter for MLB.com. Read his blog, Brew Beat, and follow him on Twitter at @AdamMcCalvy. This story was not subject to the approval of Major League Baseball or its clubs.