Braun attributes swing tweak to homer barrage
Slugger passes Jenkins on Brewers' all-time long-ball list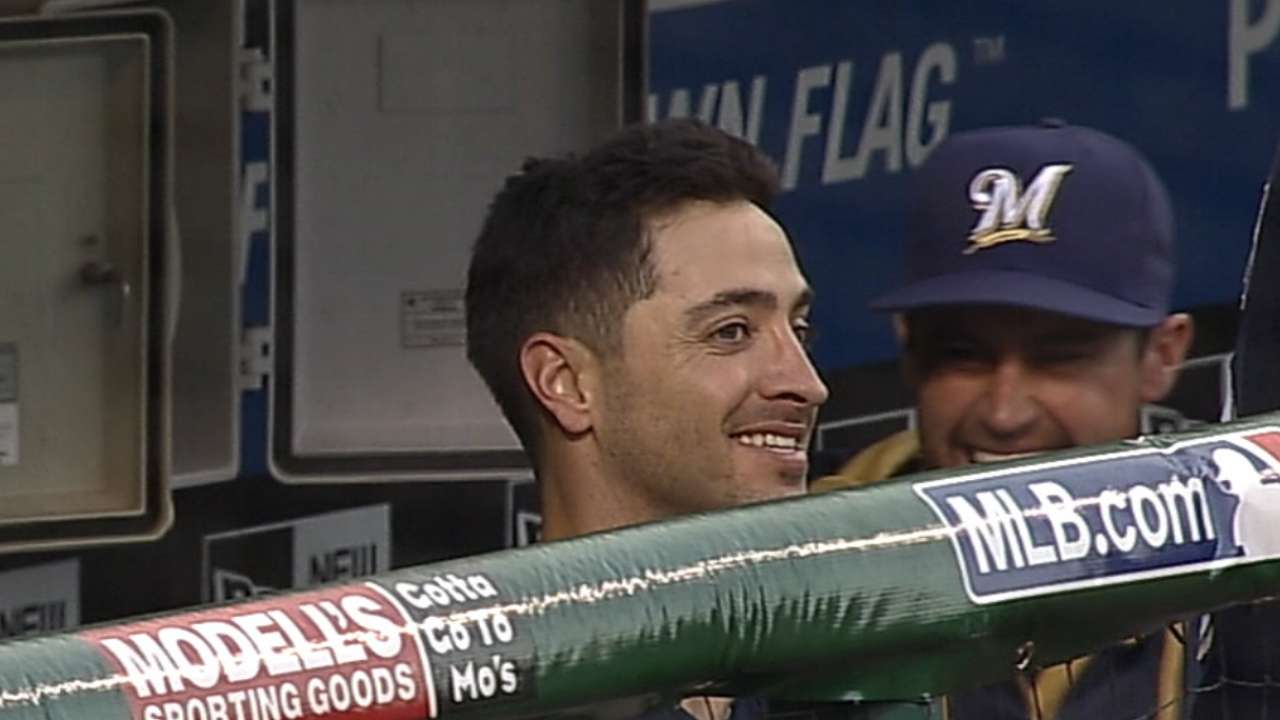 PHILADELPHIA -- The boos on Tuesday helped fuel Ryan Braun's three-homer breakthrough, but so did a significant change to his swing.
Braun, dealing with an inflamed nerve near his right thumb, saw the longest power drought of his career reach 98 plate appearances with a first-inning groundout in the Phillies' home opener before breaking free for three home runs and seven RBIs in the Brewers' 10-4 win.
Tuesday's homers upped Braun's career total to 214, passing Jenkins (212) into third place behind all-time Brewers leader Robin Yount (251) and runner-up Prince Fielder (230). With 688 RBIs, Braun also moved past Ben Oglivie for fifth on the franchise leaderboard. Next up is Jenkins, who logged 704 RBIs as a Brewer.
"I eliminated my leg kick, kind of shortened my stride and make it as simple as possible," Braun said. "That's easy to say when you have a good day, though. The thing is, it impacts my bat speed, it impacts my bat path, it impacts everything. So the quicker I'm able to get that down, the better chance I have to find a swing that works."
Braun is also trying to find the equipment that works. When the nerve first became inflamed last season, Braun resisted using padding on his hands or the bat itself, but lately, he has worked with Brewers head athletic trainer Dan Wright's staff on finding a fix. They tried a neoprene pad over the weekend in Boston, where Braun went 2-for-9 in two games, but actually placed the padding inside his batting glove for Tuesday's game against the Phillies.
"It feels a little more similar to how it would normally feel if I didn't have to wear that little pad thing," Braun said. "It's easy to say [it made a big difference] when the results are like that, but you guys know me pretty well, and the less invasive something is, the more comfortable it is for me as a hitter. Hopefully, we found something that works."
Braun's big night came only a few hours after Brewers general manager Doug Melvin and manager Ron Roenicke spoke of a patient approach to Braun's power outage.
"It's only 20 at-bats or whatever [in 2014]," Melvin said. "Didn't he hit for power in Spring Training?"
Indeed, Braun hit .417 in the Cactus League with three homers and five doubles in only 36 at-bats, including a home run off A's left-hander Tommy Milone on Braun's first spring swing. The pain in his thumb worsened, he said, as Spring Training progressed.
Asked whether he was concerned, Melvin said, "Not at this point," but he conceded that hand issues can be challenging.
"I don't worry so much about the extra bases and homers," Roenicke said. "If he's a good hitter, and he's a guy that when we have people out there on base, if he can get base hits, that's really what we need. And he needs to get on base. Hopefully, he can do those things, and I think he'll end up driving the ball more."
On Tuesday, that's just what Braun did.
Adam McCalvy is a reporter for MLB.com. Read his blog, Brew Beat, and follow him on Twitter at @AdamMcCalvy. This story was not subject to the approval of Major League Baseball or its clubs.