K-Rod passes Gossage on all-time saves list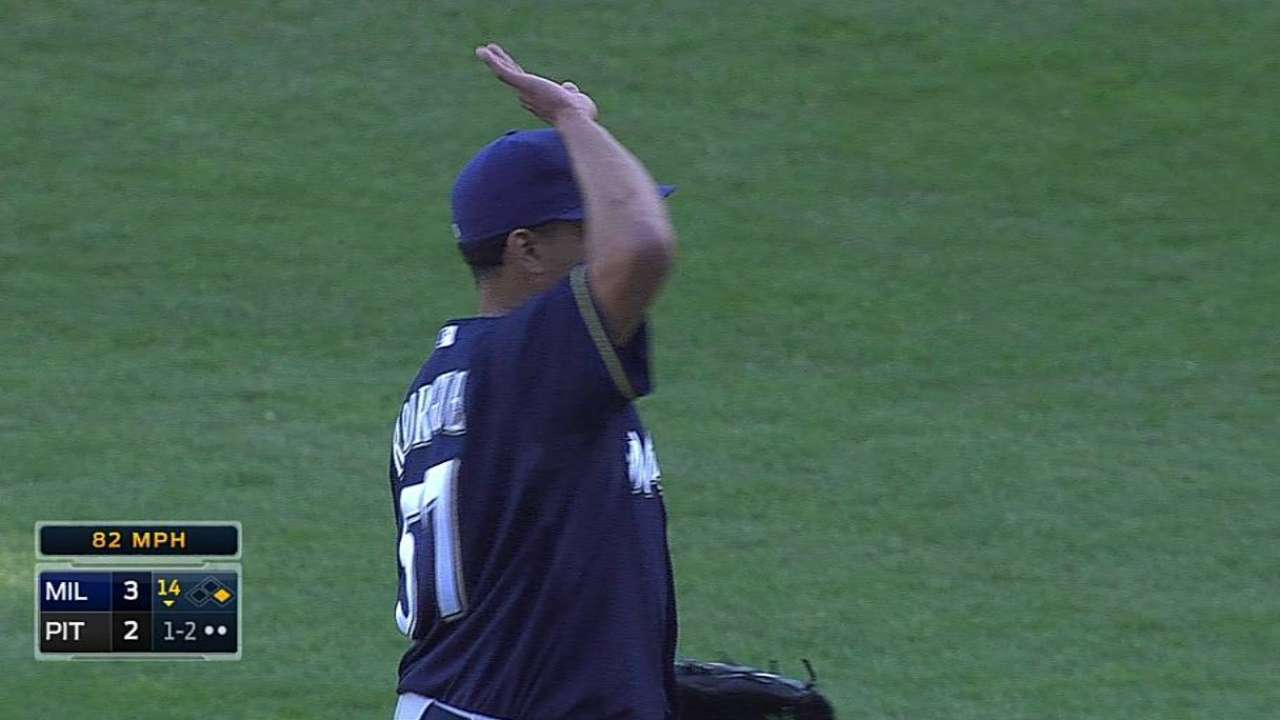 PITTSBURGH -- With three saves in as many days against the Pirates, Brewers closer Francisco Rodriguez has bumped Hall of Famer Goose Gossage out of Major League Baseball's all-time Top 20 and tied "The Terminator," Tom Henke, for 19th all-time with 311 career saves.
Including his scoreless appearance in the 14th inning of the Brewers' 3-2 win on Sunday, Rodriguez has seven saves in 10 scoreless appearances this season. When he tied Gossage at 310 saves the night before, Rodriguez didn't even know.
Fellow reliever Brandon Kintzler told him.
"It means a lot. When you're right there with a Hall of Famer, I take a lot of pride in that," Rodriguez said. "But at the same time, I'm not pitching for records at all. I pitch because I like this game, not for records or anything.
"But it's a privilege for me to be on that list. Definitely, it is."
Rodriguez did not expect to join that list on Saturday, not after a Rickie Weeks error led to a five-run Pirates rally and a Brewers deficit against Jason Grilli in the top of the ninth inning. When Ryan Braun stepped to the plate with a man on, Rodriguez stood up and prepared to get loose. If Braun reached base, Rodriguez would begin to warm up.
Instead, Braun lined a go-ahead home run right into the Brewers' bullpen.
"I hadn't even stretched," Rodriguez said. "I turn around and the ball is coming flying into us, so I had to start getting ready quick. The only thing that saved me was -- it might sound bad -- but [Aramis Ramirez] getting hit by a pitch, so I got a little more time to get what I need."
Rodriguez went through the same routine twice on Sunday, first when Braun tied the game at 2 with another ninth-inning home run off Grilli, and again after Khris Davis homered in the 14th for the Brewers' first lead. Rodriguez surrendered a two-out single to Pedro Alvarez, but struck out Starling Marte to end the game.
The next man for Rodriguez to catch on the all-time list is former San Francisco Giant Robb Nen, who saved 314 games from 1993-2002.
"[Rodriguez] is not that old, either," Brewers manager Ron Roenicke said, "so hopefully he'll get a lot more. He's throwing the ball really well."
Adam McCalvy is a reporter for MLB.com. Read his blog, Brew Beat, and follow him on Twitter at @AdamMcCalvy. This story was not subject to the approval of Major League Baseball or its clubs.