Brewers' hot start brings memories of 1987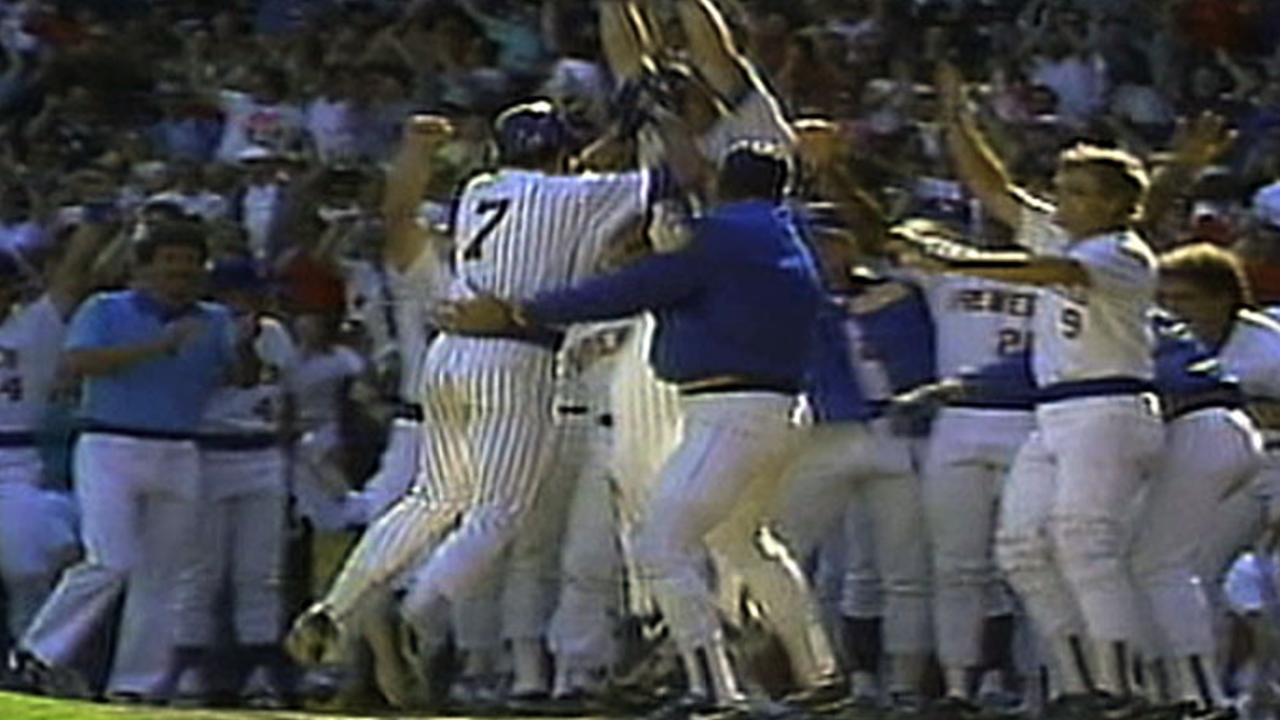 PITTSBURGH -- The Brewers woke up on Easter Sunday with the best record in baseball, thanks to an early-season hot streak fueled by high-leverage hits and shutdown relief.
Shades of 1987, anyone?
"These guys have a mentality right now, I think, that they feel like they can come back and win ballgames," said Brewers TV analyst Bill Schroeder. "They've got a lot of confidence. I remember feeling that way in '87 when we started the season."
Schroeder shared catching duties with B.J. Surhoff in 1987, when the Brewers started the season 13-0 to set an American League record and tie the mark for the best start in Major League history. Win No. 12 was one of the most memorable in franchise history, sealed on a sunny Easter Sunday at Milwaukee County Stadium when Rob Deer crushing a tying, three-run home run with one out in the ninth inning against the Rangers, and Dale Sveum added a winning two-run shot with two outs.
Those Brewers came from behind again in Chicago two days later, getting seventh-inning RBI hits from Paul Molitor and Robin Yount to beat the White Sox, with Dan Plesac logging his fifth save in as many tries. The 13-0 start tied a record set by the '82 Atlanta Braves.
Schroeder didn't play on Easter Sunday, but he worked a leadoff walk that sparked the winning rally in win No. 13.
At the time, the Brewers were riding high.
"I`ve pinched myself every day since I`ve been here," said reliever Chuck Crim, the winning pitcher in Game No. 13.
"This is the greatest thing that I`ve ever been through," Deer said.
"This is a special group of guys, and they`re in a special situation right now," said Tom Trebelhorn, the manager of the 1987 team.
Does this 2014 start feel the same?
"I try not to make comparisons, but I do remember that we felt like we were kind of invincible there for a while," Schroeder said. "When I watch these guys today, I don't really think of '87. I really don't ever do that, because it's hard to compare the two.
"But I think these guys have similar confidence in that when they make mistakes, they brush them off. The last two games [Friday and Saturday against the Pirates], they had no business winning."
The 1987 team was different, Bob Uecker said, in that Trebelhorn played much more station-to-station than current manager Ron Roenicke, and the Brewers had more of an identity as a powerhouse offense. They went cold in May, losing 12 in a row in one stretch.
But games like Saturday's win over the Pirates offer some subtle similarities to the '87 club's hot start. Trailing most of the night after Rickie Weeks' fourth-inning error led to a five-run Pirates rally, Ryan Braun homered in the seventh inning to make it a one-run game and added a two-run shot in the ninth against Jason Grilli, who had made 17 straight appearances against the Brewers without allowing a run. Brewers closer Francisco Rodriguez worked the ninth for his sixth save in as many tries.
It was the Brewers' fifth come-from-behind victory, and gave them an MLB-best 13-5 record.
"When you're going good, bad things happen, but you don't even look at them as bad," Uecker said. "They don't seem like a big deal. When you get into one of those streaks, you expect to win. These guys expect to win right now."
Adam McCalvy is a reporter for MLB.com. Read his blog, Brew Beat, and follow him on Twitter at @AdamMcCalvy. This story was not subject to the approval of Major League Baseball or its clubs.