Figaro joins bullpen; Kintzler getting close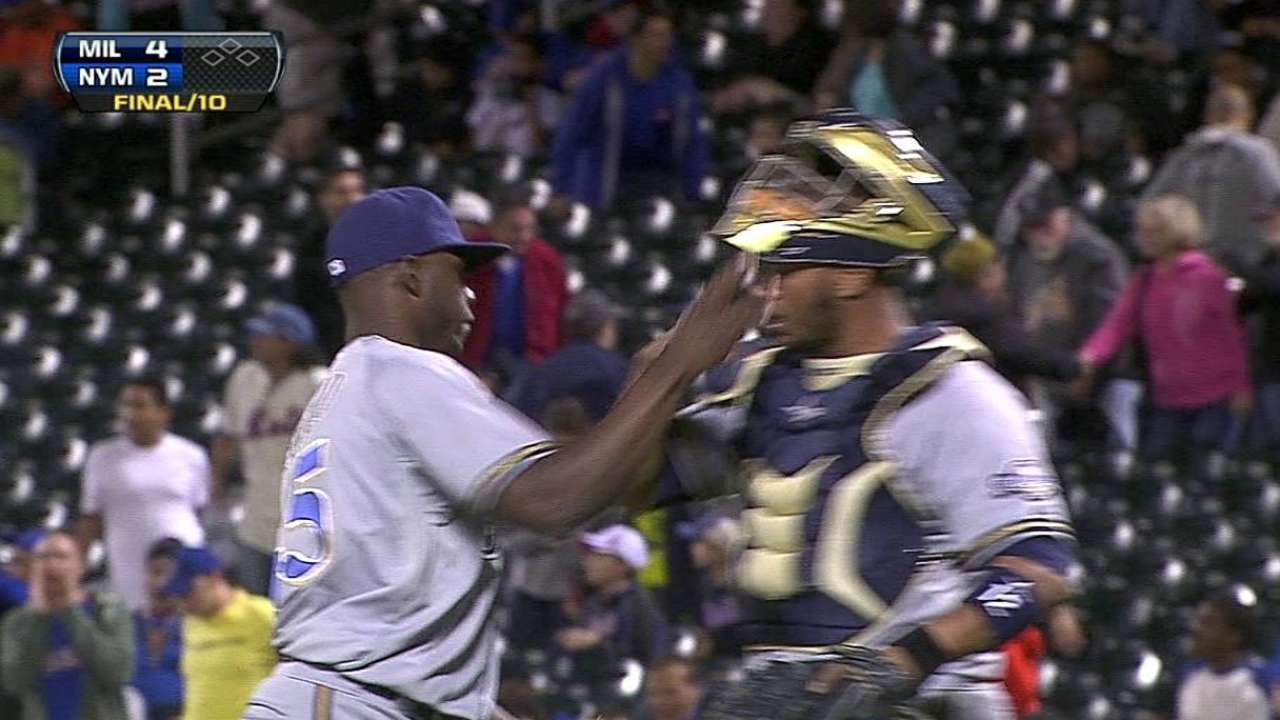 MILWAUKEE -- The Brewers needed a fresh bullpen arm after battling the Pirates for 14 innings on Sunday, so they swapped Rob Wooten for Alfredo Figaro before Monday's series opener against San Diego. Wooten was optioned to Triple-A Nashville, and Figaro recalled.
Wooten's days were numbered anyway, because reliever Brandon Kintzler is due to return from the disabled list on Friday.
"It's hard when you go extra innings, and already because we've been winning, we've been using certain guys a lot," manager Ron Roenicke said. "I was looking at the sheet today, Kranny [pitching coach Rick Kranitz] and I were going over it, and certain guys have pitched a lot."
Kintzler, sidelined by a right rotator cuff strain, threw an intense bullpen session on Monday and said it went "great." He expects to throw a simulated game at Miller Park on Wednesday, and if that goes well, he will be back in the bullpen for Friday's game against the Cubs.
The reliable Kintzler's return will be very big for the Brewers, because they have yet to get comfortable using the seventh man in their bullpen, left-hander Wei-Chung Wang, a Rule 5 Draft pick who worked just twice in the team's first 19 games. Wang pitched a scoreless inning in a 4-0 loss to the Cardinals on April 14, and surrendered six runs in an 11-2 loss to the Pirates on Thursday.
By rule, if the Brewers want to get Wang into their stable of pitching prospects for next season and beyond, they must keep him in the Major Leagues all this year. That means others may have to occasionally shuttle back and forth to Nashville when a fresh arm is needed.
Wooten and Figaro have options, so they can generally go back and forth as much as the Brewers wish. Figaro last pitched on Friday for Nashville.
The Brewers could make moves this year "not just with the arms," Roenicke said, "but with the bench, also. There's times when a young guy sits on the bench for a long time and he needs at-bats, and it's a great time to flip-flop him and get some at-bats and get him going and then get him back [in the Majors]. That's the advantage of having some guys with options."
Adam McCalvy is a reporter for MLB.com. Read his blog, Brew Beat, and follow him on Twitter at @AdamMcCalvy. This story was not subject to the approval of Major League Baseball or its clubs.