As average climbs, Gennett climbs in order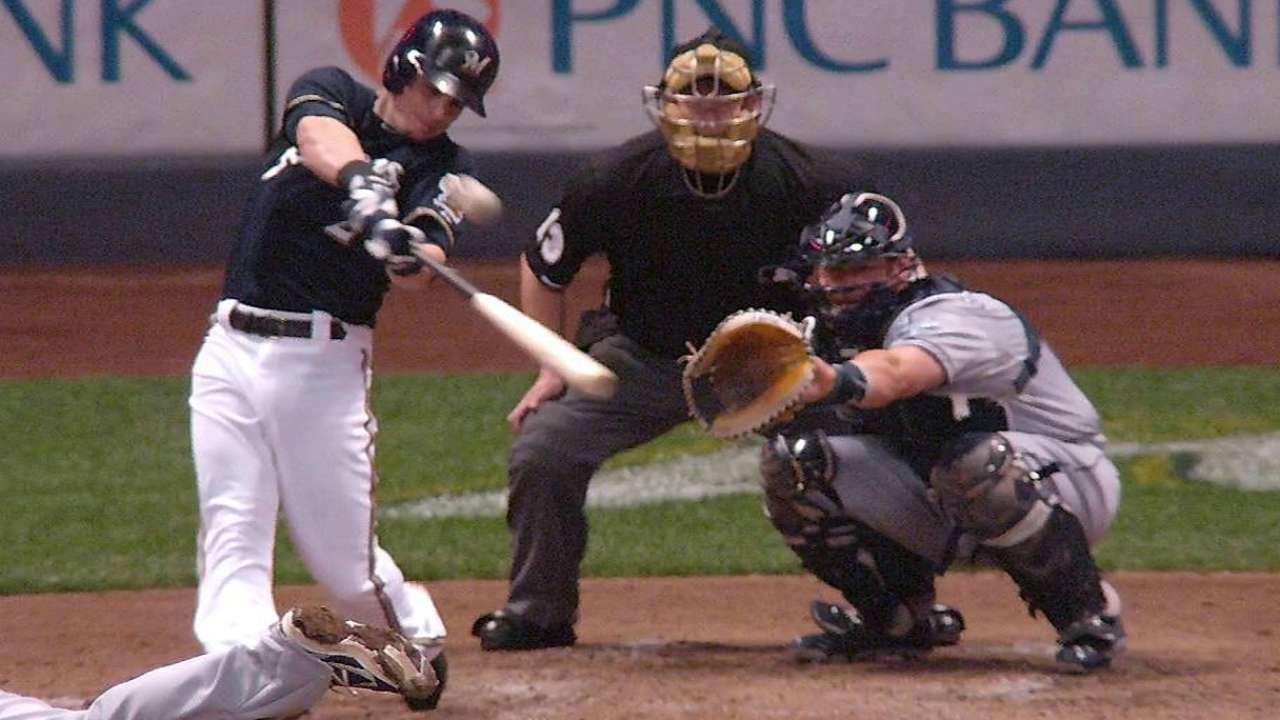 MILWAUKEE -- With due respect to the hitting prowess of Brewers pitchers, second baseman Scooter Gennett won the lottery this week when he moved from the eighth spot in the batting order to second, in front of Ryan Braun.
"I just want at-bats, period, but when Braun is behind you, it's a little better," Gennett said. "I'm not saying our pitchers can't hit, but Braun is just a little better."
In theory, Gennett should see more fastballs in the two-hole from opposing pitchers unwilling to put him on base in front of the dangerous Braun. That did not necessarily help the previous occupant of the two-hole, shortstop Jean Segura, who was dropped in the order this week, manager Ron Roenicke said, in order to relieve Segura of some pressure.
Gennett went 4-for-9 with a double and a home run in his first two games hitting high in the order, with a run scored and an RBI in each of the games.
"In front of Ryan Braun would be nice to hit," Roenicke said. "I hit in front of Mike Schmidt one [year], that was nice to do. Surprisingly, I walked some, and Mike Schmidt came to me and he says, 'How can they walk you when I'm hitting behind you?' He didn't mean it [offensively]. He was right!
"I think over the long run you do [see better pitches hitting second], but from game to game, I don't know if there's that much difference. [As a pitcher], you know going into a game what your strategy is against certain hitters, and what it comes down to is if your command is off that day and you get behind in the counts, now you have to look at what's happening with that [next] hitter. But if [the pitcher's] command is on, you really don't get pitched differently."
Gennett had been feeling better at the plate before Roenicke shuffled the lineup but remains in a platoon at second base alongside Rickie Weeks. Gennett starts the majority of games because the vast majority of starting pitchers are right-handed, and Roenicke said this week that the arrangement will continue. Weeks entered Wednesday with a .120/.154/.160 slash line in 25 at-bats compared with Gennett's .322/.355/.458 in 59 at-bats.
Since Aug. 5 of last season, when Gennett started playing every day because Weeks was down with a hamstring injury, only the Rockies' Charlie Blackmon has a better batting average than Gennett among players with at least 220 at-bats. Blackmon entered Wednesday hitting .365 since then, and Gennett .348.
"It's not like a midseason feeling, but I'm feeling more comfortable," Gennett said. "My at-bats are more consistent."
Would he ever ask for some at-bats against left-handed pitchers?
"No, I don't really ask for anything," he said. "That's their call, their decision. We're going to do whatever we can to get people on base and win ballgames, and they do what they want to do. I'm just happy to be an option and be part of winning."
Adam McCalvy is a reporter for MLB.com. Read his blog, Brew Beat, and follow him on Twitter at @AdamMcCalvy. This story was not subject to the approval of Major League Baseball or its clubs.