Maldonado eager to return as suspension ends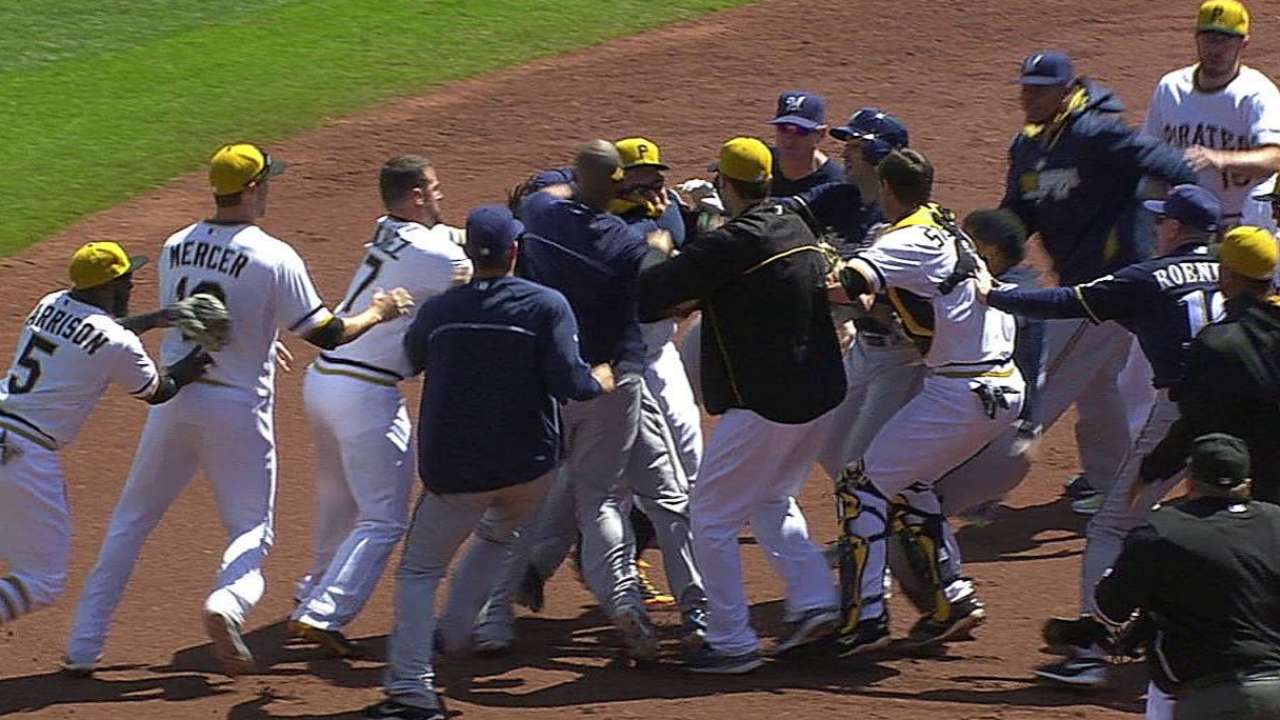 MILWAUKEE -- Brewers catcher Martin Maldonado is eager to return to active duty on Monday in St. Louis, his five-game suspension behind him.
Speaking for the first time about the discipline levied for his role in an on-field fracas with the Pirates on April 20, Maldonado said he wanted to appeal, but chose not to because his suspension fit conveniently into the Brewers' schedule. Maldonado was able to catch Monday, giving starter Jonathan Lucroy a day off, and an off-day built into the schedule on Thursday provided another break.
"That's why I didn't appeal," Maldonado said. "The next off-day was going to take a while. But I wanted to appeal it."
Brewers center fielder Carlos Gomez did appeal his own three-game suspension, as did Pirates outfielder Travis Snider (two games) and catcher Russell Martin (one game). Maldonado's ban was longer than the rest because he landed a punch against Snider amid the scuffle.
Asked whether the distribution of penalties was unfair, Maldonado said, "They made the decision, and I don't even worry about it. Even if you appeal, you get it knocked down, what, one game? That was going to take too long to play out, and we play St. Louis and Cincinnati [this week], and those are important games. I'm looking forward to them."
Maldonado suggested there was more to the story than has been told, hinting about words exchanged before an early game in the series between Snider and Brewers closer Francisco Rodriguez.
"Something happened the first day we were there," Maldonado said, without elaborating. "I was more upset about that. If they go one-on-one with Gomez, fine. But I saw Martin go after Gomez, too, and then I saw [Gomez] fall to the ground with Snider on top of him. I can't let him do that.
"But more to the point, next time I have to be smarter, because I'm one of only two catchers on the team. I'm looking forward to being back in these games."
The Brewers and Pirates play six more games against each other before the All-Star break -- from May 13-15 in Milwaukee and June 6-8 in Pittsburgh.
Does Maldonado expect trouble?
"I don't know if they want to retaliate, but I'm done with it," Maldonado said. "I served my suspension. I paid my fine already, too. If [the Pirates] hit me, I just go to first base, as long as they keep it away from my head. I don't want to make a big deal about it."
Word is that other teammates, including Gomez, chipped in to help cover the $2,500.
Adam McCalvy is a reporter for MLB.com. Read his blog, Brew Beat, and follow him on Twitter at @AdamMcCalvy. Joe DiGiovanni is a contributor to MLB.com. This story was not subject to the approval of Major League Baseball or its clubs.