Feeling more relaxed, Wang lights up radar gun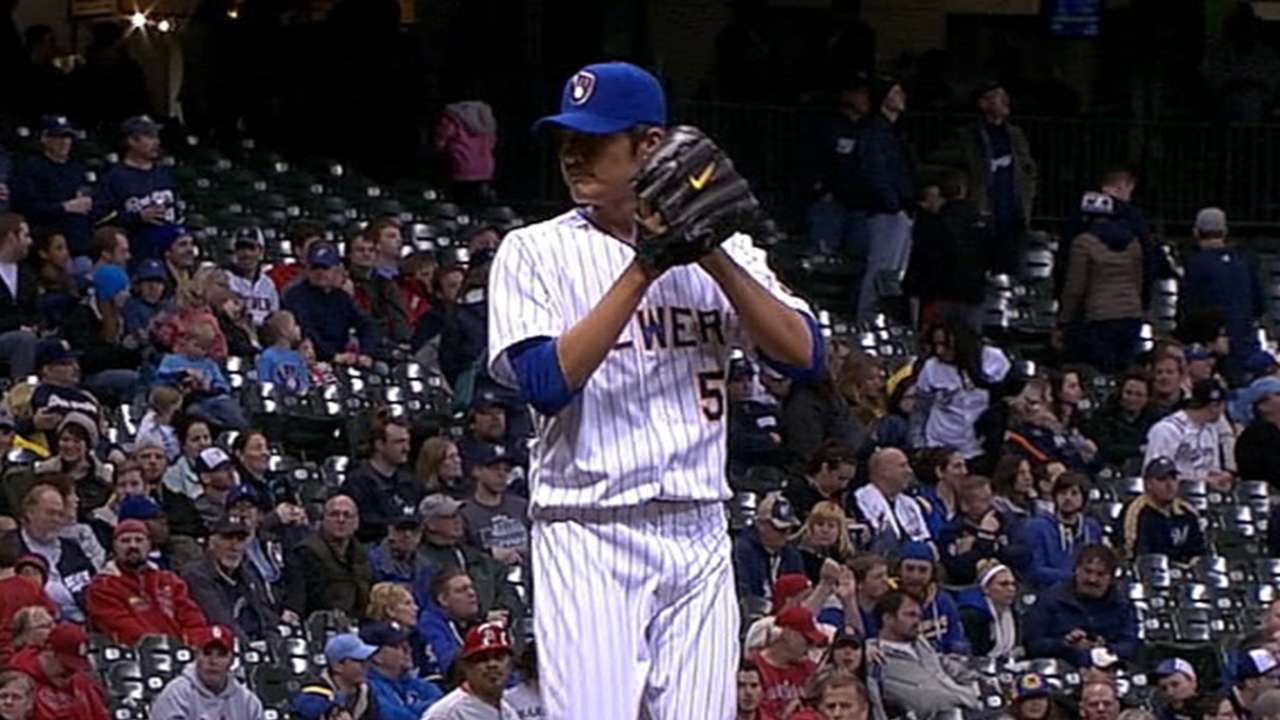 ST. LOUIS -- That 96 mph fastball unleased by Brewers left-hander Wei-Chung Wang against the Cubs on Sunday? Milwaukee manager Ron Roenicke believes the reading was accurate.
"I think it's legit," Roenicke said. "Our [radar gun] is probably right in the middle or on the low side."
Wang, a Rule 5 Draft pick, made Milwaukee's Opening Day roster by throwing strikes at 91-93 mph during Spring Training, and the Brewers heard he could reach 94 mph. The 96 mph pitch opened some eyes in the dugout.
It came against Cubs infielder Darwin Barney, in a 1-2 count. The pitch was ball No. 2, but Wang came back with a 94 mph fastball to retire Barney on a fly ball to right field, then got Emilio Bonifacio on an inning-ending groundout.
"He was ahead in the count, and you could see a little extra effort into it," Roenicke said. "Usually, he's pretty loose, and he's smooth-throwing. That one, you could tell he wanted to throw it by the guy. I liked seeing that. We've been seeing 91s, so I think he's making sure he's throwing strikes. Now, maybe he's comfortable enough that he's going to let it go. …
"If he's able to throw that kind of velocity, and he throws strikes, now he's got to put it where he wants to. If he can start locating it not just strikes, but on the corners, side to side, now we're talking about a guy who has a chance to be a good pitcher."
For Wang, the scoreless outing against the Cubs marked a bounce-back from his six-run inning in Pittsburgh on April 17. It was also his first appearance since then.
Through translator Jay Hsu, he said he's just following the advice Kyle Lohse gave him in spring: Throw strikes.
"I feel more relaxed," Wang said. "Hopefully I can keep this progress."
Asked about the 96 mph pitch, Wang smiled and said, "Maybe it was the wind."
Adam McCalvy is a reporter for MLB.com. Read his blog, Brew Beat, and follow him on Twitter at @AdamMcCalvy. This story was not subject to the approval of Major League Baseball or its clubs.