Brewers continuing to deal with key injuries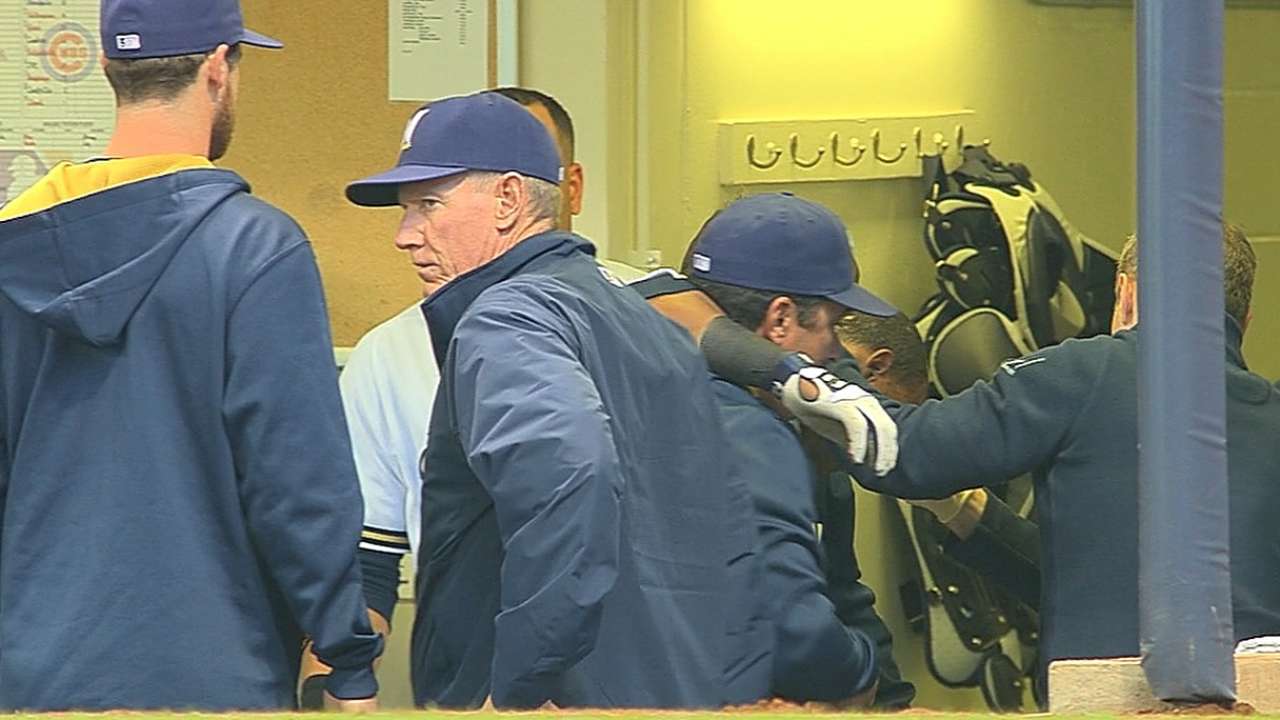 ST. LOUIS -- Brewers manager Ron Roenicke had a quick answer Tuesday afternoon when it was suggested that his starting lineup resembled something from Spring Training.
"Sometimes I made it like that in Spring Training and we went out and scored 10 runs," Roenicke said. "You don't know what's going to happen. Those guys are all hungry to get in there and play."
Ryan Braun (rib cage), Aramis Ramirez (elbow) and Jean Segura (facial laceration) all were out of the lineup and day to day with their various ailments, and catcher Jonathan Lucroy also sat out as a previously scheduled off-day. Roenicke considered altering the Lucroy plan in light of the team's other losses, but he ultimately stuck with it because he wanted to continue pairing Kyle Lohse with backup catcher Martin Maldonado.
That means the Brewers were without their usual 3-4-5 hitters -- in addition to Segura, who started the season batting second before falling recently to eighth. On Tuesday, Scooter Gennett batted third for the second time in his Major League career, and Khris Davis batted cleanup for the fifth time.
The latest on those banged-up Brewers:
• Ramirez was knocked out of Monday's game after being hit by pitches in consecutive innings, first on the left hand and then on the left elbow. The blow to the elbow was more serious, striking just below his protective guard. Ramirez could not fully extend his arm on Tuesday morning, so he called Roenicke and informed the manager he would not be available to play.
"It is unbelievable," Ramirez said. "That's what I wear that guard for, but it hit right below. It got me pretty good. I hope it's just a one-day thing, so hopefully I'll be good [Wednesday]."
It does not help Ramirez that Wednesday's game is scheduled for 12:45 p.m. CT. But by Thursday night in Cincinnati, he expects to be back to full strength.
• Segura, on the shelf since he since he was struck in the face by Braun's bat in the dugout on Saturday, was able to appear as a pinch-hitter in the ninth inning Tuesday -- he tried to bunt for a hit and was thrown out -- but remained sidelined from the starting lineup.
Segura hit in the batting cage for the second straight day, and for the first time took some ground balls on the field. He has yet to be cleared by the medical staff for full batting practice, and he won't start for the Brewers until he clears that final hurdle.
The swelling on the right side of Segura's face has declined dramatically in the past few days.
"It's not really painful," Segura said. "My vision is fine. I think I need to still pass a few tests. … You don't want to go out there and have a scare, maybe try to break up a double play and have the cut open up again. I'm going to take my time -- maybe one or two more days -- to be 100 percent."
• Braun stepped out on deck during Monday's extra-inning game, and Roenicke suggested it was more than a decoy. But Braun was still held out of batting practice on Tuesday because of a right rib-cage strain, instead taking swings in the indoor batting cage.
"They can control everything better in there," said Roenicke, who offered no update to a timetable for Braun's return.
Adam McCalvy is a reporter for MLB.com. Read his blog, Brew Beat, and follow him on Twitter at @AdamMcCalvy. Teddy Cahill is a reporter for MLB.com. Follow him on Twitter at @tedcahill. This story was not subject to the approval of Major League Baseball or its clubs.