Gomez, McCann move on from confrontation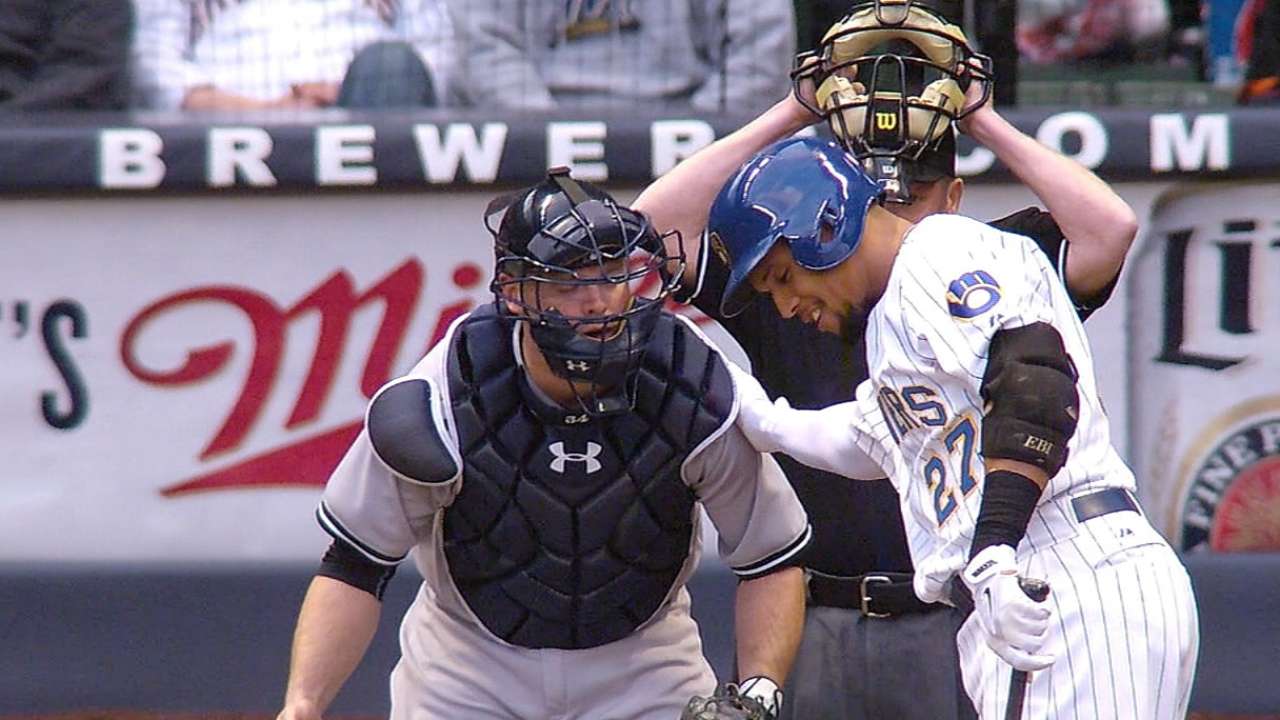 MILWAUKEE -- Yankees catcher Brian McCann and Brewers outfielder Carlos Gomez met on the field at Miller Park early Friday afternoon to hug it out.
They last met under very different circumstances, in a confrontation near home plate at Turner Field last Sept. 25. Gomez had homered off Braves starter Paul Maholm, and, still steaming about a Maholm fastball that hit his knee earlier in the season, jawed with the Braves pitcher all the way around the bases. McCann confronted Gomez about 10 feet up the third-base line, leading to a rare home run on which the batter never touched home plate.
The two had much kinder words Friday, according to Gomez.
"I go outside and he was hitting, and he said, 'Hey, my man!' I come, talk to him, and he says, 'No hard feelings,'" Gomez said. "I said, 'Neither on my side. You did your job, I feel like it was necessary to do this. I didn't mean to disrespect the Braves. [It was not to] you, personally. I wanted to send a message to Maholm, just to him. … It's in the past. I respect you and I like to see you play because you're the one who played the game right, protect your teammates. I love watching you play. So just have fun today.'
"He said, 'Yeah, yeah, I'm the same way. I like to see you play. I think you're an awesome guy and you did the right thing after the game [by showing] respect and not going crazy. We respect that. I think it's over.'
"He gave me a hug. I gave him a hug. Everything is past."
McCann expressed a similar sentiment after a 5-3 Yankees win.
"There's no hard feelings between me and him," he said. "We shook each other's hands before the game and I told him I respect him as a ballplayer. I think he's great. He's a perennial All-Star in this game. He plays the game hard."
Adam McCalvy is a reporter for MLB.com. Read his blog, Brew Beat, and follow him on Twitter at @AdamMcCalvy. This story was not subject to the approval of Major League Baseball or its clubs.