Gomez dyes goatee as Brewers go pink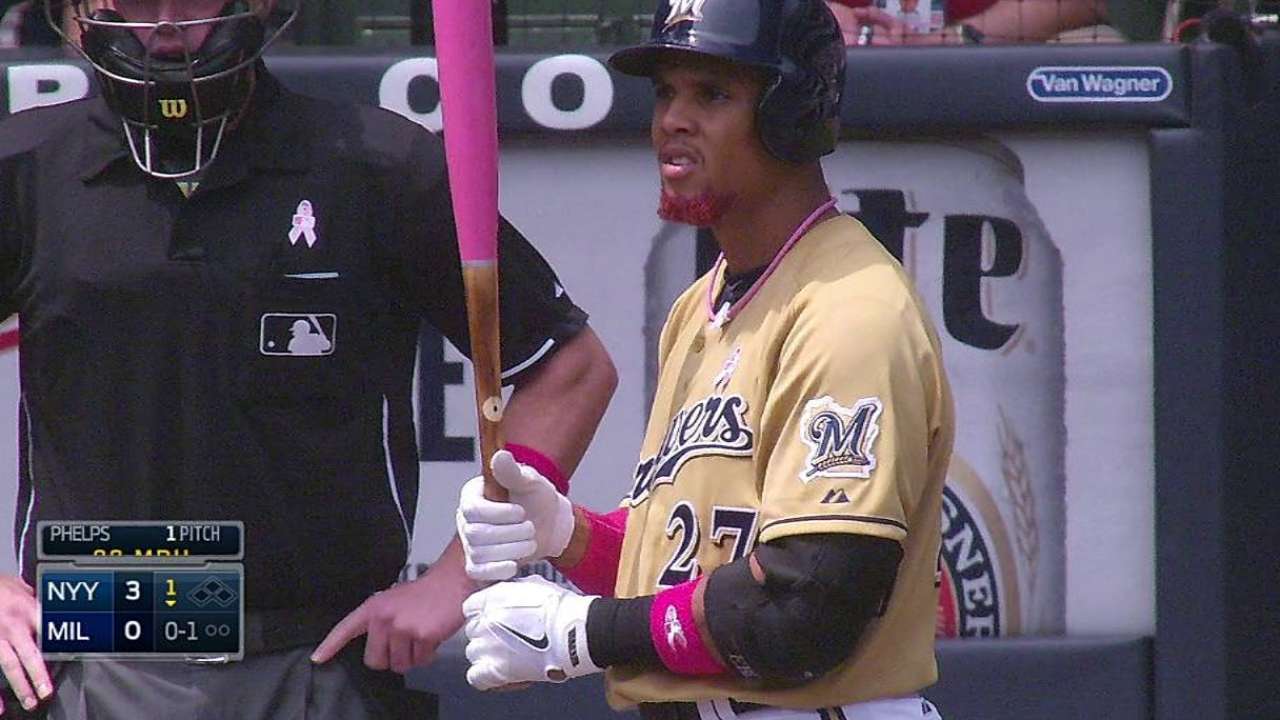 MILWAUKEE -- No less an authority on style, Derek Jeter liked the look. But what possessed Brewers center fielder Carlos Gomez to dye his goatee pink for Mother's Day?
It was essentially on a dare from his wife, Gerandy.
"She doesn't like when I have color on my face, and I said, 'You know what? I'm going to have a pink beard.'" Gomez said after the Brewers' 6-5 win. "She said, 'No you're not.' I said, 'OK, watch.'"
Sure enough, Gomez applied the color himself on Sunday, when players from both teams swung special bats and otherwise adorned themselves in pink as part of Major League Baseball's annual tribute to moms.
What did Gerandy Gomez say when she saw the result?
"'You're crazy,'" Carlos relayed with a laugh.
He added: "I said it's for the other moms. They're going to see it as something cool, and they appreciate it. It's not for me, it's for every mom from the United States. It's not Mother's Day in the Dominican, but it means a lot for me. It's a special day because it's the day seven years ago I got called up. Every Mother's Day is special because it's when I celebrate my callup."
Jeter got a close-up look before the game, when Gomez and Ryan Braun presented Jeter with gifts from the Brewers during a ceremony honoring Jeter's impending retirement.
"He told me, 'If I had face hair, I'd do the same thing,'" Gomez said. "It's really cool."
Gomez was one of four Brewers starters who swung pink bats in the game, with Lyle Overbay, Khris Davis and Jean Segura. Overbay's mom always asks for a home run on Mother's Day, and he always dutifully tries to deliver.
"I think I hit a few before they started having the pink bats," Overbay said. "But since they debuted the pink ones, I don't know if I even have any hits."
He finished 1-for-5 on Sunday and said he likes the tradition. Overbay wore pink in part to honor his stepmother, who has fought breast cancer in the past.
"It started with the bats, and it's taken on a life of its own," he said, noting the abundance of pink batting gloves, armbands and cleats adorning players on Sunday. "I think it's great to raise awareness of breast cancer. All of this stuff is auctioned off for a great cause."
Even players who did not swing pink bats on Sunday against the Yankees got into the action. Starter Marco Estrada and third baseman Mark Reynolds were among those wearing pink cleats. Catcher Martin Maldonado may have had the most complete get-up -- catching gear accented with pink from head to toe.
On his chest protector, Maldonado inscribed his mother's initials: JVA. Janette Valdez Ayala still plays a significant role in his life, encouraging her son to begin an annual Three King's Day charitable event in Puerto Rico.
"She's been everything," Maldonado said. "She's done so much for me since I was a little kid."
The pink bats used in Sunday's game will be auctioned at MLB.com to benefit the league's breast cancer awareness initiatives.
Adam McCalvy is a reporter for MLB.com. Read his blog, Brew Beat, and follow him on Twitter at @AdamMcCalvy. This story was not subject to the approval of Major League Baseball or its clubs.