Bronze bat among Jeter's gifts from Brewers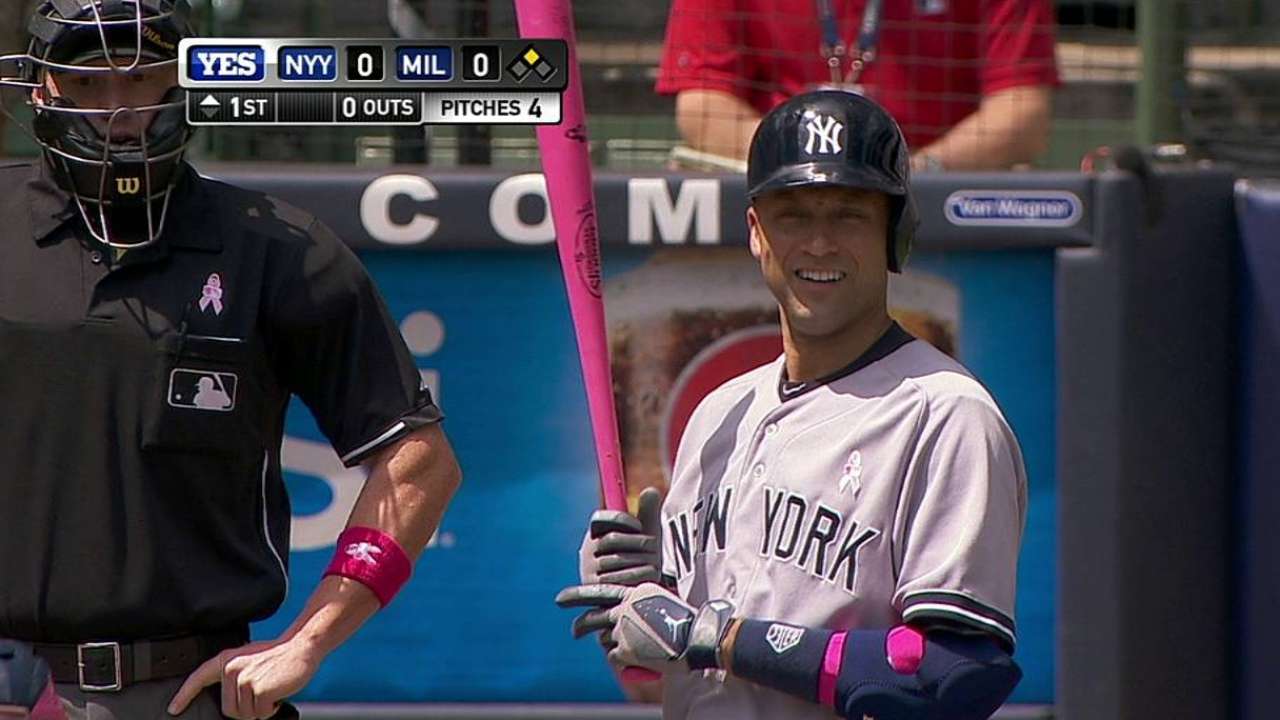 MILWAUKEE -- Brewers reliever Rob Wooten bounced around the clubhouse Sunday morning like a little kid. He'd just received a baseball signed by retiring Yankee Derek Jeter.
"Everything he does represents the good and right way," Wooten said. "He's a guy you model your game after, even though I'm not a shortstop. On the field, off the field, he's a role model for all of us."
Wooten and the rest of the Brewers lined the dugout rail before Sunday's Brewers-Yankees series finale for a brief ceremony honoring Jeter's contributions.
Brewers outfielders Ryan Braun and Carlos Gomez, principal owner Mark Attanasio and his wife, Debbie, plus general manager Doug Melvin and special assistant Dick Groch were on the field to shower Jeter with gifts. Groch was the Yankees' scout who recommended and then signed Jeter in 1992.
The gifts included a bronze replica of Jeter's Louisville Slugger bat, a stay at the prestigious American Club and a round of golf at Whistling Straits in Kohler, Wis.
The Attanasios, on behalf of the Brewers Community Foundation, also made a $10,000 donation to Jeter's Turn 2 Foundation, which supports programs that motivate young people to turn away from drugs and alcohol and toward healthy lifestyles.
Public address announcer Robb Edwards said, "Congratulations, Derek. May you enjoy retirement as much as we enjoyed your professionalism and play on the field."
In a nice touch introducing Jeter's first at-bat, the Brewers used audio from the late, great Yankee Stadium public address announcer Bob Sheppard.
Adam McCalvy is a reporter for MLB.com. Read his blog, Brew Beat, and follow him on Twitter at @AdamMcCalvy. This story was not subject to the approval of Major League Baseball or its clubs.