Braun out of lineup, with injury likely to linger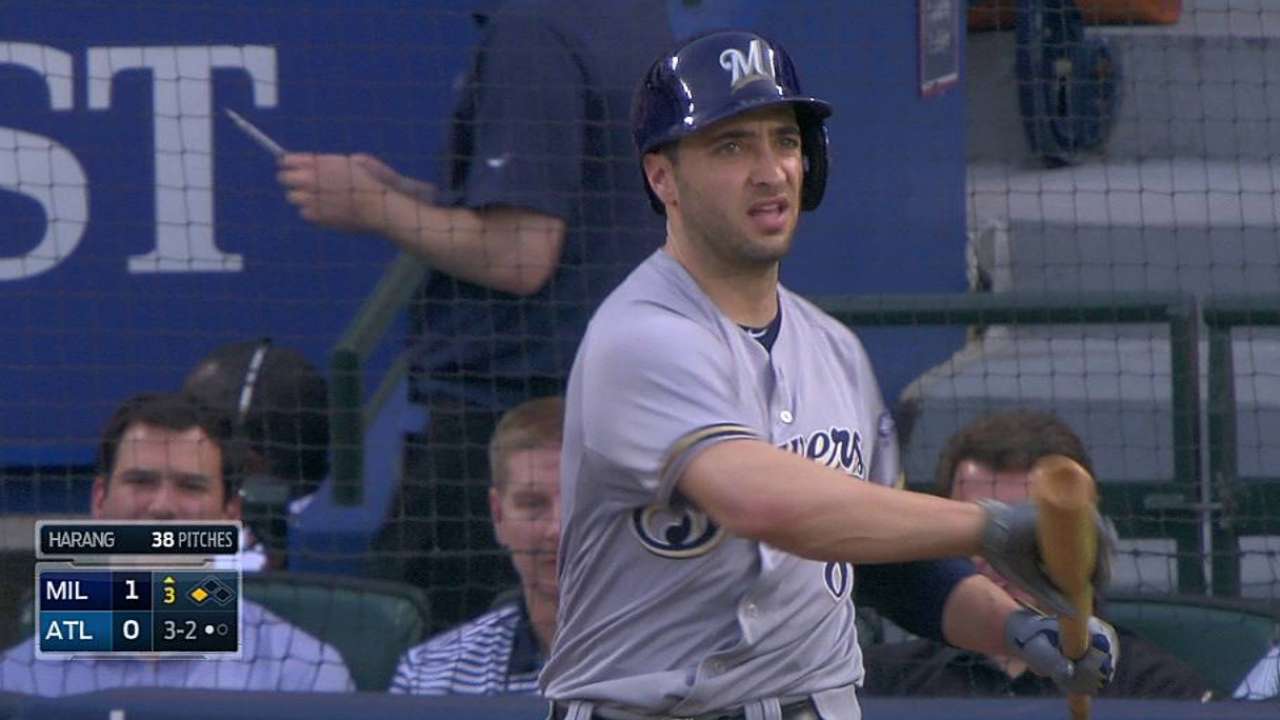 MIAMI -- Brewers left fielder Ryan Braun sat out Friday's series opener against the Marlins with tightness in his right side, a nagging injury that first surfaced in late April.
Braun left after the fourth inning of Thursday night's game against the Braves. Elian Herrera pinch-hit for him in the top of the fifth and played right field. Braun said there was not a specific instance in which he felt the discomfort, and he hoped to be back Saturday after some treatment.
The 30-year-old came off the disabled list on May 13 after missing 14 games because of a right ribcage strain on April 26.
"It's the same thing I had, just irritated it, aggravated it a little bit," Braun said. "Whenever you deal with an injury over the course of the season it's difficult to have it completely recovered over a point in the year because we don't have the luxury of downtime.
"It's important to play as often as possible and get back as quickly as possible. It makes it challenging because you rarely get back to the point where you're 100 percent healthy. I think I'm optimistic that we'll eventually get it to go away, but most things seem to nag a little bit."
Since his return, Braun was hitting .212 (7-for-33) in nine games. In a four-game set in Atlanta, he went 2-for-15 with a double, a solo home run and two strikeouts.
"He's taking weirder swings than I've seen him take," manager Ron Roenicke said. "If he's taking bad swings, something's not all right."
Braun said that while he could play through the injury, there was a concern he could aggravate it. He was available to pinch-hit on Friday.
When asked if the injury had him worried, Roenicke said yes, particularly considering how it could affect the lineup and bench. Khris Davis started in Braun's place in left and seventh in the order.
"We can't have too many maybes," Roenicke said. "Those are difficult because you get in a game, you make a substitution, now you've got another guy out there you probably don't want third in your lineup, and it makes a difference."
Christina De Nicola is a contributor to MLB.com. This story was not subject to the approval of Major League Baseball or its clubs.