Crew gives Kintzler chance to recover '13 form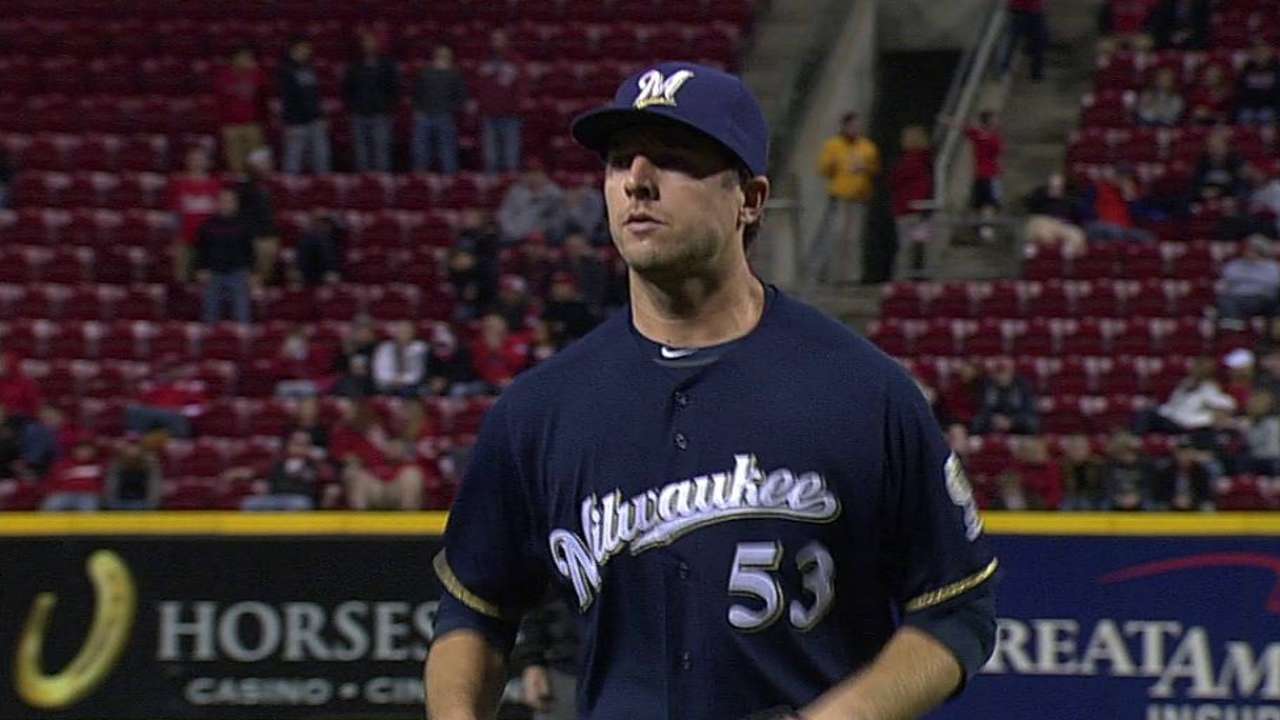 MILWAUKEE -- Brandon Kintzler concedes he is not throwing the ball as well this season as last, when he was the Brewers' shutdown setup man. But the right-hander also lamented his recent run of bad luck.
"I can easily turn it around," Kintzler said. "I feel like I'm one pitch away or one break. … I've had so many bad breaks it's unbelievable. It's been happening for a month."
He pointed to Gerald Laird's infield RBI double in Atlanta on May 22 and Josh Willingham's two-out, run-scoring chopper on Monday. Willingham hit the ball too softly for Brewers third baseman Mark Reynolds to have a play.
"The main thing is knowing you're still making good pitches," Kintzler said. "Last night, I made a good pitch to get out of the inning. It didn't happen. I've made a lot of good pitches to get out of innings but it just hasn't happened."
Kintzler has also made some poor pitches, a fact he readily acknowledges. Working mostly with his "heavy" fastball last season, he posted a 2.69 ERA in 71 appearances, including a 2.09 ERA over his last 59 appearances. He retired nearly three-fourths of his first batters faced (52 of 71) and stranded more than three out of four baserunners (16 of 21).
In 21 games entering Tuesday, Kintzler's ERA stood at 3.86, but he had retired only 12 of 21 first batters faced (57 percent) and stranded four of seven inherited runners (57 percent). He spent time Tuesday afternoon with pitching coach Rick Kranitz working to improve the sink on his fastball.
"It's mechanical," Kintzler said. "I've done some timing stuff and drills with Kranitz trying to slow things down instead of forcing the issue. I'm trying to force the sink instead of letting it happen. … You see the alignment, you repeat the delivery and hopefully you can take it into the game. It's always different when the hitters get into the box. You have to be mentally confident in the process. This game is a process and will definitely test you. I'm being tested. Last year was a breeze; this year is testing me."
Kintzler has two factors working in his favor.
Most importantly, he says he is healthy, insisting that the shoulder injury that forced him to the disabled list in April is a non-factor. Kintler has also maintained the strong support of manager Ron Roenicke, who has been adamant that for the Brewers to remain successful, Kintzler must play a prominent bullpen role; and that for Kintzler to get sharp, he must continue pitching in important situations.
Roenicke wants to see Kintzler's fastball "down with movement and life on it. That also comes with confidence. If it's got more life, it may show up 92-93 [mph], but there's a difference between when you're really trying to pump and get it there, and when you're confident it happens. There's more life on the ball."
Kintzler is trying to keep that confidence level high.
"It's very hard, but that's why you have to have belief in the process that it's going to happen," he said. "The last missile I gave up, I hung a changeup to [Marlins slugger Giancarlo] Stanton and he hit it probably 150 mph. Luckily it was a single. Other than that, it's been a lot of singles and weak contact. I know if I'm making a good pitch, I'll start getting some of those weaker ground balls -- hopefully right at somebody."
He added: "I feel terrible that I've let the team down. Hopefully I can and will get it going so I can help make it easier on some of the other guys who always have to come in. I want to do well for Ron, too, for having confidence in me. I think he saw what I did last year. … The thing is, I can't always go off last year. I had a good year last year, but this is a new year. The league makes adjustments."
Adam McCalvy is a reporter for MLB.com. Read his blog, Brew Beat, and follow him on Twitter at @AdamMcCalvy. Caitlin Swieca is an associate reporter for MLB.com. This story was not subject to the approval of Major League Baseball or its clubs.