Crew takes college hurler Sneed in Round 3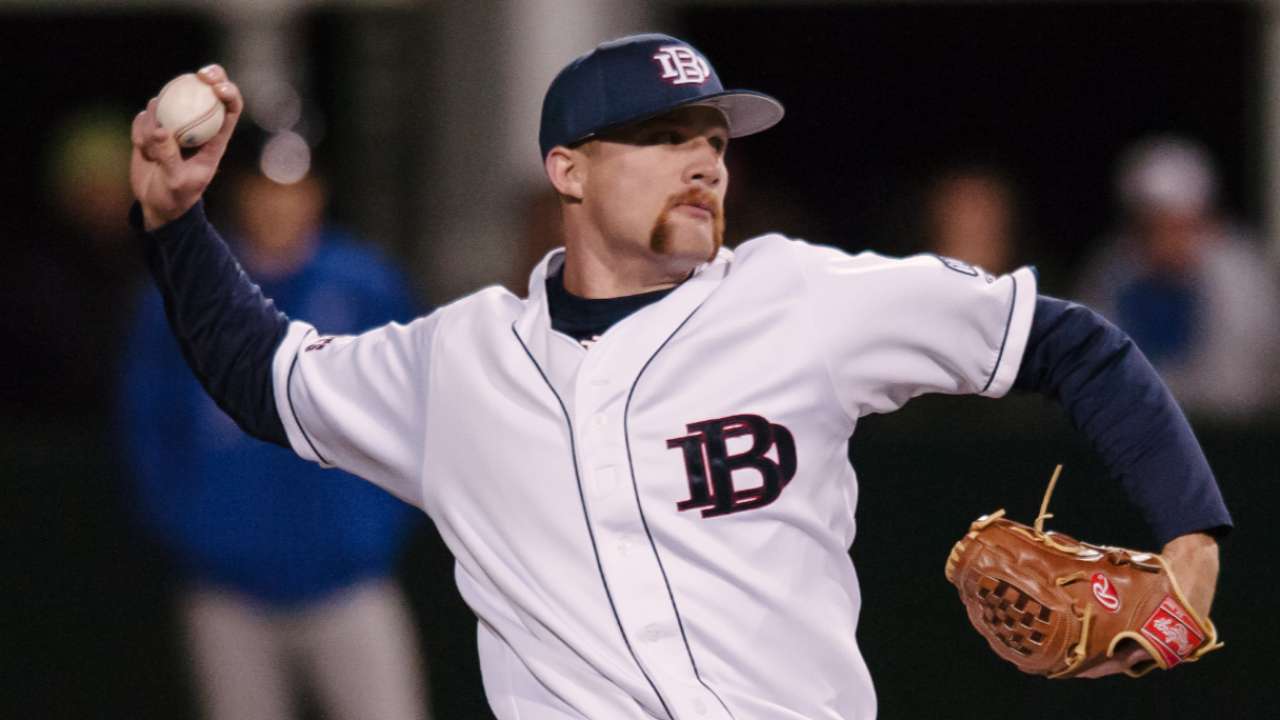 When Cy Sneed was a senior at Idaho's Twin Falls High School, he thought his low-90s fastball qualified him to be a power pitcher.
When he joined the Dallas Baptist University baseball team, all of his perceptions changed.
"Coming from a small school in Idaho, I thought being a power pitcher was low-90s," Sneed said. "Coming to college, I realized that's not how things worked."
On Friday, Sneed was drafted in the third round with the No. 85 overall pick by the Brewers. The selection comes three years after Sneed was selected in the 35th round by the Texas Rangers but opted to attend college instead.
Sneed said he wouldn't be in the position he is today if he hadn't had three years of development at Dallas Baptist.
"I think I really, really learned who I was as a pitcher," Sneed said. "The coaches and older guys that were here when I was younger really taught me a lot of things. I learned a new breaking ball. I learned how to rely on my changeup more. It was definitely huge and contributed to a lot of my success.
Sneed, the first college player chosen by the Brewers in this year's Draft, went 8-3 in 16 starts for Dallas Baptist this year. He allowed 99 hits over 104 innings and finished his junior season with a 3.55 ERA. He said he anticipates forgoing his last year of eligibility to sign with Milwaukee.
For Sneed, pitching runs in the family: His older brother, Zeb, is a prospect in the Kansas City Royals' system. Sneed said his brother's advice helped him get through the anxiety of the draft process.
"It's really nice to be able to have that older brother who is kind of a step ahead in everything," Sneed said. "He's been to rookie ball, he's been to Low A, he's at High A right now. He does know the ropes. He's been able to teach me some of those along the way and help with this whole process and not getting too anxious, because greater things do happen."
Though Sneed was part of Dallas Baptist's rotation all three years of his college career, MLB.com analyst Jim Callis believes Sneed might be a better long-term fit in the bullpen.
"He's a starter now, but I wonder if his niche is going to be in the bullpen down the road," Callis said. "I really think the fastball is the focus with him. Maybe you put him in the bullpen, not right away, but down the road."
Analyst Jonathan Mayo said the Brewers were likely to give him a chance to start, based on his 90-92 mph fastball lasting deep into games.
"He's not a guy who the velocity drops off after two or three innings," Mayo said. "Typically teams will give that guy a chance, because that velocity through six or seven innings is hard to find."
Sneed, whose brother was moved to the bullpen by the Royals, said he was open to pitching as a starter or reliever.
And while Sneed is excited for the on-field opportunities with the Brewers, he said he'd like to continue the strong facial-hair tradition started by former Milwaukee closer John Axford. He said he plans on keeping the Fu Manchu moustache he currently sports.
"I know John Axford was the Mustache American of the Year a couple years ago," Sneed said. "He definitely started a good trend of mustaches and facial hair in the organization, and hopefully I can contribute to that."
The 2014 MLB Draft concludes on Saturday, with exclusive coverage of Rounds 11-40 beginning on MLB.com at noon CT.
Caitlin Swieca is an associate reporter for MLB.com. This story was not subject to the approval of Major League Baseball or its clubs.