Thornburg lands on DL with sore right elbow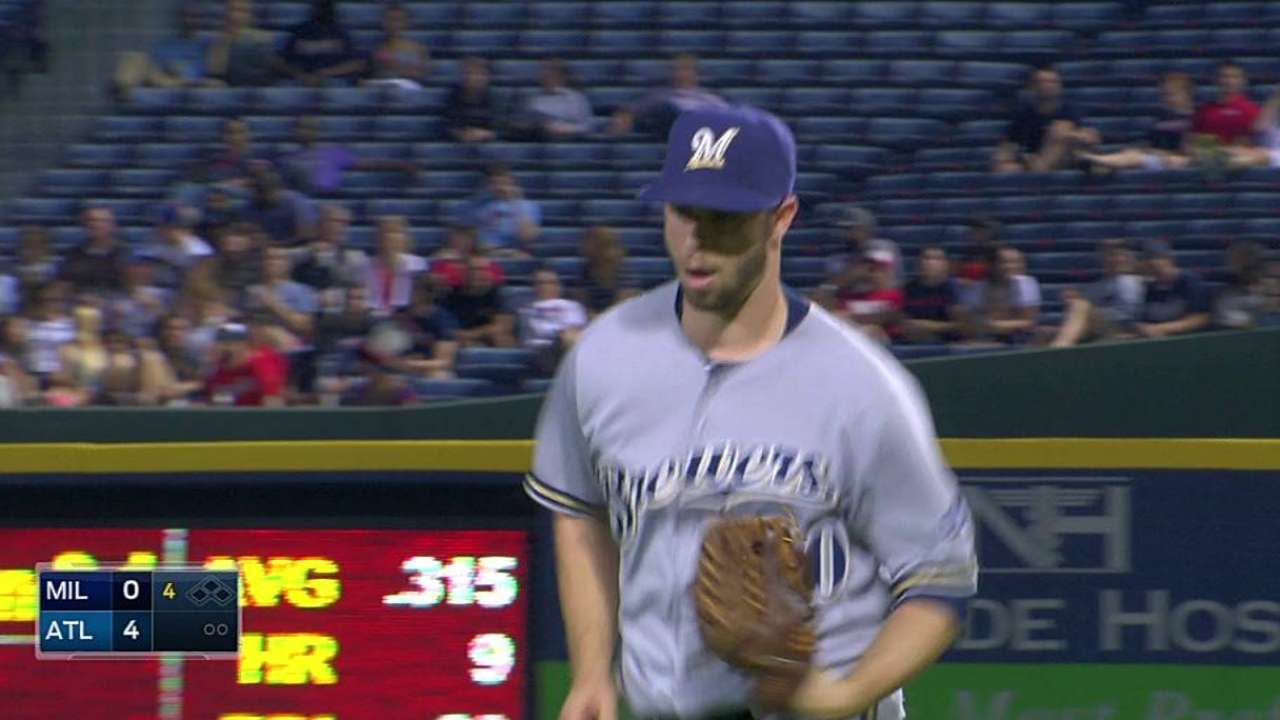 PITTSBURGH -- A day after absorbing most of the blows in the Pirates' eight-run sixth inning, Brewers reliever Tyler Thornburg hit the 15-day disabled list Saturday with a sore right elbow.
Thornburg said initial tests did not raise significant red flags about his ulnar collateral ligament, but he was scheduled to travel to Milwaukee on Sunday for an examination with head team physician William Raasch.
The Brewers promoted right-hander Mike Fiers from Triple-A Nashville to take Thornburg's spot in the bullpen.
"Obviously, there's so many different things in there that it could be," Thornburg said. "We're waiting to get it checked out to see if we can be a little more specific and go from there. We'll narrow it down."
Elbow injuries have plagued pitchers throughout baseball this season, the most serious of which, involving the UCL, require reconstructive Tommy John surgery and a year-long rehabilitation. Thornburg said he suffered a partially torn UCL during his freshman year in high school, but rehabbed without surgery and has not experienced a notable elbow injury of any kind since then.
He hopes things stay that way.
"It's been going on a good bit," he said of the soreness. "It's just one of those things that was more annoying. Then it started to get a little bit worse and I let them know about it a couple of weeks ago. We've been trying to work on some stuff and it started to get a little bit better. Then it got into a situation where I don't know whether it was fatigued or what, but I couldn't really grip the ball well. Obviously, things have gotten progressively worse as far as my control."
After making the team as a long man, Thornburg pitched his way into a high-leverage setup role and posted a 0.61 ERA in April, holding opponents to a .122 batting average in 14 games and producing a stretch of 13 consecutive scoreless appearances from April 5-29, retiring 21 consecutive batters in one stretch. In 11 appearances in May, Thornburg had a 6.00 ERA and a .319 average against.
He worked two scoreless innings against the Twins on Tuesday before enduring a nightmare outing at PNC Park on Friday night. Thornburg inherited two baserunners and a 6-3 deficit from Brewers starter Kyle Lohse and saw the Pirates extend their lead to 13-3. Thornburg was charged with five runs, all earned, on three hits and four walks, including a pair of bases-loaded walks.
"The bullpen needed it, so I was trying to fight through it, but as soon as I'm not helping the team and doing more damage than good, it's one of those things where [he had to shut it down]," Thornburg said. "I thought it was inevitable. I'm hoping to take 15 days and be 100 percent back to where I was."
Before this season, Thornburg had never pitched regularly as a reliever.
"I wasn't used to bouncing back, but I feel like I take care of myself pretty well," he said. "Sometimes you can do everything possible, and things will happen. That's the nature of the game. No matter how good you take care of yourself and what you do, it's unnatural throwing."
Adam McCalvy is a reporter for MLB.com. Read his blog, Brew Beat, and follow him on Twitter at @AdamMcCalvy. This story was not subject to the approval of Major League Baseball or its clubs.