Brewers give Fiers fresh start after tough 2013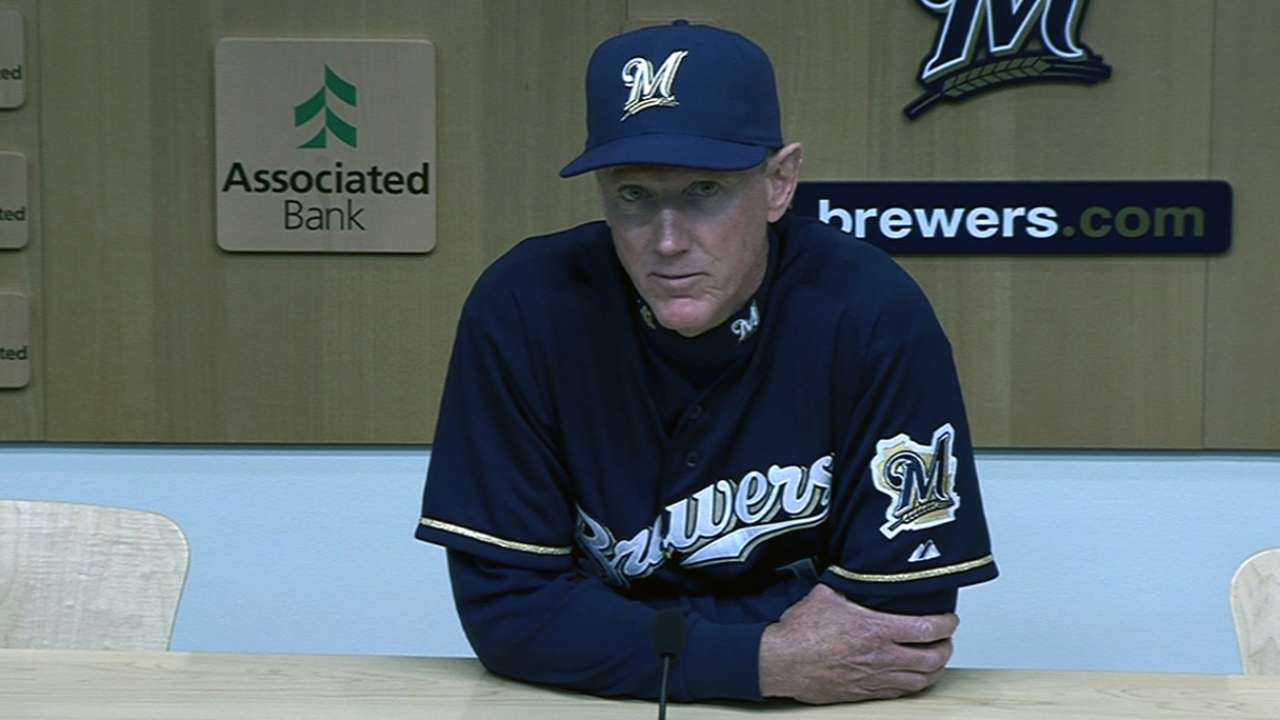 PITTSBURGH -- After a nightmarish 2013 on and off the baseball field, Brewers right-hander Mike Fiers had plenty to think about during his Sunday morning flight back to the big leagues.
"Just prove myself again, that I can pitch here," Fiers said after arriving at PNC Park. "I know I can, but I've got to do it on the field and that's the main thing. You can talk about it and say what you've changed, what you've done, but up here is where it counts. You've got to get it done here."
He's about to get another chance. The Brewers promoted Fiers, who had been excelling in the Triple-A Nashville Sounds' starting rotation, to the Major League bullpen. He arrived the morning after the team placed Tyler Thornburg on the disabled list with a sore right elbow.
It marks a fresh start for Fiers, who was a feel-good story for most of 2012 before going through a heartbreaking '13. He began last season in the Brewers bullpen, but he was demoted after posting an 8.39 ERA in three games, including a start, and ultimately was sent to Advanced Class A Brevard County so Fiers could be with his mother Linda, who was very ill with the chronic inflammatory disease Lupus.
When the Brewers offered a promotion that happened to coincide with Mother's Day, Linda Fiers encouraged her son to accept. But he struggled again, going 1-3 with a 6.60 ERA before another demotion. Back in the Minors, Fiers suffered broken bones in his right arm and wrist when he was struck by a line drive on June 15, and his season was suddenly over.
He spent the summer with his mother, who passed away shortly after Fiers reported to Arizona in August to resume workouts.
"It was a rough year," Brewers manager Ron Roenicke said. "But his Spring Training, I thought, was different this year. His Spring Training was better this year than I had seen him the two previous springs. Just, stuff was better. I don't know if sometimes he's a slow starter or not, but I liked what I saw this year.
"Hopefully he comes up here with that same confidence and is not only able to give us innings, but good quality innings. You guys see our bullpen right now, and these innings all seem pretty important."
The deceptive, soft-tossing Fiers got the nod over other candidates in Nashville because he was already on Milwaukee's 40-man roster and he was pitching the best. In 11 starts, Fiers was 6-3 with a 2.53 ERA and a Minor League-leading 92 strikeouts.
"I think it was just more getting back my confidence and work," Fiers said. "[I was] coming back from a long year last year with a lot of things going on and not having a lot of success up here, getting moved back and forth. I didn't have the greatest winter ball. I think it was just getting the confidence and everything back.
"Then I came into Spring Training and I think everything clicked once I got into the season. Everything I was doing to prepare for the season came together at that time. I was just rolling. I was pitching and feeling like I was before, being aggressive and going after hitters and just getting outs."
Fiers makes it sound simple.
"When you're doing well, it seems a lot more simple than when you're struggling," Fiers said.
Adam McCalvy is a reporter for MLB.com. Read his blog, Brew Beat, and follow him on Twitter at @AdamMcCalvy. This story was not subject to the approval of Major League Baseball or its clubs.