Brewers to unveil Wall of Honor on Friday
58 men, including Hank Aaron, qualified as inaugural inductees for the new installation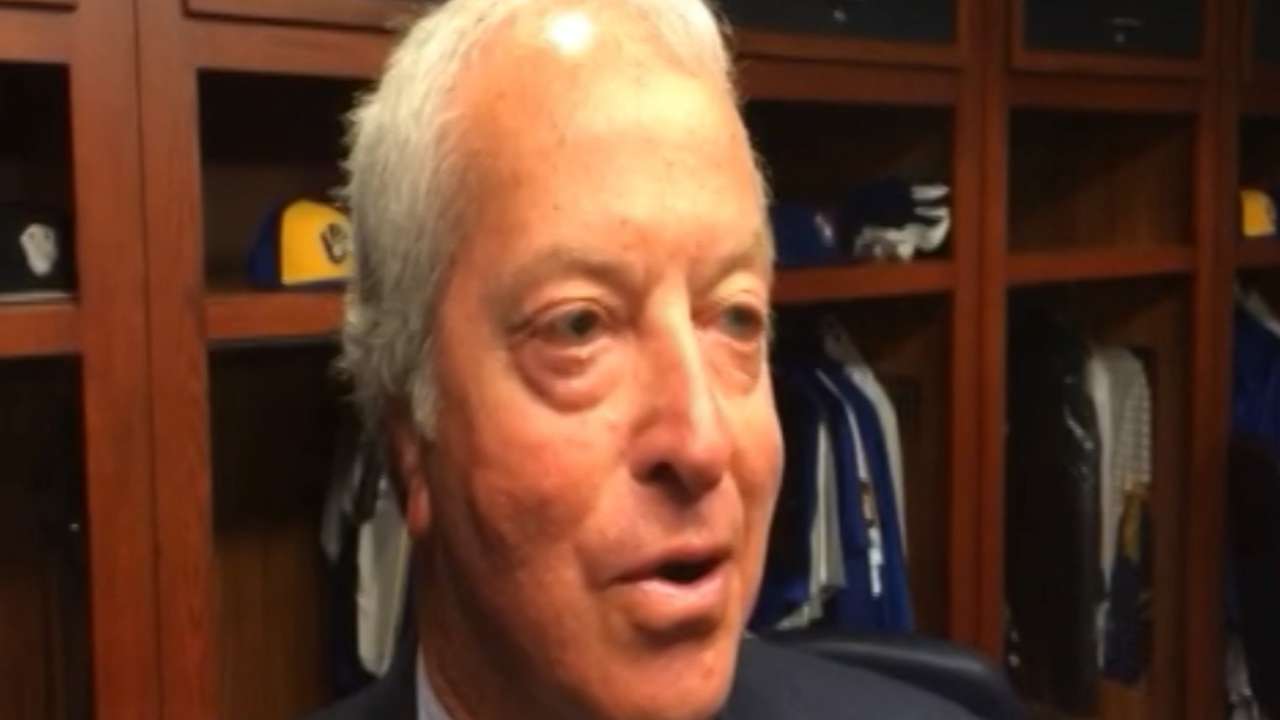 MILWAUKEE -- In what might be the largest gathering ever of former Brewers players in one place at one time, the Brewers will unveil the newest major addition to Miller Park on Friday.
Hall of Famers Hank Aaron, Rollie Fingers and Robin Yount will be among the dozens of greats in attendance for an afternoon ceremony at the Brewers Wall of Honor, a new installation outside the ballpark to commemorate longtime contributors to the club. The wall, outside the left-field concourse, will be open for public viewing beginning at 6:35 p.m. CT on Friday, and all of the participants will be honored inside Miller Park just before the start of the Brewers-Reds game.
"I'm really proud and excited," said 1971 American League Fireman of the Year Ken Sanders, the only member of the first Brewers team in 1970 to gain induction. "I've made my home here since 1970, and what makes it more special to me is the fact that, who would have ever guessed in 1970 that Milwaukee would have a team?"
Other notables scheduled to be on hand Friday include Cecil Cooper, Mike Caldwell, Jim Gantner, Teddy Higuera, Geoff Jenkins, Don Money, Charlie Moore, Ben Oglivie, Dan Plesac, Ben Sheets, Ted Simmons, B.J. Surhoff, Gorman Thomas and Greg Vaughn. Former Brewers owner and current Major League Baseball Commissioner Allan H. "Bud" Selig will be there, as will Bob Uecker and a relative of beloved former Brewers manager Harvey Kuenn.
All are among the 58 men who qualified as inaugural inductees. They are retired players who reached 2,000 plate appearances, 1,000 innings pitched or made 200 appearances on the mound for the Brewers, won a major award, persons who managed a pennant-winner, gained induction to the National Baseball Hall of Fame, or already have a statue outside Miller Park.
"When I first got the note that they were going to have the Wall of Honor, I sat back and thought, 'What a neat thing for the Brewers to do,'" said Wisconsin-born Jerry Augustine, who pitched parts of 10 seasons for the Brewers. "I thought it was pretty special, and then I looked and I saw my name on there. It's neat."
Adam McCalvy is a reporter for MLB.com. Read his blog, Brew Beat, and follow him on Twitter at @AdamMcCalvy. Tim Healey is an associate reporter for MLB.com. This story was not subject to the approval of Major League Baseball or its clubs.