Lucroy racking up doubles, 'locked in' at plate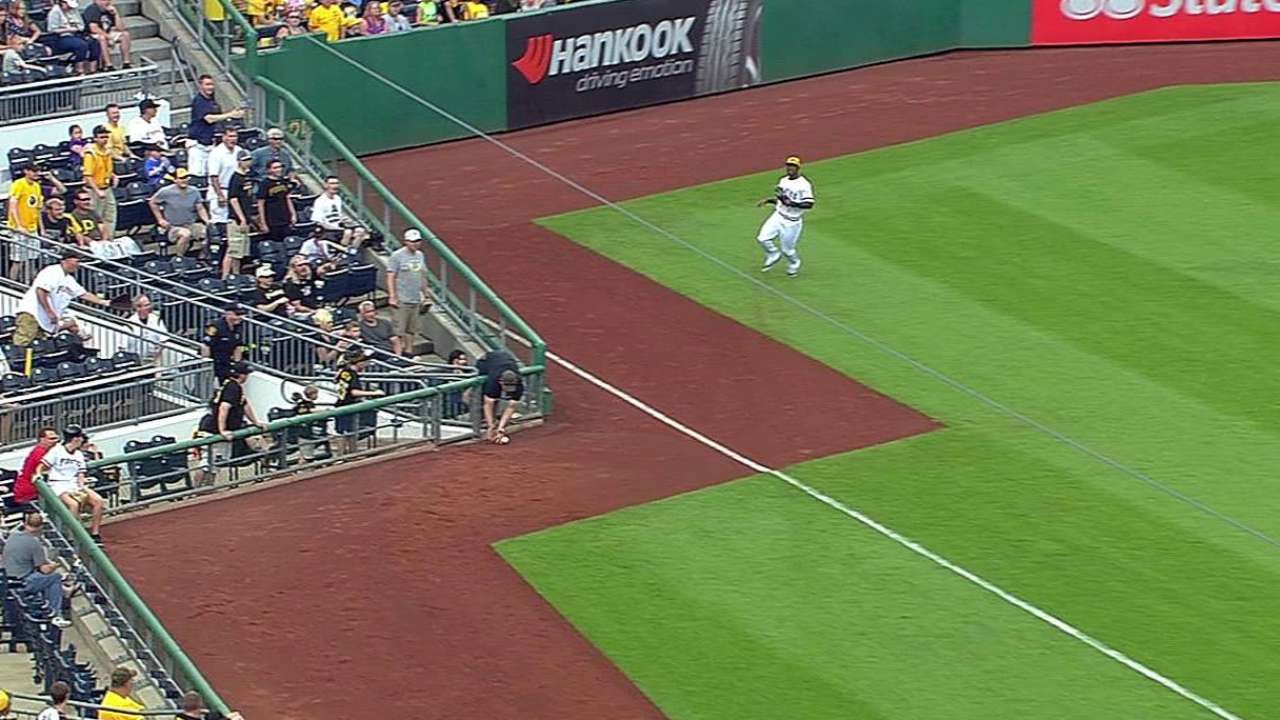 NEW YORK -- How good has Jonathan Lucroy been lately? Good enough to worry about his personal safety.
With 25 doubles through about 40 percent of the season, Lucroy is on pace for 61, which would surpass the club record of 53 set in 2004 by Lyle Overbay, who is just a couple of lockers away from the Milwaukee catcher.
"I've been watching over my shoulder making sure he doesn't try to take me out or something," Lucroy said with a smile Wednesday night.
That, obviously, was a joke, but the punishment he has been imposing on opposing pitchers is not. Entering Thursday with a .341 batting average, .403 on-base percentage and .509 slugging mark -- not to mention the 25 doubles that tie him for the MLB lead and 28 RBIs -- Lucroy is having one of the best offensive seasons of any catcher in baseball, putting himself in line for what would be his first All-Star Game.
Brewers fans have seen this before. In 2012, Lucroy was hitting .345/.387/.583 at the end of May -- boosted by a .388 average that month -- when a freak accident led to a broken hand that dampened his season. Lucroy missed about eight weeks and hit .299 the rest of the way.
Though injuries are impossible to predict, Lucroy has avoided them in 2014 -- and bucked a careerlong trend in the process. He has slashed .293/.330/.465 in June since breaking into the Majors as a 23-year-old in 2010. That's a good month, certainly, but it's an odd dropoff compared to his May averages (.331/.372/.521).
Through 10 games this June, Lucroy is hitting .444 with a .475 on-base percentage. Thanks to two homers and four doubles -- including a pair in the Brewers' 3-1 win over the Mets on Wednesday -- he's slugging .722.
"It's one of those things that's been weird the past few years, but there's nothing different about this this year at all," said Lucroy, who turns 28 on Friday. "It was just a matter of my swing feeling right and all that."
Whatever the difference, manager Ron Roenicke thinks this is closer to what will be the long-term norm for his catcher. Before praising Lucroy's growth as a defensive backstop, Roenicke said he would be "surprised" if Lucroy ever hits under .280.
"I think he's always going to be able to hit. His approach is ideal. If you're teaching a young kid how to hit, you'll say, 'Do what this guy does,'" Roenicke said Wednesday. "So it allows him to stay more consistent with what he does. … When everybody else is trying to catch up to stuff, he knows he's on time. He doesn't have to chase stuff. And I think his approach is going to always allow him to be a really good hitter.
"Luc's locked in, he has been for quite a while. His at-bats are outstanding."
Tim Healey is an associate reporter for MLB.com. This story was not subject to the approval of Major League Baseball or its clubs.