With Gorzelanny, Crew sport four lefties in 'pen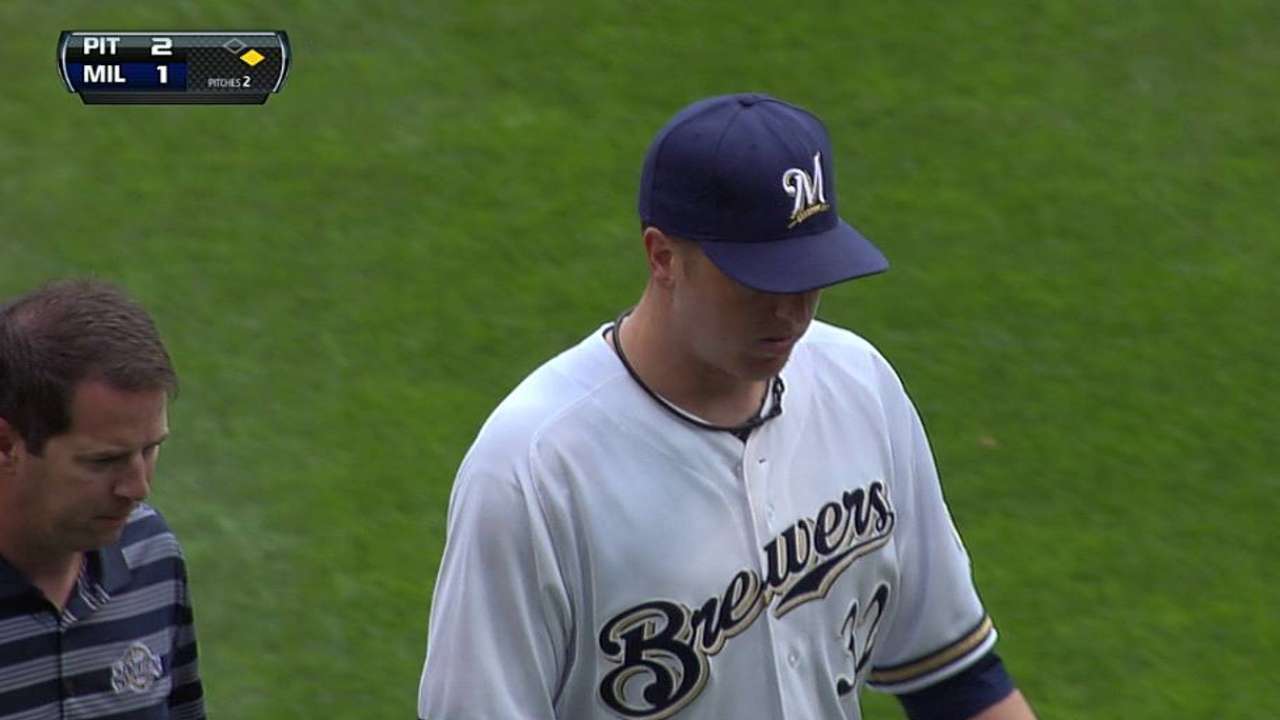 MILWAUKEE -- When Tom Gorzelanny signed with the Brewers before the 2013 season, it seemed like the team had trouble finding even one successful, consistent left-handed pitcher in the bullpen. Now, the team has four left-handers in an eight-man relief corps after Gorzelanny was activated for the first time this season on Saturday.
Gorzelanny joined Zach Duke, Will Smith and Wei-Chung Wang in a bullpen that's currently carrying an extra man. Though he recognized the situation was extremely rare, Brewers manager Ron Roenicke said the team wanted to carry an extra arm on an upcoming seven-game road trip to Arizona and Colorado.
Injuries to right-handers Jim Henderson and Tyler Thornburg have also contributed to the strange mix. The strength of the left-handers in the bullpen made Roenicke more comfortable with the decision.
"I think [I'm comfortable] with Smith being able to get righties and lefties. I know Duke, we've kind of matched up a little more with left-handers, but he's been getting out right-handers also," Roenicke said. "It depends on where Gorzelanny is. If he is where he was last year before we started him, he was getting out everybody. I was bringing him into games not worrying about lefty [or] righty. We're a little bit different. These guys aren't matchup guys."
Regardless of the makeup of the bullpen, Gorzelanny was happy to be healthy and back in the Major Leagues. He's been sidelined since left shoulder surgery on December 3 to repair tears to his rotator cuff and labrum.
It was the first surgery of his career, and Gorzelanny said his progress was much slower than expected.
"I thought I'd be back with 12 weeks throwing, a month of throwing off the mound, build up and then go," Gorzelanny said. "When we pegged the [return] date of two weeks after Opening Day, I was like, 'Oh yeah, that's perfect.' It was a battle and a struggle, just trying to be as patient as I could, keep throwing and working hard."
Gorzelanny said his last several rehab outings have been encouraging, but that he wasn't sure if he was at 100 percent yet.
"I don't know if I feel back to myself," Gorzelanny said. "I think it's something that, anybody who's had a surgery, you kind of deal with, that year with some soreness and stuff. I started feeling like everything was kind of falling into place about four, five outings ago. I just had my Spring Training. Still there's some kinks to get out. This is my April 1 right now."
Adam McCalvy is a reporter for MLB.com. Read his blog, Brew Beat, and follow him on Twitter at @AdamMcCalvy. Caitlin Swieca is an associate reporter for MLB.com. This story was not subject to the approval of Major League Baseball or its clubs.