Roenicke, Brewers remember Gwynn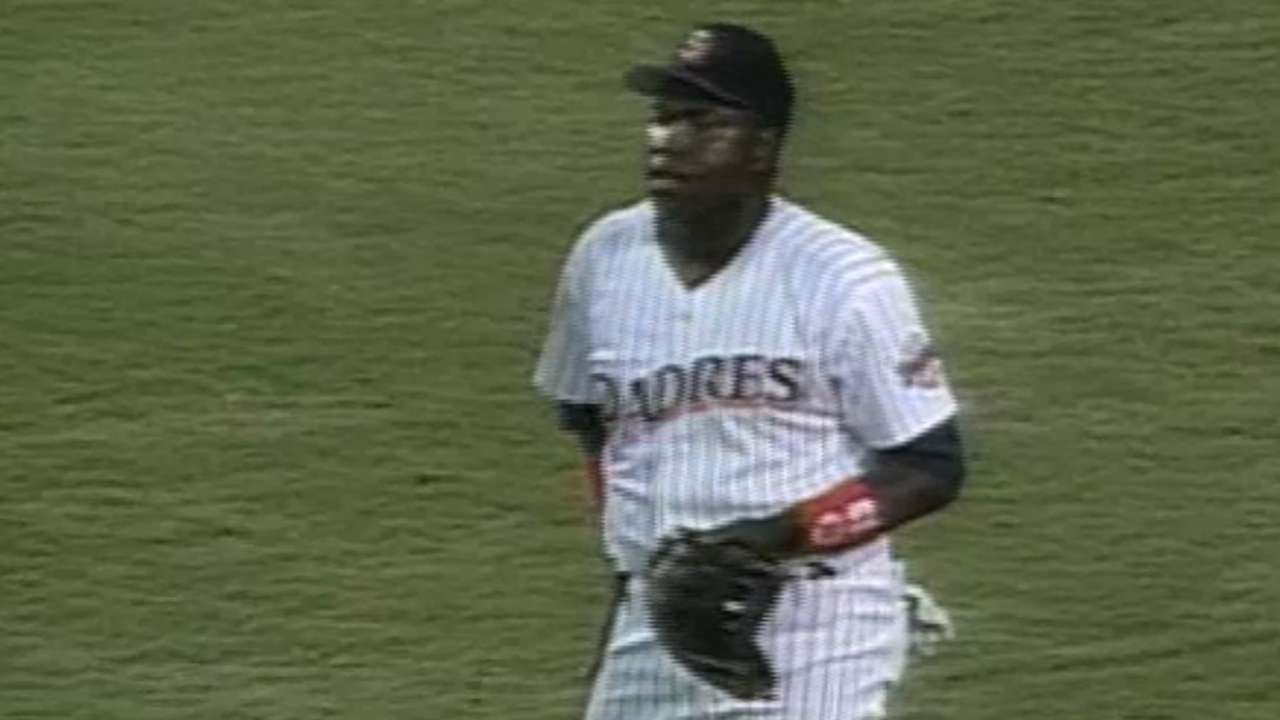 PHOENIX -- Craig Counsell had a long and successful Major League career, but he couldn't hit like Tony Gwynn.
That doesn't mean he didn't try.
"You couldn't copy what he did, but you tried," Counsell said on Monday, when the baseball world was saddened by Gwynn's death from cancer of the salivary gland. "I remember trying to find out what kind of bat he used. I thought if I used that kind of bat, something would rub off on me."
So Counsell, who arrived in the Majors during the second half of the 1990s, when Gwynn was in his heyday with the Padres, acquired one of Gwynn's 32 1/2-inch, 30-ounce Louisville Slugger B267s.
"I'd heard he used a smaller, lighter bat, and I always did, too," Counsell said. "So I thought maybe if I used his bat, I would get more hits. It didn't work like his bat did."
The Brewers awoke on Monday to the news that Gwynn had died at 54 following his battle with cancer. Milwaukee's traveling party included one man who pitched against Gwynn in the regular season (bullpen coach Lee Tunnell), one who pitched against him in Spring Training (video coordinator Joe Crawford), a good friend of Gwynn's son, Tony Jr. (Rickie Weeks) ...
And one former Padres teammate.
"I know it's a sad day, but whenever somebody talks about Tony, it brings a smile to my face," said manager Ron Roenicke, who played with Gwynn in 1984 and was on first base when Gwynn popped out to end the World Series. "This was a really nice guy. He loved to talk about baseball. He was in a great mood all the time. He had an infectious smile. And he worked as hard as anybody I've ever seen. He just was a pleasure to be around."
Gwynn's work ethic was famous, and he was a pioneer in the area of using video to prepare for pitchers. He was also a mainstay of the batting cage, as Roenicke observed firsthand.
"I thought I worked pretty hard, but I can remember in Spring Training driving up to the complex in Yuma, Ariz., and when I drove by, Tony was in the batting cage hitting," Roenicke said. "At that time they didn't do a lot of early work; it was mostly afterward. So after our workout, I did my extra work, I showered, I got in my car and drove out by the batting cage, and Tony Gwynn was in the batting cage hitting. And it wasn't only once it happened. So this guy put in work."
Weeks got to know a post-playing career Gwynn, who was a regular in the Brewers' Minor Leagues after the team drafted Tony Jr. in 2003. Weeks and the younger Gwynn were teammates at Class A Beloit and Double-A Huntsville.
"There was one little anecdote that he used to talk about when we were down in 'A' ball," Weeks said. "I guess we were having trouble seeing changeups and stuff like that, and he was like, 'Don't you see the fingers on the ball when the pitcher releases the ball?' We look [at him] like, 'We're not Hall of Famers. No, we don't see that.' It was cool to hear stuff like that from someone like that. To have him come down, the stature that he had, to talk to us and show us some things, was cool."
Weeks expressed condolences to Gwynn's family, including Tony Jr., who attended Weeks' wedding in January.
"It's tough, man," he said. "It's tough to lose someone like that. It hurts the game of baseball and it hurts the people who didn't get a chance to meet him as well."
Adam McCalvy is a reporter for MLB.com. Read his blog, Brew Beat, and follow him on Twitter at @AdamMcCalvy. Teddy Cahill is a reporter for MLB.com. Follow him on Twitter at @tedcahill. This story was not subject to the approval of Major League Baseball or its clubs.