Brewers being cautious with Gomez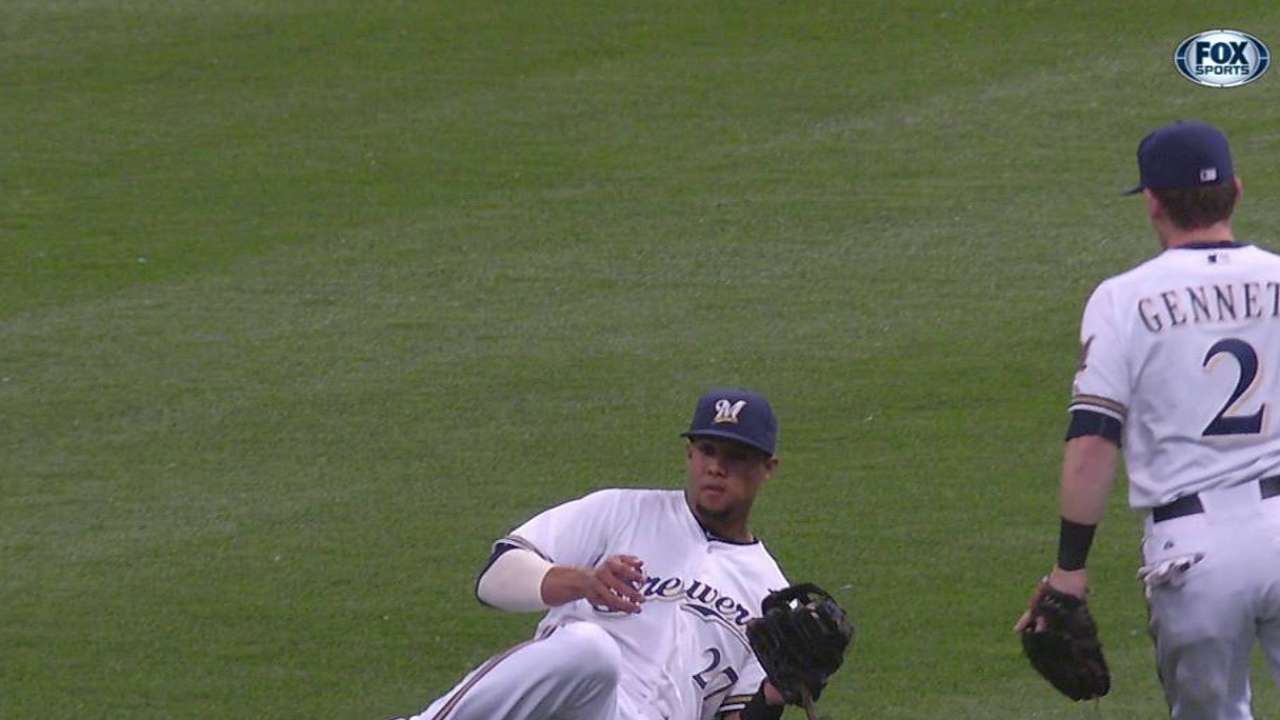 MILWAUKEE -- Carlos Gomez wanted to play, but the powers that be ordered him to rest one more day.
The speedy Gomez, bothered by tightness in his left hamstring, missed a second straight start on Tuesday when the Brewers played the D-backs at Chase Field, but said unequivocally that he would return to the lineup on Wednesday night. He will be bidding to resume a streak of reaching safely in 30 consecutive games, the longest current stretch in the Majors.
Manager Ron Roenicke sidelined Gomez for a second day out of an abundance of caution.
"Yeah, he could have played today," Roenicke said. "The conversation with Carlos was more, 'If you get on base, are you going to steal second? And if you're playing center field and there's a ball in the gap, are you going to go full-go to get it?' And if those things are there and he's not comfortable 100 percent, I feel better trying to at least get him closer to that point. Even though we love him in the batter's box, he depends a lot on his legs. And to not be able to go 100 percent bothers me."
"There's no rush," Gomez said. "He wants me to be 100 percent. I understand. I wanted to play today, and yesterday I could play, too, but he decided to give me the day off.
"It's not like [I have] a tear or I pulled something. It's not that. It's general. I've had an injured hamstring before, and it's not even close. When you pull a hamstring -- you saw Rickie [Weeks] last year -- you go down."
Gomez tried to change Roenicke's mind, attempting to talk -- and run -- his way into the lineup.
"Today I came in early, and I told Ronnie, 'I want to play,'" Gomez said. "They said, 'Let's go see you running.' I was running, giving everything. After that I felt a little bit fatigued, a little tight, but it's not like pain. They said, 'We're going to give you another day, because [we] prefer you to take two days off [instead of] playing not 100 percent and taking a week or week and a half with no stolen bases, only running under control. Take two days, then come tomorrow and give everything you have.'"
Gomez said he will definitely start on Wednesday against Arizona left-hander Wade Miley.
"For sure, no matter what [Roenicke] says," he said with a laugh.
Adam McCalvy is a reporter for MLB.com. Read his blog, Brew Beat, and follow him on Twitter at @AdamMcCalvy. This story was not subject to the approval of Major League Baseball or its clubs.