Brewers hope Coors Field will ignite scuffling Reynolds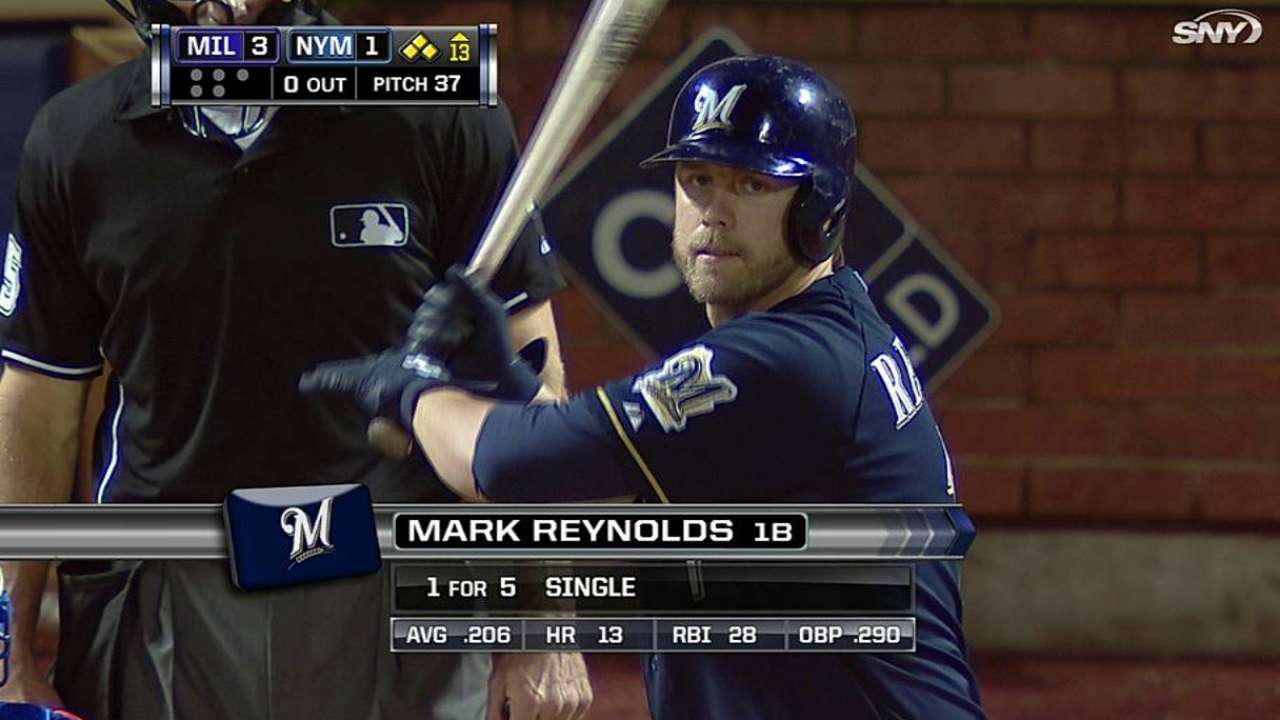 DENVER -- With Mark Reynolds rooted in a lengthy slump and Lyle Overbay making his second straight start on Friday against Colorado righty Christian Bergman, it's natural to speculate that the veteran may be gaining the upper hand in the Brewers' first base platoon. Manager Ron Roenicke is here to remind everyone that isn't the case.
"Yes, it has something to do with how they're swinging the bat, but it's more matchups," said Roenicke. "We [are facing] two left-handers the next two days and I knew Mark would be playing those two days."
With the Rockies trotting out two southpaws Saturday and Sunday in Christian Friedrich and Tyler Matzek, the right-handed hitting Reynolds will try to snap out of a funk that has seen him strike out nine times and collect just four hits in his last 36 at-bats.
Of course, Roenicke is well aware that Reynolds is prone to that sort of streakiness, but he's hoping the gaps of Coors Field can be a cure for the sluggers' woes.
"That's been his career," said Roenicke. "But when you get into a ballpark like this and he hits a couple in the air, things can turn around in a hurry."
In 105 lifetime at-bats at Coors Field, Reynolds has hit eight home runs and six doubles, each his highest totals in any road ballpark. Reynolds has also hit .267 with 20 RBIs in the Mile High City.
On the season, Reynolds is hitting .157 against lefties in 51 at-bats. His platoon mate Overbay has almost exclusively been limited to right-handed pitching, but has been heating up as of late, hitting .333 with three doubles and eight RBIs in 30 at-bats this month.
Cody Ulm is an associate reporter for MLB.com. This story was not subject to the approval of Major League Baseball or its clubs.