Amid slump, Braun swinging away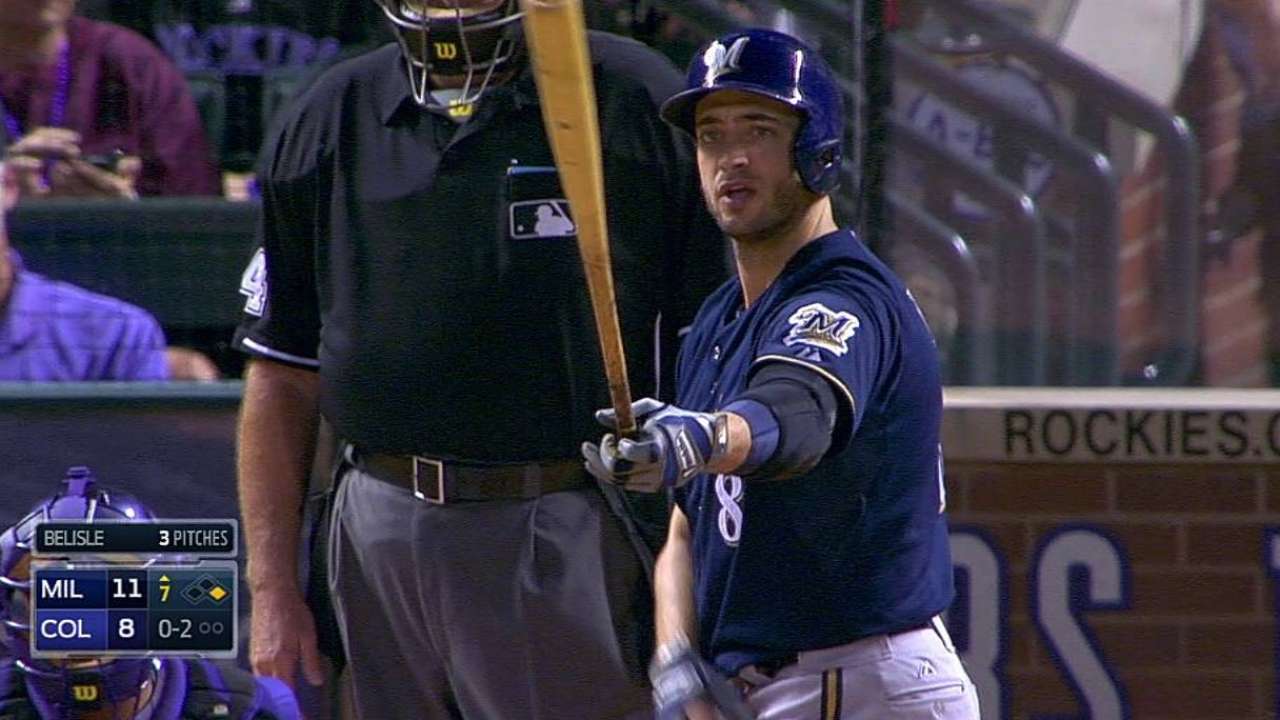 MILWAUKEE -- At some point he may not be given a choice, but for now slumping Brewers slugger Ryan Braun prefers to play his way out of a slump.
Braun went 2-for-6 with a pair of singles and two RBIs Tuesday in a 4-2, 16-inning loss to the Nationals. He continued to decline offers to take a day off amid a funk that saw him start the day with a .193/.250./.307 slash line in his last 20 games. It did not surprise Brewers manager Ron Roenicke to hear that Braun is not only swinging at more pitches outside the strike zone (a career-high 39.5 percent entering the night, according to Pitch F/X data -- more than five percentage points higher than his career rate, and more than nine points higher than his National League MVP season in 2011) but was swinging at more pitches, period.
His overall swing rate of 52.6 percent is headed for a career high, and marks the first time since Braun's first full season in 2008 that he is over 50 percent. In 2011, with Prince Fielder looming in the on-deck circle, Braun swung at 44 percent of pitches.
At the same time, opponents are challenging Braun with strikes at about the same rate. Entering Tuesday, 46.2 percent of pitches thrown Braun's way were strikes, about one percentage point below his career average.
"I think whenever you're in a little funk, you want to swing more, because you know you have to swing to get out of it," Roenicke said. "If you just go up there and take pitches, yes, it helps to track balls and to see balls, but until you start squaring up a lot of balls swinging, you can't get out of it. So I think the thought in general is, when you're struggling, most guys probably do swing more."
A small sample of at-bats against Tuesday night Nationals starter Jordan Zimmermann (1-for-6, three strikeouts) might have given Braun a reason to take a night off, but he made a case to play.
Roenicke is seeking more consistency from a player he usually doesn't have to worry about.
"The consistent part of it is something you usually can count on, and it hasn't been there," Roenicke said. "You see one game and you think, 'OK,' and then the next day he'll be bad. So, somehow we've got to get him locked in more. Some of it's just trying to do too much because of what he's usually capable of doing.
"I actually think the new position, going to right field, I actually thought it was going to help him, just because when you change like that, your mind can be on that more often. Hopefully, we'll get him going."
Adam McCalvy is a reporter for MLB.com. Read his blog, Brew Beat, and follow him on Twitter at @AdamMcCalvy. Caitlin Swieca is an associate reporter for MLB.com. This story was not subject to the approval of Major League Baseball or its clubs.