Brewers add Figaro, option Fiers for 'pen depth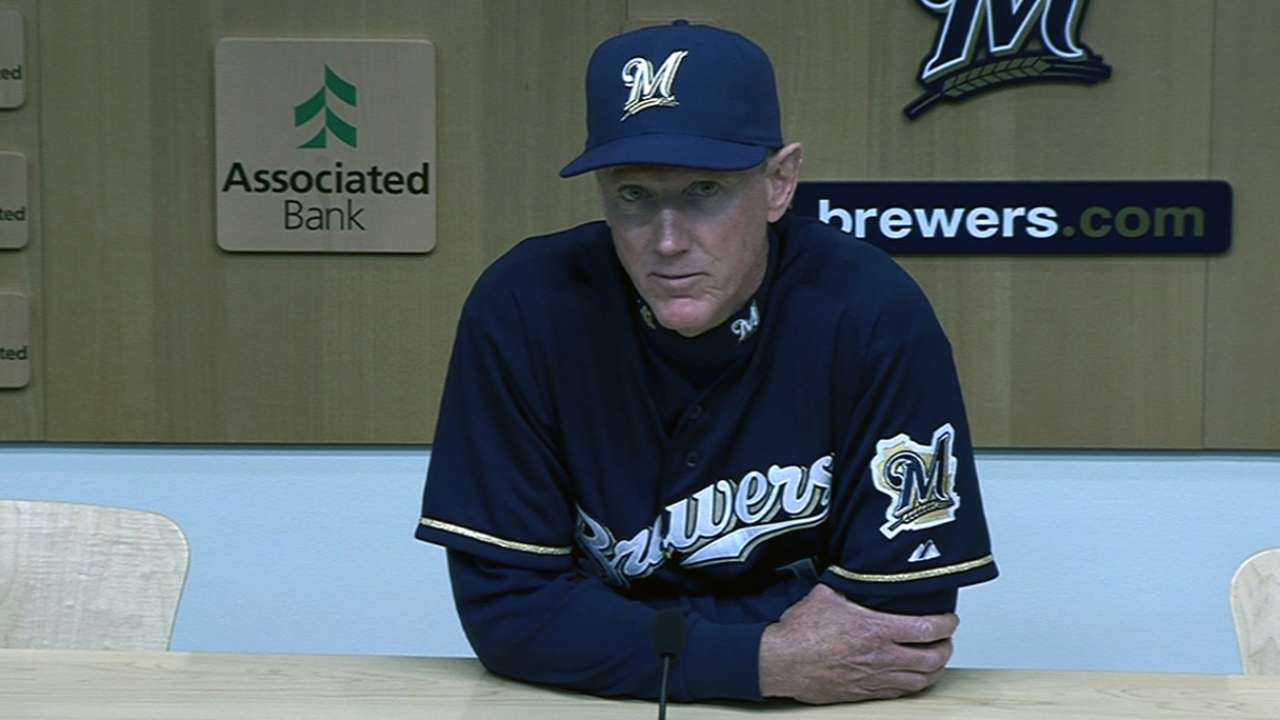 MILWAUKEE -- On Wednesday, the morning after pitching four innings to help keep the Brewers tied until the 16th inning of a 4-2 loss to the Nationals, right-hander Mike Fiers was on his way back to Triple-A Nashville, optioned in favor of right-hander Alfredo Figaro.
The move was a matter of necessity for the Brewers' bullpen: Fiers, who threw 22 pitches on Monday and 59 on Tuesday, was going to be unavailable until Saturday. It's a sign of the state of the club's relief corps that Milwaukee chose to call up Figaro, who threw 22 pitches in two innings for Nashville on Tuesday. Brewers manager Ron Roenicke said that Figaro would be available against Washington on Wednesday afternoon.
"That's tough, because I really like the way [Fiers] threw the ball yesterday," Roenicke said. "You ask a guy to come in and throw that many innings, you think you're going to win a game if he puts up three zeros. But we needed the arm, and he wouldn't have been able to pitch until Saturday."
Fiers said he would move back into the Nashville rotation and make a start on Monday. Though he eventually relented on Tuesday night in allowing a two-run home run to Ryan Zimmerman in the 16th inning, Fiers said he felt he left a good impression with the Major League club.
"I felt good; I threw the ball well," Fiers said. "Zimmerman got me for the two-run homer, but other than that, I was pitching well. I don't really regret anything I did or pitches I threw. I've just got to do the same thing down there. If the opportunity comes, I'll be back up."
The move maintains the eight-man bullpen that Milwaukee has used since June 14. Because of the large bullpen, the team has had only four bats available off the bench, and Roenicke had previously said the Brewers would re-evaluate that balance after the Washington series.
Tuesday's night's lengthy game -- in which Rob Wooten, Will Smith, Francisco Rodriguez, Zach Duke, Tom Gorzelanny and Fiers pitched -- changed those plans. Roenicke said the Brewers would keep the large relief corps through this weekend's series against Colorado and re-evaluate heading into Monday's off-day.
"We're going to go [with eight relievers] for a while here and see if we can get our bullpen back in order, where they're at least a little bit rested, and then re-evaluate it," Roenicke said. "Before we get to that first off-day, we'll look at it and see where we are. If we're good a couple of days before, maybe we'll do something there. We'll see how it goes."
Caitlin Swieca is an associate reporter for MLB.com. This story was not subject to the approval of Major League Baseball or its clubs.